printer friendly version
Security is like infinity
Issue 2/3 2023
Security Services & Risk Management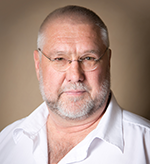 Andre Mundell.
Security is like infinity. It is not something that starts somewhere and stops somewhere.
When you start a new business, you want to start it and keep it running while it is growing. You do not want to start just to stop a few months later. Anyone who owns a business or even a house will know that it takes constant work to keep it going. When something breaks, you need to fix it. You need to consistently put the work in.
Security is the same. It needs constant attention, dedication, and input. The scary thing is that most people think that security is something that you buy, install, and then forget about.
It takes a lot of time, tweaks, and adjustments to get it right, and even then, you need to continuously make sure that everything is running smoothly. Security also boils down to willpower. How much willpower do you have to keep your family, friends, colleagues, and so on, safe?
We always say that the entity with the greatest willpower will be successful. This goes for law-abiding citizens and criminals alike. When you have the willpower to ensure that your security structure runs smoothly and that you are in control of it, you will succeed, and it will carry on into infinity.
Understanding that security does not stop is a huge leap in the right direction. Further, understanding that you need to identify your security risk and ensure that these risks are covered with suitable solutions puts you a few steps ahead of the criminals.
Security is like a teenager, it has growing pains and attitude, but once you have tweaked it enough to make sure it functions as it should, you are set to go. In addition to this, we also state that crime is like water, always flowing down the path of least resistance.
Your solutions might keep the water out, and force it to go somewhere else, but the water will not stop flowing against your walls, so you constantly need to make sure that your solutions block all the holes. It is a constant job to ensure that the water does not push too hard against your walls, causing them to collapse.
The moment that you neglect the solutions, it will become brittle and crumble, taking you back to square one. If your systems are not upgraded, maintained, and looked after, they will fail.
Security never stops.
Credit(s)
Further reading:
Key timelines to ensure compliance
Security Services & Risk Management
Regulations to the Occupational Health and Safety Act that apply to major hazard installations require that certain actions be taken to manage health and safety risks – some with timelines for compliance that must be monitored.
Read more...
---
Best practice tips for strengthening data privacy system
Security Services & Risk Management Cyber Security
International cybercriminals are increasingly targeting South African organizations, making data privacy more difficult to maintain. A standardization expert offers insight to help combat this threat.
Read more...
---
Is AI the game-changer for streamlining anti-money laundering compliance?
Financial (Industry) Security Services & Risk Management
In the aftermath of South Africa's recent grey listing, companies are now confronted with the imperative to address eight identified strategic deficiencies, while simultaneously reducing their financial crime risk through anti-money laundering compliance processes.
Read more...
---
Five ways to reduce your cyber insurance premiums
Security Services & Risk Management News
With the global costs of cybercrime expected to soar to $13 trillion within the next five years, cyber insurance is booming as organisations try to mitigate the risk of financial losses.
Read more...
---
Client satisfaction boosted by 85% at Thungela Mine
Thorburn Security Solutions News Security Services & Risk Management Mining (Industry)
Thorburn Security, a division of Tsebo Solutions Group, has announced its recent collaboration with Kwa-Zulu Natal security company, Ithuba Protection Services, as part of its Enterprise Supplier Development (ESD) initiatives across Africa.
Read more...
---
Migrating to the cloud? Beware the many hurdles
IT infrastructure Security Services & Risk Management
While there are undoubtedly many benefits, there are also numerous hurdles to cloud adoption. Some of the biggest challenges revolve around managing cloud spend, understanding the cost components of cloud infrastructure, and how those costs can scale.
Read more...
---
Key strategies for businesses in the face of cyber threats
Cyber Security Security Services & Risk Management
Businesses face severe financial and reputational consequences due to data breaches and daily website hacks, and not all organisations are adequately prepared to combat these escalating threats.
Read more...
---
Planning for the worst is key to success
Technews Publishing Security Services & Risk Management
Planning for the worst is key to success when disaster strikes. Amidst frequent load shedding and often unpredictable stages of power outages, many businesses are concerned about the possibility of a total blackout.
Read more...
---
Protecting South African systems through XDR cybersecurity
Cyber Security Security Services & Risk Management
Carlo Bolzonello, Country Lead for Trellix South Africa, discusses how the country can protect its valuable digital assets through the artificial intelligence-enabled Extended Detection and Response (XDR) cybersecurity approach.
Read more...
---
[Sponsored] Protecting Against Ransomware Attacks: Lessons from Recent POPIA Fine
Cyber Security Security Services & Risk Management
According to Sophos' most recent ransomware report, an alarming 78% of the South African organisations that Sophos surveyed experienced ransomware attacks in the past year.
Read more...
---