printer friendly version
Safety and security integrated in JUKA 614
SMART Mining Security Solutions 2023 Products, Asset Management, EAS, RFID, Mining (Industry)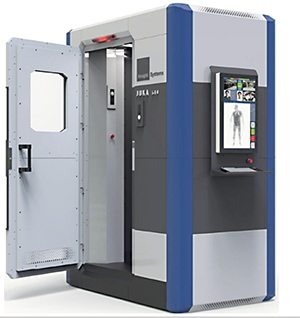 Legacy full body X-ray machines suffered the trade-off between safe, low-dosage transmission and quality, useable images. Traditionally the technology based on baggage scanners or medical scanners has been transformed to create low dosage full body security X-ray machines by de-tuning or limiting the dosage in order to make it suitable for daily use.
The trade-offs to date are compromised image quality on above average sized subjects, slow and cumbersome flow of subjects through the X-ray machine, and expensive specialised civil works around the machine to make it safe and to manage the flow of people through the facility.
The JUKA 614 X-ray scanner, designed using 25 years of first-hand insight and industry best practice experience, to overcome these challenges and compromises. The objective is to provide the best possible image at the lowest health risk (X-ray dose) for practically any sized subject, in the shortest time, by making use of the smallest footprint, at the lowest cost.
The JUKA 614 security checkpoint full body X-ray scanner delivers superior image quality with emphasis on penetration of all-sized subjects at vastly reduced scan times, despite ultra-low, variable dose X-ray radiation.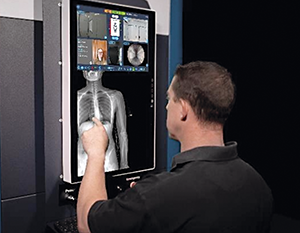 Fully integrated solution
The JUKA 614 is a fully integrated solution with the scanner/X-ray hardware, management systems and software all housed together within the machine. It is not just a full body X-ray scanner, it is an all-in-one security checkpoint solution that can be deployed as a product without the need for civil works, building construction, lead cladding and other control systems that often end up costing more than the scanner itself. The small footprint includes security doors, automated access control, video cameras and audio intercoms, and optional hold rooms as a complete turnkey solution.
Both local and/or remote operator, viewer and supervisor workstations are supported. Enterprise solutions with multiple devices linked to an array of remote operator and viewer workstations are supported. Viewer workstations come standard, supplied with 27-inch, 4K medical-grade touch display monitors so as to take full advantage of the superior X-ray subject image quality produced.
The solution is designed to protect your interests and prevent theft by providing the security manager with the best possible image in the shortest time and at the lowest cost.
Unique benefits of the JUKA 614
• Image quality. Exceptional image quality and penetration of practically any sized subject.
• Safety. Lowest dose, self-contained unit and static subject and no radiation scatter.
• Efficiency. Unparalleled fast scan times.
• Compact. Small footprint with extremely efficient linear subject flow control (bi-directional flow possible).
• Lower total cost. Reliable, scalable and efficient (fewer scanners to achieve the same throughput/scans per hour).
• Mobile option. As-is or container or trailer options available.
• Security. Lockable, automated, access-controlled doors.
• Video. Four integrated HD surveillance cameras included.
• Audio. 2-way integrated IP video intercom included.
• Hold rooms. Optional integrated hold/search rooms.
Credit(s)
Further reading:
Protect your financial assets from unknown online threats
Products Cyber Security Financial (Industry)
Malicious actors employ a myriad of sophisticated techniques, such as hacking, phishing, spamming, card theft, online fraud, vishing, and keylogging, among others, to exploit unsuspecting individuals and gain unauthorised access to their financial resources.
Read more...
---
Automated, real-time traffic analysis and ML-based mitigation
IT infrastructure Products
NetScout Systems has launched Adaptive DDoS Protection for its Arbor Threat Mitigation System (TMS) to dramatically improve the detection of distributed attacks that dynamically change vectors and target numerous destination IP addresses at once.
Read more...
---
Automated ransomware recovery
Products Cyber Security
Organisations can now automatically recover from ransomware attacks with the capabilities in Cisco XDR, where the company is adding recovery to the response process by including infrastructure and enterprise data backup and recovery vendors.
Read more...
---
Turkish university installs IDIS surveillance
CCTV, Surveillance & Remote Monitoring Products
IDIS video streamlines complex surveillance systems for learning institution, upgrading a 350-camera system with 24/7 control room monitoring to transform security for Social Sciences University of Ankara (ASBU).
Read more...
---
Brighter, greener, and smarter
Dahua Technology South Africa Products CCTV, Surveillance & Remote Monitoring
Dahua Technology released its new Dahua CH II Series Indoor Fine Pixel Pitch LED display, providing visual clarity and promoting energy efficiency and sustainability.
Read more...
---
Telematics help protect SA trucks against expanding risks
Logistics (Industry) Asset Management, EAS, RFID
South Africa's road freight transport sector currently accounts for about 85% of all goods transported in the country and is growing rapidly annually. "To ensure that goods are delivered safely, promptly, and affordably is a challenge," says Justin Manson of Webfleet.
Read more...
---
Client satisfaction boosted by 85% at Thungela Mine
Thorburn Security Solutions News Security Services & Risk Management Mining (Industry)
Thorburn Security, a division of Tsebo Solutions Group, has announced its recent collaboration with Kwa-Zulu Natal security company, Ithuba Protection Services, as part of its Enterprise Supplier Development (ESD) initiatives across Africa.
Read more...
---
Long-distance connectivity with Simplex ES Net Life Safety
Johnson Controls Global Products Fire & Safety Products
ES Net Network Bridge allows fire alarm system data to be transmitted across distant buildings via a customer's existing network infrastructure, improving system-wide monitoring and control in facilities and campuses where life safety networks are often widely dispersed.
Read more...
---
Visitor management via QR code
ATG Digital Access Control & Identity Management Products
ATG Digital has launched its QR Code Reader to enhance access control's security and efficiency. The new QR Code Reader enables seamless, contactless access control, creating an efficient user journey.
Read more...
---
District secures activity centre
Paxton Access Control & Identity Management Products
Paxton's Net2 access control solution is a user-friendly and flexible networked access control system, which made installing and managing access control security at an activity centre straightforward.
Read more...
---