printer friendly version
5G and IoT set to transform mining
SMART Mining Security Solutions 2023 Mining (Industry), IT infrastructure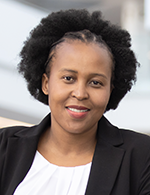 Neo Phukubje.
BCX, one of the largest systems integrators in Africa and a division of Telkom, ushered in a new 5G-enabled era for the Nungu Mine, in collaboration with its partners. Significant enhancements in worker safety and business productivity have been introduced at the Nungu Mine in Elandspruit, with 5G wireless-enabled technology instantly addressing a wide range of challenges faced by the mining industry.
The deployment of the latest 5G-enabled technologies is set to radically enhance the mine's operational efficiencies and safety. "This is a game changer for the entire industry and the hundreds of thousands of people it employs," says Neo Phukubje, Managing Executive at BCX Wireless Solutions.
She says BCX Wireless Solutions is a platforms business that offers converged communications solutions to clients. This includes wide-area solutions like 5G (and other communications technologies), but also IoT devices and management platforms to aid in optimising operations and security. It operates with its own technical resources as well as those from expert partners.
The mine has been revolutionised with wireless connectivity, data analytics and automation that enables video monitoring via drone technology, integrated connectivity with handheld devices and tablets, and a facial recognition proximity detection system. Wireless technology in the form of 5G solves for use-cases within businesses, where speed, reliability and reduced latency are critical. It creates possibilities to transform every area of the operation, from workplace safety to improved productivity through predictive intelligence. Each of the ecosystem partners, including Huawei, MPI Holdings, Umnotho Technologies, and Dahua, has played a pivotal role in this far-reaching venture.
A partner ecosystem
According to Gert Venter from MPI, "The importance placed on the partner ecosystem in the project helped develop vital innovations in safety. This includes 5G-enabled proximity alert between two heavy vehicles for collision prevention, which can mean the difference between life and death."
Frenndy Wang, Channel Department Director at Huawei South Africa's Enterprise Division, says that in addition to improved safety and operational efficiency, another differentiator is that 5G allows for AI-based real-time data analytics, a key to smart mining. "Data is a valuable asset for miners, enabling 'data-driven decision-making'. 5G connectivity will make the South African mining sector globally competitive. We are excited about working together with our partners like BCX to drive digital transformation in the mining sector, which is such a crucial industry in the economy."
The project at the Nungu Mine consists of two phases: above-ground and underground. In phase one, BCX deployed 5G-enabled cameras at critical points at the mine to enable:
• Proximity detection, enabled by IOT sensors and digital processing technologies.
• A stockpiling monitoring system, enabled by footage collected via drones and processed via the digital edge-computing systems.
• In-car connectivity to monitor driver fatigue and collision prevention to minimise the number of incidents and collisions.
• Pedestrian Protection System, enabling the safety and monitoring of miners on site.
These technologies are bringing smart mining in South Africa to life, enhancing their ability to monitor the mines on a 24-hour basis, enhancing the security and safety of employees, and increasing productivity, while actively minimising incidents at the mines.
Phase two will see the extension of connectivity underground to enable a fully connected smart mine that will increase security, supply motion sensors that trigger an alarm, and enable the mine's control room to monitor underground activity effectively.
Working with its partners, Phukubje says BCW Wireless developed the proof-of-concept for the mine and then rolled it out once it had proved its value. Other installations are in the pipeline using similar technologies, all aimed at safety, security and optimised operations on mines, increasing productivity and innovation. Each mine is different with its own requirements, so BCX is working on bespoke solutions for each, enabling reliable communications both above and below ground.
"As proven with this launch, wireless technology can be harnessed in powerful ways that make a lasting difference. It builds on our confidence and excitement to work in partnership with all industries from finance, aviation and agriculture to healthcare, so they too can benefit from becoming 5G-enabled, fully integrated and connected to a new world of infinite possibilities," concluded Phukubje.
For more information, contact BCX, [email protected], www.bcx.co.za
Further reading:
Rack-mounted, three-phase online UPS
Security Services & Risk Management IT infrastructure Products
The new Eaton 93PX 15-20 kVA UPS combines high efficiency with a compact footprint, lower TCO, and improved cybersecurity to provide stable power for critical IT, industrial, manufacturing, and medical applications.
Read more...
---
Five reasons why your board should push cybersecurity 'boundaries'
Security Services & Risk Management IT infrastructure
From a technological perspective, micro-segmentation of your IT security environment can be viewed as a way to identify, isolate and curtail the reach of any threat – even once it is in your network.
Read more...
---
Plan to use AI? Get your data ready
Integrated Solutions IT infrastructure
Artificial Intelligence (AI) is often perceived as an intelligent system that can handle any task. However, this notion crumbles when the AI is given poorly formatted or incorrect data. You cannot simply provide a few spreadsheets or databases to AI and expect it to work flawlessly.
Read more...
---
Paratus signs re-seller agreement with Starlink for Africa
News IT infrastructure
Pan-African telco and network services provider Paratus Group announced it has entered an agreement as a distributor for Starlink's high-speed services across the African continent, available immediately in Mozambique, Kenya, Rwanda and Nigeria.
Read more...
---
Client satisfaction boosted by 85% at Thungela Mine
Thorburn Security Solutions News Security Services & Risk Management Mining (Industry)
Thorburn Security, a division of Tsebo Solutions Group, has announced its recent collaboration with Kwa-Zulu Natal security company, Ithuba Protection Services, as part of its Enterprise Supplier Development (ESD) initiatives across Africa.
Read more...
---
The state of edge security report
News IT infrastructure
Edge computing has grown from being a niche use case in a handful of industries to offering a major opportunity for enterprises across industries to spread computing power around the world.
Read more...
---
Manage security systems remotely
Hikvision South Africa CCTV, Surveillance & Remote Monitoring IT infrastructure Products
Hikvision launched a new generation of smart managed switches that, in conjunction with the Hik-Partner Pro mobile app, enable installers to remotely deploy and configure security systems with comprehensive operation and maintenance capabilities.
Read more...
---
Synology enhances functions for advanced surveillance integration
Technews Publishing CCTV, Surveillance & Remote Monitoring IT infrastructure Products
With the capability to function as both an API client and server, Surveillance Station offers a versatile platform for integration, whether it's embedding video streams into other platforms or overlaying external data onto recorded video.
Read more...
---
Simplify adoption of Generative AI
News IT infrastructure Products
Nutanix simplifies adoption of Generative AI with Nutanix GPT-in-a-Box, an AI infrastructure solution that accelerates customers' path to GPT and LLMs while keeping organisations in control of their data.
Read more...
---
Veeam's route to immutability
News Cyber Security IT infrastructure
National and international data protection and ransomware recovery experts gathered to exchange data protection and ransomware recovery best practise that bolster cyber resilience at VeeamON Tour: Expand 2023.
Read more...
---