printer friendly version
The data must flow
SMART Mining Security Solutions 2023 IT infrastructure, Mining (Industry)
Most people view mining as something involving moving rocks and dirt in a dusty and dangerous environment. There is a lot of that involved in mining, but there is also much more than just rocks and dust; safety and efficiency are things that are paramount in these environments, as is what we would consider 'normal' business processes and operations.
Underpinning all the functions that happen in the mining industry, as with most industries today, is the need for an effective communications platform that allows people to talk to people, technology to technology, and the exchange of information between the two.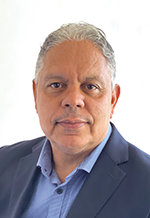 Cedric Rigney.
While the integration of the various applications through the communications layer is also critical, the underlying communications backbone, from the office network to the connections between security points at the entrance to the perimeter, and even effective access to underground communications and between vehicles (via humans, technology, or both) requires more than just laying a cable or installing a few Wi-Fi points when it comes to mines.
Cedric Rigney, Senior Sales Manager at Hytera also notes that, in terms of worker health and safety, the Department of Mineral Resources and Energy prescribes that wireless communications coverage must be provided at all mining operations in SA. In the event of a communications failure, all mining operations and production must cease until wireless communications has been restored. As such, mines are increasingly upgrading their legacy communication systems to 'mission critical'– robust and failproof networks with high degrees of redundancy."
He naturally says the most popular technologies being deployed to meet mines' requirements are Terrestrial Trunked Radio (TETRA), a digital two-way radio solution for voice and low-rate data, and mesh product technology for broadband data communication. Both technologies are deployed to provide 100% connectivity for surface and underground mining. While LTE has been widely explored for multimedia transmission within mining environments, private access to frequency spectrum in SA presents many challenges.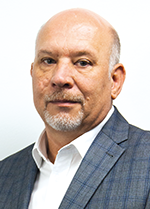 Conrad Steyn.
Conrad Steyn, CTO and Head of Engineering for sub-Saharan Africa at Cisco adds that mines are using a variety of communication technologies, dependant on their specific needs and requirements. Some of the most commonly used technologies include Wi-Fi, cellular networks, satellite communication, and mesh networks.
A range of options
"Wi-Fi 6E is a newer and more advanced version of the Wi-Fi 6 technology," Steyn says, "which offers higher speeds, better reliability, and lower latency. It is well-suited for use in mines where large amounts of data need to be transferred quickly and reliably."
"5G and LTE are cellular technologies that can provide high-speed internet access to mines, even in remote locations. These technologies can be used to connect mobile devices and machines to the internet and can also be used for voice and video communication."
Mesh networks are another popular technology used in mines, particularly underground. These networks consist of a series of interconnected nodes that communicate with each other to create a network. Mesh networks are ideal for use in mines as they can provide reliable connectivity even in challenging environments.
In terms of advice for mines looking for voice, video, and data connectivity, Steyn recommends considering a combination of technologies, depending on their specific needs. For example, a mine may use Wi-Fi 6E for high-speed data transfer, 5G or LTE for mobile connectivity, and mesh networks for reliable underground communication.
"Ultimately, the choice of technology will depend on a range of factors, including the size and layout of the mine, the type of communication needed, and the budget available."
The increasing adoption of IoT
As more 'things' are being connected and transferring data, known as the Internet of Things (IoT), either small bits of information such as electricity, temperature or gas readings, or massive amounts of data like video, which ever network or technology is chosen will have to cater for this as well as the usual data exchange in mines – in this case, we include Industrial IoT (IIoT) in the definition of IoT.
"IoT has been widely explored as a solution to enhance production and process automation and not as a substitute to the deployed mission critical voice and data communication systems," states Rigney. "As part of this we see it being used in functions like: how can collision prevention and personnel extraction (in case of blasting), to name only two examples, be reliably integrated with a communications infrastructure?"
"Mesh product technology such as Hytera's I-mesh 3800 is the preferred technology to provide collision avoidance, location data and driver fatigue monitoring, machine performance data, autonomous drilling, and more, in today's mining environment."
Steyn agrees that mining companies are increasingly adopting IoT technologies to improve their operations and equipment maintenance. "These technologies can provide valuable insights into a mine's performance, enable predictive maintenance, and enhance safety and efficiency."
He offers some examples of how IoT can be used in a mine: Mining companies around the world have made great strides in digitalisation. One of the most significant to date is the adoption of digital dispatch or fleet management systems. Digital dispatch helps optimise truck routes and typically pays for itself in as little as four to six months on missed routes alone.
Trucks burn through thousands of gallons of fuel daily. When haul trucks don't take the best route or go to the wrong location, the cost adds up quickly. Now, as mining companies pursue the next phase of digitalisation, many are actively exploring two game-changing capabilities: tele-remote operations and autonomous vehicles, including autonomous haulage systems.
With tele-remote operations, Steyn says that mining companies can deploy one operator to oversee drilling and dozers across multiple sites or multiple drills and dozers at a single site. An operator works from the safety and comfort of a remote office. Meanwhile, the mining company avoids the risk and expense of sending human resources to remote and dangerous locations. These trucks run fully independently, 'interacting' with shovels and dozers to move materials safely and efficiently. In some cases, autonomous dozers can sense trucks and automatically fill them, the trucks then transport the materials to the crusher or dump as required.
"Both of these digital capabilities yield significant improvements in worker safety, operational efficiency, and long-term cost reductions. In addition, both require highly reliable and ruggedised wireless network connectivity," he explains.
"Nowadays, setting up ultra-reliable wireless backhaul is easier than ever, Cisco's Ultra-Reliable Wireless Backhaul provides fibre-like performance for setting up the network for autonomous vehicles, tele-remote mining, and fleet management, providing up to 99,99% reliability, up to 500 Mbps dedicated bandwidth, negligible latency, security, and zero packet loss during handoffs between access points."
While Steyn states that Cisco Ultra-Reliable Wireless Backhaul is the best way to connect high-value assets, he says that Wi-Fi still has an important role in mining. Besides connecting laptops and IP phones, Wi-Fi is useful to collect time-sensitive readings in real-time, deploy IoT sensors like strain gauges and moisture, movement, and water level monitors. You can extend sensor battery life by connecting them to a low-power wireless network like LoRaWAN, and then forward the data over the Wi-Fi network to the operations centre. Using Wi-Fi for sensor monitoring preserves Ultra-Reliable Wireless Backhaul bandwidth for connecting high-value assets like vehicles.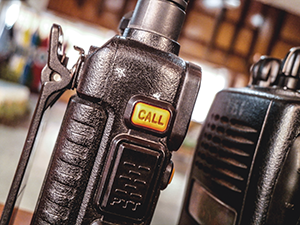 Above or below ground, reliable communication is essential
Naturally, communications underground is a key concern and years ago there were many companies pulling out all the stops to be able to provide reliable underground communications for mines. The initial results left much to be desired, but the years have seen technology rising to meet this challenge.
Steyn says underground communications are crucial for mining operations as they enable real-time monitoring and control of various processes, equipment and safety conditions. "Wi-Fi and Bluetooth technologies can also be used for underground communications and IoT. Wi-Fi access points can be strategically placed throughout the mine to provide wireless connectivity to various devices and sensors, while Bluetooth beacons can be used for location tracking and asset management."
Another technology that can be integrated into the mine-wide infrastructure is RFID (Radio Frequency Identification) technology. RFID tags can be attached to equipment and personnel, allowing them to be tracked and monitored in real-time. Overall, a combination of these technologies can provide comprehensive underground communications for mining operations, enabling greater safety, efficiency, and productivity.
Rigney adds that mining is a non-static environment where the mining operational area alters daily. "Providing mobility to the wireless broadband infrastructure is critical, once installed IoT management of conveyor bearings, bucket loadcell measurements and so forth, may adapt as the mining environment changes. IoT can be integrated into Hytera's ICC solution to give a single view of a conditions on the mine."
Legacy is not gone
While there are almost endless methods and technologies one can use for communications these days, the dependable old 2-way radio (analogue communications) has not been given the opportunity to ride off into the sunset just yet. However, even this technology has been hit by the digital age and changes have resulted in digitised and improved communications over short and long distances.
Following on from above, Rigney notes that while analogue two-way radio is still used at many mines, the longevity and feature benefits of digital trunked radio systems have stimulated radio network upgrades in many instances. "The usage of personal handheld smartphone devices is prohibited in mining red zones and hence 5G and LTE devices must be deployed for the sole purpose of mining communications and excluding smart device features like GSM, personal applications etc."
He adds that Hytera is focused on a drive to deploy integrated mission-critical digital wireless solutions, including the fixed infrastructure, handheld and mobile user terminals in mines across Africa.
Steyn agrees that analogue two-way communications are still used in some mines, particularly in areas with limited cellular coverage or where reliable wireless communication is challenging. However, he says that many mines are now migrating to newer technologies like Wi-fi 6E and 5G for their communications needs.
"These newer technologies offer several advantages over traditional analogue systems, including higher bandwidth, faster data transfer rates, greater reliability, and improved security. They also allow for the integration of various sensors and devices, such as wearable technology and drones, which can provide real-time data on mine operations and improve safety."
While the adoption of Wi-fi 6E and 5G in mining operations is still relatively limited compared to other industries, it is expected to grow as the benefits of these technologies become more widely recognised and as the cost of implementation continues to decrease.
He adds that Cisco offers a range of communications solutions that can be used in mining operations, including networking infrastructure, wireless technologies, and security solutions. "These solutions can help mining companies to improve efficiency, safety, and productivity by providing real-time monitoring and control of critical processes and equipment."
"In terms of digital transformation, Cisco is finding an increasing interest in mining companies looking to adopt new technologies and solutions to improve their operations. This includes the implementation of IoT and data analytics to optimise mining processes, and the use of artificial intelligence and machine learning to improve safety and efficiency."
For more information, go to:
• https://www.hytera.com/en/industries/mining.html
• https://www.cisco.com/c/en/us/solutions/industries/materials-mining.html
Credit(s)
Further reading:
Automated, real-time traffic analysis and ML-based mitigation
IT infrastructure Products
NetScout Systems has launched Adaptive DDoS Protection for its Arbor Threat Mitigation System (TMS) to dramatically improve the detection of distributed attacks that dynamically change vectors and target numerous destination IP addresses at once.
Read more...
---
Five reasons why your board should push cybersecurity 'boundaries'
Security Services & Risk Management IT infrastructure
From a technological perspective, micro-segmentation of your IT security environment can be viewed as a way to identify, isolate and curtail the reach of any threat – even once it is in your network.
Read more...
---
Plan to use AI? Get your data ready
Integrated Solutions IT infrastructure
Artificial Intelligence (AI) is often perceived as an intelligent system that can handle any task. However, this notion crumbles when the AI is given poorly formatted or incorrect data. You cannot simply provide a few spreadsheets or databases to AI and expect it to work flawlessly.
Read more...
---
The future of innovative business lies at the edge
IT infrastructure
Connectivity issues previously limited Edge's potential, but innovations like 5G and IoT have made it seamless. The data generated by connected devices enhances analytics, and AI improves customer experiences.
Read more...
---
AI-powered cyber protection for consumers
IT infrastructure Cyber Security
Acronis Cyber Protect Home Office is designed for the evolving landscape of cyber threats by integrating Acronis' cyber protection and secure backup solutions, combining AI-powered defence mechanisms, robust data backup, remote management tools, and mobile device protection.
Read more...
---
Paratus signs re-seller agreement with Starlink for Africa
News IT infrastructure
Pan-African telco and network services provider Paratus Group announced it has entered an agreement as a distributor for Starlink's high-speed services across the African continent, available immediately in Mozambique, Kenya, Rwanda and Nigeria.
Read more...
---
What is the 3-2-1 rule
IT infrastructure
Data corruption is a bit like a car accident. It does not happen often to a person, but when it does, even a minor fender bender can create inconvenience, and a major smash can cause months, even years, of problems.
Read more...
---
Undersea cable incidents highlight need for network resilience
IT infrastructure
South Africa's undersea cable network is an indispensable digital lifeline, tethering the country to the global digital community. Daily, these cables process terabytes of data, underpinning near every local sector.
Read more...
---
What South Africans need to know about smart devices
Technews Publishing Editor's Choice
We live in a world surrounded by smart devices, from our pockets to our driveways and living rooms.
Read more...
---
Client satisfaction boosted by 85% at Thungela Mine
Thorburn Security Solutions News Security Services & Risk Management Mining (Industry)
Thorburn Security, a division of Tsebo Solutions Group, has announced its recent collaboration with Kwa-Zulu Natal security company, Ithuba Protection Services, as part of its Enterprise Supplier Development (ESD) initiatives across Africa.
Read more...
---