printer friendly version
Keeping your cash secure is good business
Issue 2/3 2023 Financial (Industry), Security Services & Risk Management, Products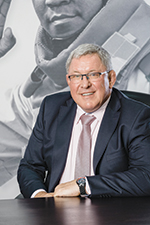 Wahl Bartmann.
With the proliferation of robberies targeting cash and valuable assets on the move, it is imperative businesses put their money where their mouth is when it comes to protecting their assets.
This is according to Wahl Bartmann, the CEO of Fidelity Services Group, a company with a formidable reputation in cash management in South Africa – and deep insight into ways criminals try to get their hands on moving cash.
He says the retail and banking sectors have been hard hit by cash theft for years, in-house and on the road. They, however, remain hampered by the need to deal in cash on a daily basis. "This presents an ongoing challenge to ensure you have the best possible security solutions to protect your cash. The threats are real and can come from inside and outside your business, or be a combination of both."
"Criminals have become more brazen and their modus operandi increasingly sophisticated. Anyone dealing in large amounts of cash today – particularly in South Africa – needs to ensure their security systems are fail-safe."
To enable customers to achieve this level of protection and peace of mind requires innovation at the highest level and significant R&D.; Above all, security solutions need to suit the customer's needs and be flexible enough to adapt to a changing threat climate. He talks us through Fidelity Cash Solutions, explaining that this arm of the business utilises effective strategies and state-of-the-art technology to offer cash and asset management solutions.
The business services a wide range of industries, including retail, financial services, gaming, commercial, hospitality and airports – all prime targets for criminals looking for a large payday.
"With such a spectrum of customers, hands-on management is another key component in delivering the right solutions. You really have to understand these industries and the threats they face to be able to meet their cash management needs," Bartmann says.
Across the value chain
"Fidelity Cash Solutions is focused on providing end-to-end solutions to address the risk proactively throughout the value chain. We do this through processes and procedures embedded into cash acceptance devices applied across cash-in-transit (CIT), processing and supply and insurance."
Its cash-in-transit operations are managed from custom-designed control centres, manned by staff that undergo stringent vetting processes and are registered with PSIRA. Staff are also fully certified and have undergone advanced tactical and driver training.
Fidelity Cash Solution's risk management includes exception alarms for immediate action during tampering triggers, on-board dual-tracking devices for cash tracking, best-in-class dye stain technology, armour-plated vehicles, interlocking systems, vaulting facilities, one-time code locks, panic buttons, cross-pavement carriers and run flat tyre defence systems. "All of this is backed by covert intelligence agents to identify potential threats," Bartmann adds.
Fidelity CashMaster offers unique product ranges and boasts over 20 years' experience in the industry with one of the widest, most comprehensive range of products with an installed base of around 5 500 cash acceptance devices nationally across the retail, banking, petroleum and wholesale sectors.
"Fidelity CashMaster has South African Reserve Bank approval for the CashMaster Cube, a dye-stain solution for logistical and transport companies to manage and secure cash on vehicles. We're also excited about the recent launch of our new PayComplete cash acceptance devices, boasting state of the art technology and features," he says.
The Fidelity CashMaster Pretoria-based manufacturing facility has a capacity of over 300 cash acceptance devices per month in a single shift. The procurement and in-house R&D; teams ensure that many components are sourced locally in an effort to ensure cost efficiency, as well as promote local industry.
"We provide full outsourced processing solutions for many of the commercial banks and have the expertise and experience to bring valuable benefits to our customers," Bartmann says, adding that iCash provides a web-based pre-announcement solution for cash processing services.
"Clients are able to pre-announce their daily deposits to Fidelity, ensuring that all related deposits are received and accounted for by the various cash centres. This allows for accurate referencing, improved visibility, reconciliation of your deposits and reporting."
To ensure peace of mind, Fidelity can offer cash insurance to a maximum value. This can be applied for cash being banked into one of the cash acceptance devices and/or for cash deposits transported via CIT as part of the manual deposit process.
Cash, just like crime, is here to stay. Businesses reliant on the movement and acceptance or supply of cash remain prime targets for criminals. "With the right security solutions from a reputable and experienced supplier, risks can be mitigated throughout the value chain to ensure businesses can get on with the business of strengthening our economy and not criminals' pockets," concludes Bartmann.
For more information, contact Fidelity Services Group, [email protected], www.fidelity-services.com
Further reading:
Rack-mounted, three-phase online UPS
Security Services & Risk Management IT infrastructure Products
The new Eaton 93PX 15-20 kVA UPS combines high efficiency with a compact footprint, lower TCO, and improved cybersecurity to provide stable power for critical IT, industrial, manufacturing, and medical applications.
Read more...
---
Protect your financial assets from unknown online threats
Products Cyber Security Financial (Industry)
Malicious actors employ a myriad of sophisticated techniques, such as hacking, phishing, spamming, card theft, online fraud, vishing, and keylogging, among others, to exploit unsuspecting individuals and gain unauthorised access to their financial resources.
Read more...
---
Automated, real-time traffic analysis and ML-based mitigation
IT infrastructure Products
NetScout Systems has launched Adaptive DDoS Protection for its Arbor Threat Mitigation System (TMS) to dramatically improve the detection of distributed attacks that dynamically change vectors and target numerous destination IP addresses at once.
Read more...
---
Turkish university installs IDIS surveillance
CCTV, Surveillance & Remote Monitoring Products
IDIS video streamlines complex surveillance systems for learning institution, upgrading a 350-camera system with 24/7 control room monitoring to transform security for Social Sciences University of Ankara (ASBU).
Read more...
---
Is AI the game-changer for streamlining anti-money laundering compliance?
Financial (Industry) Security Services & Risk Management
In the aftermath of South Africa's recent grey listing, companies are now confronted with the imperative to address eight identified strategic deficiencies, while simultaneously reducing their financial crime risk through anti-money laundering compliance processes.
Read more...
---
Client satisfaction boosted by 85% at Thungela Mine
Thorburn Security Solutions News Security Services & Risk Management Mining (Industry)
Thorburn Security, a division of Tsebo Solutions Group, has announced its recent collaboration with Kwa-Zulu Natal security company, Ithuba Protection Services, as part of its Enterprise Supplier Development (ESD) initiatives across Africa.
Read more...
---
Long-distance connectivity with Simplex ES Net Life Safety
Johnson Controls Global Products Fire & Safety Products
ES Net Network Bridge allows fire alarm system data to be transmitted across distant buildings via a customer's existing network infrastructure, improving system-wide monitoring and control in facilities and campuses where life safety networks are often widely dispersed.
Read more...
---
Migrating to the cloud? Beware the many hurdles
IT infrastructure Security Services & Risk Management
While there are undoubtedly many benefits, there are also numerous hurdles to cloud adoption. Some of the biggest challenges revolve around managing cloud spend, understanding the cost components of cloud infrastructure, and how those costs can scale.
Read more...
---
Visitor management via QR code
ATG Digital Access Control & Identity Management Products
ATG Digital has launched its QR Code Reader to enhance access control's security and efficiency. The new QR Code Reader enables seamless, contactless access control, creating an efficient user journey.
Read more...
---
Key strategies for businesses in the face of cyber threats
Cyber Security Security Services & Risk Management
Businesses face severe financial and reputational consequences due to data breaches and daily website hacks, and not all organisations are adequately prepared to combat these escalating threats.
Read more...
---