printer friendly version
Smart education solutions powered by AI
Issue 1 2023
Education (Industry)
AI is empowering a new generation of advanced, efficient security systems. In the field of education, AI is also facilitating the digital and intelligent upgrading of schools and institutions from foundation phase to universities. AI applications such as smart identification, deep learning and intelligent analysis improve the security levels and management efficiency at the same time. AI-enabled innovative teaching methods can help enhance engagement in both remote and in-person classes, and promote a conducive learning environment for students.
To give you a better understanding of how can schools benefit from utilising advanced technologies like AI, here is a list of some of its campus applications.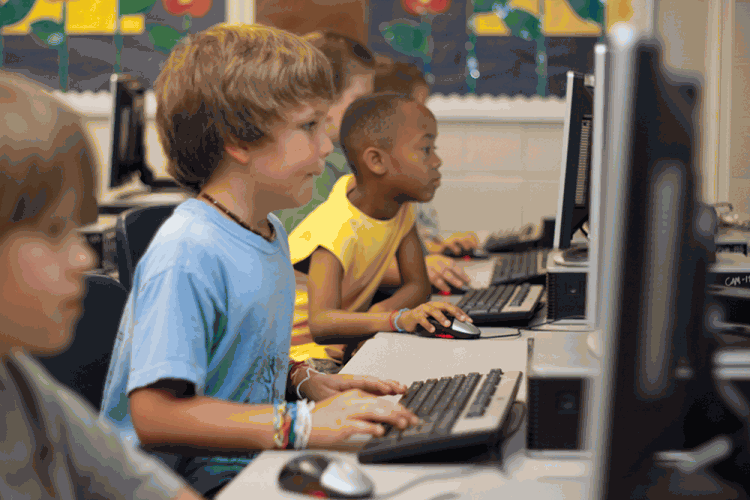 1. Prevent unauthorised entry into campus
Campus entrances and exits are areas vulnerable to external threats. A robust entrance/exit access control system is imperative in building the school's first major line of defence.
For example, installing an AI-enabled access control system can effectively prevent unauthorised entry onto the campus, library, teaching buildings, dormitories and other school premises; the latest data management technology can be used to meet the daily needs of schools and students including attendance, visitor and vehicle tracking.
Likewise, for perimeter protection, the technology behind tripwire and line crossing functions play a vital role in preventing invasions in surrounding areas or unauthorised access to regulated places. When unauthorised personnel and vehicles are detected, the system will send a real-time alarm to notify the control room, reducing security risks on the campus. Machine learning helps reduce false alarms by filtering out irrelevant objects like leaves, branches and even animals.
2. Detect violent actions in real time
Globally, school violence and bullying remains a serious problem. One of the recommended priority actions is to establish reporting systems and improve the collection of data and evidence.
For campus safety, today's comprehensive security systems have already integrated emergency management features. With the help of an AI sensor, 3D cameras with stereo analysis capabilities that can identify fights, falls and other possible violent behaviours, through deep learning. The school's security personnel are alerted timeously by a real-time alarm about possible emergencies, such as violence and falls, allowing them to intervene or respond accordingly. A one-button alarm system is also suggested on the campus to provide students with the fastest way to ask for help in case of emergencies.
3. Improve teaching performance and learning outcomes
Normalcy and resource imbalance during the pandemic have prompted developing countries to accelerate the digital transformation of education. With the unprecedented offline-to-online transition of many classrooms, modern electronic whiteboards and blackboards have emerged. The Dahua DeepHub Smart Interactive Whiteboard, for instance, provides an array of features including multifunctional writing, wireless projection, conference content sharing, etc., making it an ideal choice for classrooms and meeting rooms where demonstration, information sharing and document management is needed.
Moreover, teachers do not have to worry about students who cannot participate in in-person classes. An intelligent camera with broadcasting function can automatically track and capture a teacher's lecture through an AI algorithm, with an accuracy of up to 99%. It can integrate with multi-channel video streams to restore the classroom scene, providing an immersive remote learning experience for students in different locations.
Best practices
As AI advances and continues to gain traction in the security industry, it is imperative to carry out best practices in surveillance monitoring. Educating users regarding proper usage of technology and its benefits is strongly encouraged. Additionally, data and privacy protection must also be prioritised at all times. Several central management software and platforms combine data and privacy security functions in order to help protect privacy while monitoring.
Some of the measures implemented are, minimising data and private information, face/body mosaic technology, encryption of network transmission, storage, download, and export. Users also have an option to configure the storage duration of each video channel. These best practices are put into action to help ensure privacy protection and promote responsible monitoring.
Dahua's smart education solution
Taking video-centric AI as its core, Dahua Technology actively contributes to the modernisation of education and aims to create a safe and pleasant environment for students, teachers and staff. The Dahua Smart Education Solution adopts all the aforementioned technologies with focus on three dimensions: safe campus, smart teaching, and smart examination room. Aside from providing 24/7 complete on-site/off-site monitoring on the campus, we also focus on minimising cheating behaviour in student examinations and on harnessing intelligent teaching and learning platforms for modern digital classrooms.
Find a case study of Dahua technology assisting a local school at www.securitysa.com/12738r
Credit(s)
Further reading:
AI technology to empower vertical markets
Dahua Technology South Africa Mining (Industry) CCTV, Surveillance & Remote Monitoring Products
Dahua WizMind is a full portfolio of solutions comprising project-oriented products that use deep learning algorithms to provide more business value to its global customers and deliver reliable and comprehensive AI solutions for vertical markets.
Read more...
---
Sustainability School opens for enrolment
Education (Industry) News Security Services & Risk Management
Three-part programme, first developed for Schneider Electric employees, is now available for free for companies worldwide. Attendees learn how to future-proof their businesses and accelerate their decarbonisation journeys.
Read more...
---
Invisible connection and tangible protection via cloud
Dahua Technology South Africa Perimeter Security, Alarms & Intruder Detection CCTV, Surveillance & Remote Monitoring Products
Dahua Technology has launched its AirShield security solution that uses advanced, stable and reliable RF communication technology and cloud services, integrating alarm hubs, various detectors and accessories, with several software apps.
Read more...
---
Preventing forest fires with digital intelligence
Dahua Technology South Africa Fire & Safety Products
Technologies such as dual-spectrum video monitoring, intelligent image analysis and recognition, and three-dimensional positioning, enable the smart system to detect a fire, quickly locate the fire source and automatically send alarm to on-duty personnel.
Read more...
---
Dahua Insider Series for touchless access
Dahua Technology South Africa Access Control & Identity Management Products
The Insider Series Access Control Solution offers touchless access (via Bluetooth) using the DMSS mobile app; it has three distance modes and two trigger modes (normal and shake).
Read more...
---
Impro modernises access control at University of Stellenbosch
Impro Technologies Editor's Choice Access Control & Identity Management Education (Industry) Products
The University of Stellenbosch has been using Impro access control technologies for many years to control access to its various buildings and facilities. It recently decided to upgrade its access technologies and Impro equipment was, again, selected.
Read more...
---
Securing the longest carnival in the world
Dahua Technology South Africa CCTV, Surveillance & Remote Monitoring
Dahua surveillance solution monitors festivities; also ensuring the management of the venue can efficiently monitor the situation inside the stadium and make any necessary adjustments.
Read more...
---
Security and quality of service
Dahua Technology South Africa CCTV, Surveillance & Remote Monitoring
A centralised video surveillance system from Dahua Technology involving more than 5000 cameras installed at over 850&nbspbranches of Bank Alfalah, one of the top commercial banks in Pakistan.
Read more...
---
Technology is key to securing physical and cybersecurity
Education (Industry) Security Services & Risk Management
The interpretation of security in educational institutions depends on whom you are talking to and whether their focus is on the physical security of the institution, its assets and its people, or its information and communication technology perspective.
Read more...
---
Boosting digital-intelligent transformation and AI applications
Dahua Technology South Africa CCTV, Surveillance & Remote Monitoring Products
2022 has been a year full of development and innovation for Dahua. The company has launched various upgrades to its existing product portfolio as well as an artillery of new products and solutions that address specific needs/problems in society.
Read more...
---