printer friendly version
Technology is key to securing physical and cybersecurity
Issue 1 2023 Education (Industry), Security Services & Risk Management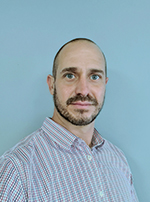 Conrad Steyn.
The interpretation of security in educational institutions depends on whom you are talking to and whether their focus is on the physical security of the institution, its assets and its people, or if one is looking at security from an information and communication technology (ICT) perspective.
When looking at the physical aspect, technology is playing an increasingly important role in improving security systems at educational institutions. Beginning with access control systems that ensure only those who have the necessary permissions can enter, while also providing a more secure way in which guests (and anyone else who is not a student or a staff member) can enter campus, and automatically disabling their ability to access the premises when their visiting time has expired.
It is also essential to have a well-lit campus covered by security cameras, which can act as a deterrent against criminality and reassure students and campus staff that their safety has been taken into account. In fact, various studies have revealed a significant reduction in crime when security cameras were introduced in particular areas.
Today, education institutions can turn to next-generation artificial intelligence-powered video surveillance, which involves specialised network/Internet Protocol (IP) cameras that will further help prevent unauthorised persons from gaining access to the campus. This is because these cameras can perform advanced analytical functions, including facial recognition, face detection, person detection, traffic and people counting and vehicle detection through automatic licence plate recognition (LPR).
Information security is also critical
Then, there is the challenge of cybersecurity: today, the vast majority of young people are connected to the internet, primarily through mobile devices, with being active and sharing content on social media being a key component. This makes them especially vulnerable to cyber criminals who wish to exploit them, using techniques such as social engineering and identity theft.
While they may not be responsible for a student's actions when they are not on campus, institutions still have a responsibility to protect confidential student data such as names, ages, physical addresses, ID numbers and bank details. Not adequately secured, this data can be used by cybercriminals for activities such as identity theft and financial fraud. As such, raising awareness and educating students on how best to protect themselves online should be a part of any educational institution's student safety strategy.
Educational institutions need to look at investments in security, such as next-generation firewalls and enforcing multi-factor authentication for people to access their internal network and data. In the longer term, these organisations can look at implementing these measures alongside a well-thought-out cloud infrastructure strategy, where they start relocating some, or all, of the institution's data to a cloud data centre.
Not only does this add further layers of cybersecurity, but it also contributes to improving physical security, as institutions no longer have to worry about the safety of their IT infrastructure, rolling blackouts or even occurrences such as hardware failure.
Further reading:
Tech developments lead hologram growth in 2024
News & Events Security Services & Risk Management
Micro-lenses, micro-mirrors and plasmonics are among the rapidly-emerging optical devices that have evolved on the back of holographic and diffractive technologies, and are seen as part of the natural evolution of optical science by R&D teams.
Read more...
---
Are you leaving money on the table?
Editor's Choice Security Services & Risk Management
How many customers have you helped since starting your business? Where does most of your new business come from? If the answer is not from your database's existing customers, you might have a problem.
Read more...
---
Kidnapping for ransom
News & Events Security Services & Risk Management Risk Management & Resilience
There has been an 8,6% increase in reported kidnapping cases in South Africa compared to last year, with 3 854 cases reported between April and June this year, leaving ordinary South Africans increasingly vulnerable.
Read more...
---
The difference between a SOP and a SOP
Residential Estate (Industry) Integrated Solutions Security Services & Risk Management Risk Management & Resilience
SOPs are a touchy issue that need careful attention and automation to ensure they deliver the desired security results. Beyond design and automation, implementation is the ultimate road to success.
Read more...
---
Your face is the key
Suprema Editor's Choice Access Control & Identity Management Security Services & Risk Management Risk Management & Resilience
FaceStation 2, Suprema's newest facial authentication terminal, is an access control, time and attendance terminal, featuring a better user experience with Android 5.0 Lollipop and Suprema's latest algorithm, hardware, and software.
Read more...
---
Security without the skin
Alwinco Editor's Choice Security Services & Risk Management Residential Estate (Industry) Risk Management & Resilience
We all know about the layers of security required to form a comprehensive solution, but the layers go deeper than most consider. Andre Mundell dissects security in this article to start the journey into what is under the covers.
Read more...
---
Is AI the game-changer for streamlining anti-money laundering compliance?
Financial (Industry) Security Services & Risk Management
In the aftermath of South Africa's recent grey listing, companies are now confronted with the imperative to address eight identified strategic deficiencies, while simultaneously reducing their financial crime risk through anti-money laundering compliance processes.
Read more...
---
Client satisfaction boosted by 85% at Thungela Mine
News & Events Security Services & Risk Management Mining (Industry)
Thorburn Security, a division of Tsebo Solutions Group, has announced its recent collaboration with Kwa-Zulu Natal security company, Ithuba Protection Services, as part of its Enterprise Supplier Development (ESD) initiatives across Africa.
Read more...
---
Migrating to the cloud? Beware the many hurdles
Infrastructure Security Services & Risk Management
While there are undoubtedly many benefits, there are also numerous hurdles to cloud adoption. Some of the biggest challenges revolve around managing cloud spend, understanding the cost components of cloud infrastructure, and how those costs can scale.
Read more...
---
Key strategies for businesses in the face of cyber threats
Information Security Security Services & Risk Management
Businesses face severe financial and reputational consequences due to data breaches and daily website hacks, and not all organisations are adequately prepared to combat these escalating threats.
Read more...
---