printer friendly version
Air monitoring with LifeQuality
Issue 1 2023 Perimeter Security, Alarms & Intruder Detection, Products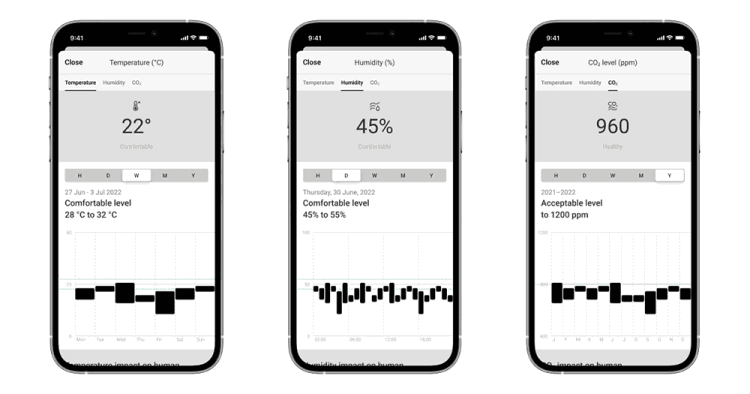 Ajax Systems has launched LifeQuality, a smart air quality monitor that combines medical-grade measurement accuracy and professional security technologies. The device provides users with data on carbon dioxide pollution, temperature and humidity levels, and helps automate appliances according to these indicators.
"Many studies prove that carbon dioxide levels strongly affect the brain's functioning. In particular, productivity. For example, a high concentration of CO2 can reduce the speed of mental activity by 60% and the ability to make complex decisions by 50%. The problem is clear: bad air kills productivity. It has been tested in schools, offices and even on the space station," said Max Melnyk, Device Department R&D; Director, Ajax Systems.
LifeQuality is explicitly designed for building an extensive air quality monitoring system. The monitor is equipped with an accelerometer, notifying users if it moves to another location. Moreover, the SmartBracket helps to easily mount it on the wall in every room or office. LifeQuality works on a battery for up to three years, so there is no need for a power outlet in the place of installation.
Medical-grade measurement accuracy
LifeQuality is packed with sensors that are used in professional medical equipment. Sunrise from Senseair is a non-dispersive infrared sensor that directly measures carbon dioxide concentration. Unlike VOC sensors, this type of sensor indicates actual and precise CO2 data regardless of pollutants in the air, like aerosols and steam.
SHT40 from Sensirion is an industrial-grade digital sensor platform for measuring relative humidity and temperature. An integrated heater allows for advanced on-board diagnostics, and the sensor element is designed for harsh conditions such as condensing environments. SHT40 ensures up to ±0.2°C accuracy.
The air quality indicators are displayed in the Ajax app alongside information on security and automation devices. Thanks to the Ajax Cloud server, security system users can access data from anywhere. The indicators are accompanied by charts containing the history for several days, a week, a month or even a year, helping to understand air quality dynamics. Push notifications give users instant awareness of environmental changes according to set thresholds.
Due to the in-built memory, LifeQuality can be used to measure the air quality in other locations, for instance, a garage, kindergarten, and relatives' houses. Even without communication with an Ajax hub, the monitor stores data for three days. When the connection is restored, all data is uploaded to the hub, and users can view it in the app.
Aside from the app, the device LED indicator instantly reports carbon dioxide levels. A user just has to tap the Ajax logo. It glows yellow, red or purple if the concentration of CO2 exceeds the set norm.
Credit(s)
Further reading:
Three new portable power stations to ease load shedding
News Security Services & Risk Management Products
EcoFlow has launched three portable power stations that provide sufficient power for consumers wherever they are; the DELTA 2 and RIVER 2 Series are feature-filled power solutions to the volatile electricity supply.
Read more...
---
Recharge and top up for pre-paid SIM cards
Asset Management, EAS, RFID Products
Businesses of all sizes are challenged by the administrative nightmare of reporting on the costs associated with airtime recharges on pre-paid and top-up SIM cards, which are often procured from multiple sources, including carriers and retail outlets.
Read more...
---
Introducing adaptive active adversary
Cyber Security Products
New adaptive active adversary protection; Linux malware protection enhancements; account health check capabilities; an integrated zero trust network access (ZTNA) agent for Windows and macOS devices; and improved frontline defences against advanced cyberthreats and streamline endpoint security management.
Read more...
---
Qognify VMS adds support for Pelco IP camera series
CCTV, Surveillance & Remote Monitoring Products
The latest IP camera series from Pelco can now be used with Qognify's advanced video solution for corporate and enterprise projects, increasing the overall number of camera models and third-party devices supported in Qognify VMS to more than 6 500.
Read more...
---
Off-grid power solution for residential estate
Editor's Choice Security Services & Risk Management Residential Estate (Industry) Products
Coral Beach Estate, an upmarket residential estate based in East London, has been struggling with load shedding and power outages due to South Africa's energy crisis, as well as the vandalism of its power infrastructure.
Read more...
---
Choosing an inferior lithium battery can be detrimental and unsafe
Uniross Batteries Security Services & Risk Management Products
South Africans looking to mitigate the impact of load shedding by installing a solar system for their home must do so through an accredited installer or electrician to avoid insurance claims being rejected.
Read more...
---
VIVOTEK launches VAST Security Station
CCTV, Surveillance & Remote Monitoring Products
VIVOTEK officially launched its AI security system, VAST Security Station (VSS), in March, available to users in three flexible tiers: VSS Lite, VSS Standard, and VSS Professional.
Read more...
---
Converged infrastructure: Beyond the hype
IT infrastructure Products
Technical teams no longer have to sit and try to work through a magnum opus of manuals for every layer of computing, networking, and storage, largely thanks to the growing popularity and increasing success of converged infrastructure.
Read more...
---
GJD expands its Clarius Illuminator range
Perimeter Security, Alarms & Intruder Detection
GJD announced the launch of the new Clarius Medium Hybrid IP IR/WL LED illuminator. The Clarius medium Hybrid IP combines advanced Infrared and White-Light LED technology, in one unit for increased functionality and ease of installation.
Read more...
---
Heightening physical security at military base
Turnstar Systems Access Control & Identity Management Government and Parastatal (Industry) Products
Turnstar Systems recently installed two 3-metre Velocity Raptor traffic spikes at the South African National Defence Force (SANDF) Randfontein military base on Gauteng's West Rand.
Read more...
---