printer friendly version
Facing the future
SMART Access & Identity 2023
Access Control & Identity Management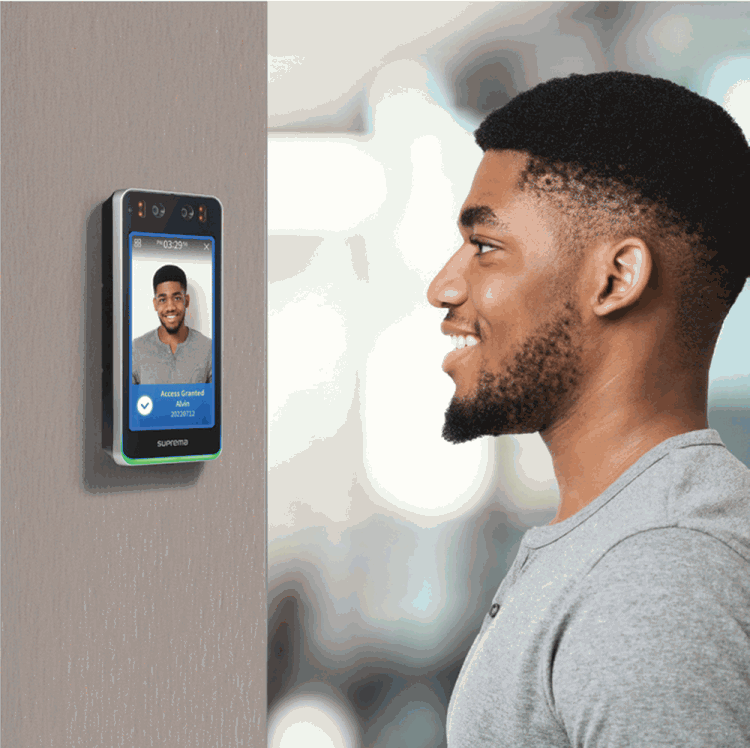 In this chaotic day and age where tomorrow brings what we never expected and where our very beliefs of yesterday are challenged, how do we make the right choice when we are overwhelmed by the complexities of these matters?
It comes down to trust and placing confidence in the leaders who have the expertise to navigate the waves by staying ahead of the curve, and who are quick to market with practical solutions.
As a proven leader, Suprema has the expertise and resources necessary to stay abreast and ahead whilst maintaining the quality excellence for which it is renowned. Suprema's wide range of access and T&A; products give you the freedom to build your system according to your needs.
Touch, no touch, no problem: Because every door isn't the same, assessing the needs at each allows you to make better decisions to suit your needs and pocket. Suprema devices offer you face, fingerprint, mobile credentials, QR, RFID and PIN, or any combination thereof.
Convenience that attracts users
• Walkthrough face recognition, so that you never need to stop.
• Mobile credentials to remove the cost and security risk of cards.
• Mobile selfie enrolment for easy and effective onboarding of users and visitors.
• Elegant and powerful web-based management interface, local or cloud-based implementations, accessible from anywhere.
• Migration from touch to touchless, cards to mobile credentials, RFID to BLE, server to cloud? No problem: no need to rip and replace, do it at your own pace, all under one umbrella, with seamless migration.
System design and architecture is also your choice. Suprema offers centralised systems, managing data within centralised encrypted biometric controllers, using slave readers. Or, decentralised systems, independent on network availability, controlling users access securely at the door. Moving the data off the edge to your card or mobile is also an option (face template on mobile will be released later this year).
Privacy, GDPR, POPIA? Suprema, understands the importance of your data, your privacy, and the risk of leaked identities.
• Template-on-card or the new face-template-on-mobile credential, meaning you are in full control of your own data.
• Using biometric templates, instead of images, prevents compromises to your identity.
• Your data is encrypted during transport and in rest, using certificates, TSL and internationally-leading encryption standards.
• Suprema recently recertified in compliance with ISO/IEC 27001 and ISO/IEC 27701, international standard certifications for information security management systems (ISMS).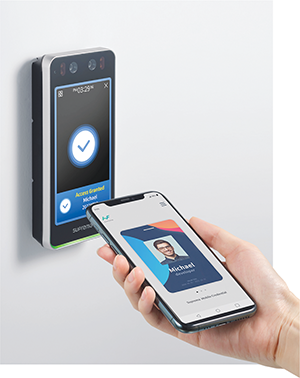 No limitations in software solutions. Choose Suprema BioStar 2 web-based solution from free to enterprise, T&A; or video integration, with no recurring fees. Alternatively, any access or time provider can seamlessly integrate Suprema into their systems with a variety of SDKs and APIs, and free local engineering support to fast-track development. Some examples: Avigilon, ERS, Impro, Jarrison, Gallagher, Genetec, Lenel, Nutun, Paxton, ProWatch.
The BioStation 3 is Suprema's newest door access experience. This fusion face terminal is perfect for any door and any business. Its fast and smart AI offers seamless fusion face access, combining visual and IR face matching, enabling flexible solutions through selfie enrolment, while exceeding security requirements with exemplar anti-spoofing, and enabling seamless access in bright and zero light. Multiple credentials offering mobile credentials, QR, RFID, and/or PIN, over and above Suprema's inhouse industry-leading face recognition. Wi-Fi options, and VoIP and RTSP, provide seamless and mobile-enabled video phone interface. BioStation 3 lives up to Suprema's ethos of making access easy, offering all the options you need.
Join Suprema on a journey into the future.
Credit(s)
Further reading:
Gallagher Security releases Command Centre v9
Gallagher News & Events Access Control & Identity Management Integrated Solutions
Richer features, greater integrations, with the release of Gallagher Security's Command Centre v9 security site management software designed to integrate seamlessly with various systems and hardware.
Read more...
---
Paxton's Net2 secures medicinal cannabis facility
Paxton Access Control & Identity Management Healthcare (Industry) Videos
Paxton's Net2 access control has been installed at Highlands Grow, a fully licensed industrial-scale cultivator, producing cannabis for medicinal and recreational use.
Read more...
---
Lock down your access control with Alcatraz AI
C3 Shared Services Healthcare (Industry) Access Control & Identity Management AI & Data Analytics
Alcatraz AI, represented in South Africa by C3 Shared Services, changes access control by harnessing the power of artificial intelligence and analytics at the edge, where facial recognition becomes the essential credential autonomously.
Read more...
---
Effective access control
Flow Systems Access Control & Identity Management Products & Solutions
Flow Systems has introduced its new Extra Heavy Duty Industrial Rising Vehicle Barrier, which provides a high level of protection. It is a traditional-looking control barrier with the benefits of high-level physical protection.
Read more...
---
Newport Aquarium replaces traditional locks and keys
Paxton Access Control & Identity Management Entertainment and Hospitality (Industry)
Newport Aquarium wanted to replace its old security system with an easy-to-use and high-security access control solution to keep the animals, visitors, and staff safe. The solution was Net2, a PC-based access control system that offers centralised administration.
Read more...
---
Securing easy access
Suprema neaMetrics Access Control & Identity Management
Securing access to hospitals and healthcare institutions presents a unique set of challenges, because these facilities operate 24/7, have highly 'open' access in public areas and require a strict level of security.
Read more...
---
Reliable mass notification
Access Control & Identity Management
The use of voice alarm and voice evacuation systems within the healthcare industry ensures a safer and more reassuring environment in the event of an emergency.
Read more...
---
Protecting our most vulnerable
Access Control & Identity Management
In a nation grappling with the distressing rise in child kidnappings, the need for innovative solutions to protect our infants has never been more critical. South Africa finds itself in the throes of a child abduction pandemic.
Read more...
---
New generation of cyber-focused controllers
Gallagher News & Events Access Control & Identity Management Products & Solutions
The C7000 gives users an opportunity to leverage their hardware and firmware to build a platform designed to catapult their organisation into the future, with cybersecurity baked in from inception.
Read more...
---
New T&A terminal features revolutionary AI technology
Suprema News & Events Access Control & Identity Management AI & Data Analytics
Suprema has launched BioStation 2a, the world's first deep learning-based fingerprint recognition solution, providing powerful access control features and an improved ability to extract templates from low-quality fingerprints.
Read more...
---