printer friendly version
Prime time for palm vein identification
Issue 1 2023
Editor's Choice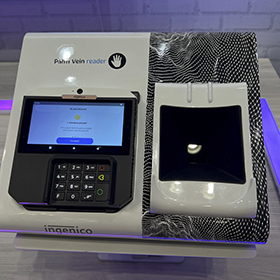 Ingenico and Fujitsu Frontech North America, through its subsidiary Fulcrum Biometrics, have unveiled the world's most secure, accurate and seamless biometric payment solution based on palm vein identification. This innovation enables merchants to speed up checkout, minimise the risks of fraud, and streamline the customer experience.
The solution enables contactless payments, reduces queues, and transforms in-store commerce. Designed on Ingenico's AXIUM range, its Android payment terminals, the solution allows consumers to identify themselves and authenticate their payments simply by moving the palm of a hand over a near infrared (NIR) sensor. There is no need to take out a credit card or enter a PIN, making your hand the only payment method necessary.
As every person has a unique pattern of veins in the palm of their hand, palm vein identification is one of the most accurate biometric identification technologies in the world. It is less intrusive and more secure than alternatives such as fingerprints and facial recognition, and it is easier to implement and operate. The convenient, contactless, and hygienic technology has the potential to accelerate the share of cashless and digital transactions in markets worldwide. It can also offer additional security levels for organisations requesting strong identification solutions.
The solution combines Ingenico's understanding of the business needs of merchants and its expertise in payment technology with Fujitsu's identification algorithm for analysing and matching biometric data. It uses Fujitsu's PalmSecure technology and incorporates biometric identification solutions developed by Fulcrum Biometrics.
To enrol consumers in the service, merchants first take a near infrared (NIR) scan of a customer's palm using a device designed by Ingenico that incorporates the Fujitsu PalmSecure-F Pro sensor and software. This image is encrypted, tokenised, and linked to the customer's payment card in Ingenico's secure cloud environment. In contrast to facial recognition and fingerprints, it is not possible for hackers to take close-up pictures of internal palm vein structures to make fraudulent transactions. The unique patterns under the skin are virtually impossible for fraudsters to replicate.
Michel Léger, senior executive vice-president, Global Solutions Development at Ingenico, commented, "Palm vein biometrics is the most secure method for identifying customers and authenticating payments. Palm vein identification is a much faster way of making payments than traditional chip-and-PIN and offers several tangible advantages, with none of the security risks of other biometric methods."
"We are seeing a lot of interest from merchants in the solution that we have developed with Fujitsu Frontech North America and Fulcrum Biometrics. Palm vein identification gives them new opportunities to authenticate and identify their customers in the most seamless way possible, personalise their offers and create unrivalled experiences in-store. This partnership is set to transform and revolutionise payment experiences for consumers."
Ken Nosker, CEO of Fulcrum Biometrics and Fujitsu Frontech North America VP of Biometrics commented, "The world is embracing biometrics. Palm vein identification is the most private and secure technology in the market and gives consumers the contactless, hygienic, and frictionless payment solution that they are demanding. Our retail customers are lining up to pilot the technology. Combining Fujitsu Frontech North America's experience in biometric hardware and identification with Ingenico's global scale and payments expertise, our solution will be a game changer for merchants around the world."
Credit(s)
Further reading:
What South Africans need to know about smart devices
Technews Publishing Editor's Choice
We live in a world surrounded by smart devices, from our pockets to our driveways and living rooms.
Read more...
---
From overwhelm to oversight
Editor's Choice Cyber Security Products
Security automation is vital in today's world, and Microsoft Sentinel is a widely adopted, but complex answer. ContraForce is an easy-to-use add-on that automatically processes, verifies and warns of threats round-the-clock.
Read more...
---
SMART Surveillance Conference 2023
Technews Publishing Editor's Choice CCTV, Surveillance & Remote Monitoring Conferences & Events
Some people think the future is all about cloud technologies, but the SMART Surveillance conference demonstrated that AI is making edge surveillance much more attractive, over distributed sites, than ever before.
Read more...
---
Has your business planned for the worst?
Editor's Choice Cyber Security Security Services & Risk Management
Incident response is a specialised part of security, like a hospital's intensive care unit: IR kicks in when the organisation detects a breach of its systems to stop criminals from doing more damage.
Read more...
---
Making a difference with human intelligence gathering
Kleyn Change Management Editor's Choice
Eva Nolle believes that woman should stand their ground as they often bring an entirely different skill set to the table, which enhances the overall service delivered.
Read more...
---
Milestone celebrates women in security
Milestone Systems Technews Publishing Editor's Choice News Conferences & Events
The Milestone Systems' African team wanted to express their appreciation for the incredible contributions of the women in the security industry and held a breakfast in honour of the hard-working women in the industry on 8 August.
Read more...
---
Supporting CCTV intelligence with small and big data
Leaderware Editor's Choice CCTV, Surveillance & Remote Monitoring
The increasing development of AI and its role in enhancing investigation-led surveillance, and the increasing capacity of control rooms and local analysts to deliver data in return, can increase the synergy between intelligence and surveillance.
Read more...
---
Overcoming resistance to changing your current operating model
Editor's Choice Integrated Solutions
Business survival goes beyond cutting costs and driving efficiency, it's about using data and technology as strategic assets to develop speed, agility and resilience, keep up with customer demands, beat the competition and grow the business.
Read more...
---
The road to Zero Trust not necessarily paved with gold
Editor's Choice Access Control & Identity Management Cyber Security
Paul Meyer says that while Zero Trust must be the goal, there are a few potholes to navigate on the journey. Here he expands on these caveats, but also exposes the greatest ally of Zero Trust.
Read more...
---
More agile, flexible access management
ASSA ABLOY South Africa Editor's Choice Access Control & Identity Management
Tim Timmins from ASSA ABLOY Opening Solutions examines the growing shift towards cloud access management. How can organisations benefit, and what should they look for when choosing a cloud access control solution?
Read more...
---