printer friendly version
Keeping devices in check
Issue 7 2022 Cyber Security, Asset Management, EAS, RFID, IT infrastructure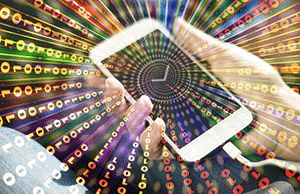 Kaspersky's latest invention is intended for logically linking various electronic devices into a single network around the account of the owner and identifying similarities between device configurations. The technology will help to prevent any user devices from becoming a vector of attack against another device or user data, and will inform them if their configuration is insecure.
According to Deloitte, the number of electronic devices with a network interface belonging to the same household or user has doubled in only the last three years. The similar growth, however, can be also observed in the attacks targeting IoT devices. This situation provokes the need for technologies that will ensure the security of various and mutual Internet-connected devices and their owners.
A single smart home usually consists of a number of devices, including home appliances and wearables with different security integration capabilities, code vulnerabilities and patch timing. So today, to keep a home safe from cyberattacks, an owner of all these devices must dedicate special attention to ensuring regular device patching, or configuring a secure device network that isolates insecure gadgets from others.
The patent 'System and Method for Analysing Relationships Between Clusters of Electronic Devices to Counter Cyberattacks', issued by the US Patent and Trademark Office, provides a new method of facilitating cybersecurity management of IoT devices. It allows users to detect every gadget belonging to the same network environment and to correlate them with similar networks for further identifying actual or potential cybersecurity gaps. Thus, if any device in the user's network is insecure and has already been an attack vector, or if a similarly configured network has been compromised, the technology will detect it and warn the user or security solution about the possible danger.
While conventional linking technologies rely on data which can be removed (such as cookies) or on heuristics having inadequate accuracy, the Kaspersky invention offers reliable and long-lasting linkage of devices, relating them to a profile and operatively responding to a change in the user profile.
The patented technology also ensures attribution of an unknown device to a cluster of devices. The method implies the defining of relationships between the gadget and its environment/surroundings, and further applies the discovered patterns for attributing other devices into the same cluster. A relationship between the devices is determined using the computed similarity metric. This technology is intended to help cybersecurity solutions analyse connected devices to further understand if specific devices or their particular configuration pose any risks, and also offers the kind of protection needed and provides it.
"The technologies of linking devices are mostly used in marketing for learning consumer behaviour. But as a cybersecurity company, we saw that this functionality has a large potential in addressing the current challenges of connected device protection," says Dmitry Ivanov, inventor of the technology and intellectual property specialist at Kaspersky. "Although the patented technology is not yet implemented into Kaspersky solutions, we are exploring possible ways for its application to make sure that it will advance IoT security to a new level."
Further reading:
Telematics help protect SA trucks against expanding risks
Logistics (Industry) Asset Management, EAS, RFID
South Africa's road freight transport sector currently accounts for about 85% of all goods transported in the country and is growing rapidly annually. "To ensure that goods are delivered safely, promptly, and affordably is a challenge," says Justin Manson of Webfleet.
Read more...
---
A surge of cybersecurity for the energy sector
Government and Parastatal (Industry) Cyber Security
With a rapid transition towards renewable energy, the energy sector has an increased reliance on technology. This makes it particularly vulnerable with regards to cybersecurity, as it depends on interconnected systems and digital technologies.
Read more...
---
Secure backup strategies imperative for business continuity
IT infrastructure Cyber Security
Cybercrime is on the rise, and businesses need to adjust how they manage their data to fend off attackers, or risk irreparable damage, writes Lisa Strydom, Senior Manager Channel and Alliance for Africa at Veeam Software.
Read more...
---
The state of edge security report
News IT infrastructure
Edge computing has grown from being a niche use case in a handful of industries to offering a major opportunity for enterprises across industries to spread computing power around the world.
Read more...
---
CHI selects NEC XON as trusted cybersecurity partner
News Cyber Security Industrial (Industry)
CHI Limited, Nigeria's leading market player in fruit juices and dairy products, has engaged in a strategic cybersecurity partnership with NEC XON, a pan-African ICT systems integrator.
Read more...
---
Mitigating escalating DDoS cyberattacks
Cyber Security
As cyberattacks, particularly those of the Distributed Denial of Services (DDoS) variety, continue to rise at an unprecedented rate across Africa, it is no longer a question of 'if' your organisation will be targeted, but rather 'when'.
Read more...
---
Six effective antidotes to modern cyber adversaries
Cyber Security
As the head of cybersecurity at NEC XON, Armand Kruger has witnessed the transformation from hooded hackers to a sophisticated dark economy that poses unprecedented threats and is run like a business.
Read more...
---
Key strategies for businesses in the face of cyber threats
Cyber Security Security Services & Risk Management
Businesses face severe financial and reputational consequences due to data breaches and daily website hacks, and not all organisations are adequately prepared to combat these escalating threats.
Read more...
---
Manage security systems remotely
Hikvision South Africa CCTV, Surveillance & Remote Monitoring IT infrastructure Products
Hikvision launched a new generation of smart managed switches that, in conjunction with the Hik-Partner Pro mobile app, enable installers to remotely deploy and configure security systems with comprehensive operation and maintenance capabilities.
Read more...
---
Cyberattacks are inevitable for small businesses
Cyber Security
The recent cyberattack on Microsoft is a stark reminder that no organisation, regardless of its size or industry, is immune to cyber threats. Even small businesses, often assuming they are less attractive targets, are vulnerable.
Read more...
---