printer friendly version
Protecting yourself from DDoS attacks
Issue 7 2022 Cyber Security, Security Services & Risk Management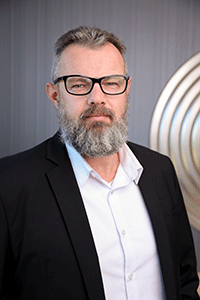 Tarquin Rohlandt.
Picture this: it's Black Friday and it's time to take advantage of the massive sale on your favourite online shop. You've been receiving emails all month in the run-up to the day and you've bookmarked several items that you just have to have, and their prices for one day only are ridiculously low. You open the browser, head to the store and...
You find yourself staring at a blank page. The service is unavailable. You refresh. You close the browser and reopen it. You clear your cache. You restart your modem. Rinse, repeat. Still nothing. The site is down.
You phone the site's customer service call centre and are placed in a queue. After waiting for 20 minutes, you know something is wrong. The queue for a call centre employee is huge. What's going on?
You check on social media and find that posts about the Black Friday sale on this retailer's site are exploding with rage. You're clearly not the only one having this problem. You are finally able to talk to one of the store's employees and they say the site is down due to a Distributed Denial of Service (DDoS) attack. You ask how long the site will be down. They don't know.
This site could be down for hours. It could be down for days. Glumly you go searching on other retail sites for the items you want. They're not as cheap, but they're available. As you make your first purchase, you angrily vow never to visit that other online retailer ever again.
DDoS attacks are on the rise
If this scenario sounds frustrating for a customer, imagine what it must sound like if you are the owner of a retail site under the same circumstances. A DDoS attack, which is what happens when an attacker floods a server or network with Internet traffic to prevent users from accessing connected online services, can cost you untold damage in both earnings and reputation.
Retail sites are not alone; DDoS attacks can be targeted at any enterprise that operates in the online space, including corporations, financial institutions, NGOs, gaming networks, ISPs and even governments.
In the last year, cybercriminals launched over 9 million DDoS attacks, with around 4,4 million occurring in the second half of 2021. Simply put, no business can afford to be without protection against such attacks. They are a vital part of any cybersecurity conversation.
Protect your networks
Businesses can guard against DDoS attacks by purchasing a service that can function as a barrier to any attempt to overload their network with traffic. One such service, Liquid's recently launched DDoS Secure, mitigates attacks by scrubbing traffic and blocking known attackers or hostile traffic. On top of this, this service can give clients a line of sight into an attempted disruption by providing reports on any attacks.
Services such as these provide businesses with a crucial layer of protection. They ensure work is not interrupted by DDoS attacks, prevent revenue loss and safeguard the reputation of their clients. Beyond this, they increase businesses' potential for growth through tenders and partnerships by granting them DDoS compliance – more opportunities open up once an enterprise can demonstrate that its network and day-to-day operations are secured against attacks of this type.
With DDoS attacks constantly on the rise, it pays to have higher visibility of potential attacks, to be able to automatically mitigate threats and secure your business's reputation, compliance and its bottom-line. DDoS protection is essential for businesses operating in our ever-increasingly connected world.
Further reading:
NIST's impact on cybersecurity
Cyber Security
Through its NIST Cybersecurity Framework, the non-regulatory agency empowers organisations to take a proactive approach towards managing and mitigating cyber risks, enabling them to stay resilient against the ever-evolving threat landscape.
Read more...
---
Best practice tips for strengthening data privacy system
Security Services & Risk Management Cyber Security
International cybercriminals are increasingly targeting South African organizations, making data privacy more difficult to maintain. A standardization expert offers insight to help combat this threat.
Read more...
---
AI-powered cyber protection for consumers
IT infrastructure Cyber Security
Acronis Cyber Protect Home Office is designed for the evolving landscape of cyber threats by integrating Acronis' cyber protection and secure backup solutions, combining AI-powered defence mechanisms, robust data backup, remote management tools, and mobile device protection.
Read more...
---
Is AI the game-changer for streamlining anti-money laundering compliance?
Financial (Industry) Security Services & Risk Management
In the aftermath of South Africa's recent grey listing, companies are now confronted with the imperative to address eight identified strategic deficiencies, while simultaneously reducing their financial crime risk through anti-money laundering compliance processes.
Read more...
---
Client satisfaction boosted by 85% at Thungela Mine
Thorburn Security Solutions News Security Services & Risk Management Mining (Industry)
Thorburn Security, a division of Tsebo Solutions Group, has announced its recent collaboration with Kwa-Zulu Natal security company, Ithuba Protection Services, as part of its Enterprise Supplier Development (ESD) initiatives across Africa.
Read more...
---
A surge of cybersecurity for the energy sector
Government and Parastatal (Industry) Cyber Security
With a rapid transition towards renewable energy, the energy sector has an increased reliance on technology. This makes it particularly vulnerable with regards to cybersecurity, as it depends on interconnected systems and digital technologies.
Read more...
---
Secure backup strategies imperative for business continuity
IT infrastructure Cyber Security
Cybercrime is on the rise, and businesses need to adjust how they manage their data to fend off attackers, or risk irreparable damage, writes Lisa Strydom, Senior Manager Channel and Alliance for Africa at Veeam Software.
Read more...
---
CHI selects NEC XON as trusted cybersecurity partner
News Cyber Security Industrial (Industry)
CHI Limited, Nigeria's leading market player in fruit juices and dairy products, has engaged in a strategic cybersecurity partnership with NEC XON, a pan-African ICT systems integrator.
Read more...
---
Migrating to the cloud? Beware the many hurdles
IT infrastructure Security Services & Risk Management
While there are undoubtedly many benefits, there are also numerous hurdles to cloud adoption. Some of the biggest challenges revolve around managing cloud spend, understanding the cost components of cloud infrastructure, and how those costs can scale.
Read more...
---
Mitigating escalating DDoS cyberattacks
Cyber Security
As cyberattacks, particularly those of the Distributed Denial of Services (DDoS) variety, continue to rise at an unprecedented rate across Africa, it is no longer a question of 'if' your organisation will be targeted, but rather 'when'.
Read more...
---