printer friendly version
The next generation of Point of Sale
Issue 7 2022 Commercial (Industry), Security Services & Risk Management, Products & Solutions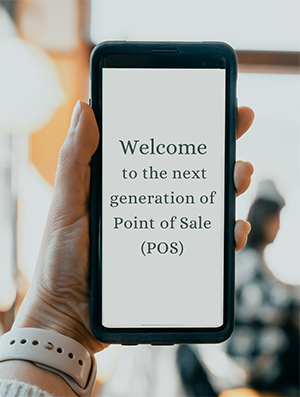 It's hard to believe that a DVD mail-order business has redefined what it means to stream digital content for the global age. And yet, that is precisely what Netflix has done. From its humble postal beginnings in 1998, the streaming service is now a household name and a global presence.
This is the ultimate showcase of how innovations in technology can reshape an entire industry, and this is precisely what software point-of-sale (SoftPOS) is doing. SoftPOS will drive positive changes in the payments industry over the next few years.
As Craig Leppan, head of business development at Halo Dot, points out, the move towards contactless technology allows for merchants and acquirers to grow customer card payments without the need for costly POS hardware, and this will move into mainstream adoption from 2023. What was initiated as a pilot programme by Visa and Mastercard to trial the SoftPOS technology has proven its value and readiness for real-world solutions.
"SoftPOS is still something of a fresh-faced contender in the market right now, but more and more providers are showing up at events and raising their hands. The technology has adapted to radical shifts in customer needs and is moving towards mainstream adoption, as its industry players continue to innovate the technology and its accessibility."
Like Netflix realising that the DVD was on its way out, SoftPOS is clambering up the traditional walls of payment technology and approaches. There are two key reasons why – it's 'tap and go' on a mobile device that doesn't demand either consumer or company investment in any additional or expensive technology; and it's easy for customers to use without doing anything outside of their normal 'tap and go' payment habits.
With the right solution in place, any retailer can introduce SoftPOS to their stores and accept multiple payment methods across credit cards, debit cards, mobile wallets, wearables and more. It taps directly into existing card payment rails while allowing customers to tap and go in new locations away from the till.
"The European market is already shifting its gaze towards SoftPOS as customers and companies recognise how easy it makes the payment ecosystem," says Leppan. "It's a trusted solution with a proven history and it allows for companies to hook into customer engagement through a solution that makes their lives easier."
Halo Dot, recognising the growing potential and scope of the European market, has incorporated a business in Amsterdam that's committed to creating a SoftPOS ecosystem for European partners and acquirers. The company has already built its SoftPOS offering on a solid foundation and will take this solution to a market that's always hungry for innovation and customer convenience.
Find out more at www.halodot.io
Further reading:
Effective access control
Flow Systems Access Control & Identity Management Products & Solutions
Flow Systems has introduced its new Extra Heavy Duty Industrial Rising Vehicle Barrier, which provides a high level of protection. It is a traditional-looking control barrier with the benefits of high-level physical protection.
Read more...
---
Tech developments lead hologram growth in 2024
News & Events Security Services & Risk Management
Micro-lenses, micro-mirrors and plasmonics are among the rapidly-emerging optical devices that have evolved on the back of holographic and diffractive technologies, and are seen as part of the natural evolution of optical science by R&D teams.
Read more...
---
SafeQuip introduces lithium fire extinguishers
Fire & Safety Products & Solutions
With the use of Lithium batteries increasing in many types of portable devices and battery storage solutions, SafeQuip, in partnership with AVD Lithex, is introducing a fire extinguisher aimed at suppressing and extinguishing, and also preventing re-ignition of lithium fires.
Read more...
---
New generation of cyber-focused controllers
Gallagher News & Events Access Control & Identity Management Products & Solutions
The C7000 gives users an opportunity to leverage their hardware and firmware to build a platform designed to catapult their organisation into the future, with cybersecurity baked in from inception.
Read more...
---
Nextivity CEL-FI ROAM R41 boosts your cell signal
IoT & Automation Products & Solutions
Designed for cars, trucks, and boats, it is the industry's most powerful cellular coverage solution for on-the-go applications. It features the 4th generation IntelliBoost chip to deliver channelised coverage for mobile network operator (MNO) signals.
Read more...
---
Are you leaving money on the table?
Editor's Choice Security Services & Risk Management
How many customers have you helped since starting your business? Where does most of your new business come from? If the answer is not from your database's existing customers, you might have a problem.
Read more...
---
Olarm advances smart security with Texecom integration
Olarm News & Events Perimeter Security, Alarms & Intruder Detection Products & Solutions
Following Olarm's achievement as the OSPA 2023 winner of 'Outstanding Security Integrator', it has taken another significant step in its innovation journey with the announcement of its integration with Texecom Premier Elite.
Read more...
---
Enhanced security at Xanadu Nature Estate
Turnstar Systems Access Control & Identity Management Products & Solutions
Turnstar Systems recently installed two bicycle turnstiles at the 240-hectare Xanadu Nature Estate, set in the Magaliesberg, the perfect location for secure communal living catering to the lifestyle of residents.
Read more...
---
BMS for smaller businesses
Security Services & Risk Management Products & Solutions Risk Management & Resilience
Small businesses can also benefit from tailored energy management solutions just like large corporations. Effective energy management is essential for more sustainable and efficient operations.
Read more...
---
Kidnapping for ransom
News & Events Security Services & Risk Management Risk Management & Resilience
There has been an 8,6% increase in reported kidnapping cases in South Africa compared to last year, with 3 854 cases reported between April and June this year, leaving ordinary South Africans increasingly vulnerable.
Read more...
---