printer friendly version
Hikvision releases eDVR Series with eSSD technology
Issue 7 2022 Surveillance, Products & Solutions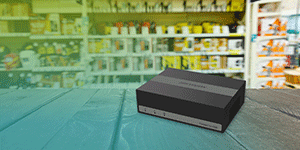 Hikvision recently added the eDVR Series into its expanding portfolio of security solutions for SMBs. Powered by embedded solid-state drive (eSSD) technology, Hikvision's eDVRs are compact, durable, easy to use and energy-efficient. All this means they are ideal for small- to medium-sized businesses and residential applications.
"The eDVR Series is smarter, faster, more durable and more energy-efficient, not only helping to minimise negative environmental impacts but also delivering major energy and cost savings for our customers," says Wenson Zhou, product director at Hikvision.
New possibilities for efficiency and sustainability
1) Eco-friendliness and 45% energy saving
The ultra-low power consumption of chip-level eSSDs makes Hikvision eDVRs more sustainable. Since these devices don't have spindle motor engines built in, their energy consumption is 45% lower than that of conventional DVRs, not only helping users to make long-term savings on their electricity bills but also enabling them to reduce carbon emissions.
In addition, the use of eSSDs makes the products more durable than conventional DVRs that use HDD drives. This is because there are fewer moving parts, such as actuator arms. With longer product lifecycles, the eDVR Series contributes to eco-efficiency and sustainability.
2) Endurable storage with a 25% improvement in efficiency
Being powered by eSSD technology with solid-state storage components down to the chip level, the Hikvision eDVRs have exceptional storage efficiency and system stability. The storage efficiency of the eDVR Series is further enhanced by 'scene adaptive bitrate control technology', which automatically optimises encoding for video footage and improves encoding efficiency by 25%. Specifically, complex scenes with human or vehicle movements are allocated higher bitrates to ensure great video quality. At the same time, low-complexity scenes with little or no movement are assigned a lower bitrate to optimise storage efficiency.
3) Compact design for ease of use and simplicity of installation
As the eDVRs are embedded with SSDs and have a screwless design, tool-free installation is made possible. What's more, without the traditional horizontal mounting requirements of conventional HDDs, the devices are also easier to assemble and set up. Thanks to this ease and flexibility of installation, both end customers and installers can save time and reduce their maintenance and operating costs.
Compared to conventional SSD DVRs, Hikvision's eDVRs are highly compact, helping to save space. They can fit anywhere, be it behind a monitor, under a table, on a bookshelf or hidden inside a custom stand.
4) Smart motion detection
Embedded with Motion Detection 2.0 technology, the eDVR Series can distinguish human beings and vehicles from other objects in any given environment, enabling property owners to respond more quickly and effectively to potential security breaches. The technology also enables property owners to search video footage based on the appearances of people or vehicles during a specific period of time, saving time and reducing their workloads and costs.
Effective for residential and SMB applications
The innovative features of the Hikvision eDVR Series make these solutions equally effective for residential, SMB and commercial applications. In all cases, end customers benefit from an easy and flexible installation process, low energy consumption, minimal maintenance requirements and high-performance video capture, storage and processing.
The compact format of Hikvision eDVRs also increases the solution's versatility. For example, eDVRs can easily fit into residential homes. The devices' storage drives also operate with virtually no noise or vibrations, and generate very little heat, which makes them ideal for residential applications. These advantages, along with the eDVRs' affordability, functionality and sustainability, also make the product range an ideal choice for SMBs such as convenience stores, grocery shops, restaurants, workshops, bars and more.
Credit(s)
Further reading:
Pentagon appointed as Milestone distributor
Elvey Security Technologies News & Events Surveillance
Milestone Systems appointed Pentagon Distribution (an Elvey Group company within the Hudaco Group of Companies) as a distributor. XProtect's open architecture means no lock-in and the ability to customise the connected video solution that will accomplish the job.
Read more...
---
Embracing next-generation surveillance for safer cities
Surveillance Integrated Solutions AI & Data Analytics
With the South African government highlighting the importance of building smart cities by integrating advanced technologies to make them more resilient and liveable, the role of next-generation network video and surveillance technologies cannot be ignored.
Read more...
---
Hik-Connect for Teams released
Hikvision South Africa Products & Solutions Surveillance
Hikvision has released an update for its security management platform; Hik-Connect for Teams not only meets the specific needs of individual users, but also caters to various medium-sized businesses (SMBs) and multi-site management scenarios.
Read more...
---
The human factor side of video management systems
Leaderware Editor's Choice Surveillance Risk Management & Resilience
A video management system (VMS) is central to, and the most vital element to any control room operation using CCTV as part of its service delivery, however, all too often, it is seen as a technical solution rather than an operational solution.
Read more...
---
A simple system for complex protection
Surveillance AI & Data Analytics IoT & Automation
Reconeyez is a company that provides autonomous wireless visual verification systems with built-in artificial intelligence. Running on batteries, each device includes communication capabilities, creating a mesh network between the various devices, linking them to the control room.
Read more...
---
Revolutionise your security with integrated solutions
Secutel Technologies Products & Solutions Surveillance
By merging the capabilities of SecuVue and Secutraq, Secutel has forged a robust system empowering users to fine-tune analytics and harness facial recognition, pose detection, and XFS, among other features.
Read more...
---
Effective access control
Flow Systems Access Control & Identity Management Products & Solutions
Flow Systems has introduced its new Extra Heavy Duty Industrial Rising Vehicle Barrier, which provides a high level of protection. It is a traditional-looking control barrier with the benefits of high-level physical protection.
Read more...
---
Safer roads to a sustainable future
Dahua Technology South Africa Surveillance
With the ever-increasing number of vehicles on the road, it is imperative to constantly improve the quality of transportation monitoring and traffic management in urban and rural areas.
Read more...
---
Hikvision unveils range of network speakers
Hikvision South Africa Integrated Solutions
Hikvision has recently unveiled its latest audio product line, featuring various advanced network speakers. Each product is designed to meet different application needs, ensuring flexibility and adaptability across numerous environments.
Read more...
---
SafeQuip introduces lithium fire extinguishers
Fire & Safety Products & Solutions
With the use of Lithium batteries increasing in many types of portable devices and battery storage solutions, SafeQuip, in partnership with AVD Lithex, is introducing a fire extinguisher aimed at suppressing and extinguishing, and also preventing re-ignition of lithium fires.
Read more...
---