printer friendly version
Biometrics deliver added benefits to residential estates
Issue 7 2022 Residential Estate (Industry), Access Control & Identity Management
Residential estates in South Africa are a big phenomenon. They are places designed for people aspiring to live within a community where they can grow families and friendships. In a country where crime statistics are unfortunately all but flattering, one of the advantages of residential estates over free-standing houses is security. To that effect, the most successful estates mimic villages or small cities. To ensure a seamless experience for their residents, residential estates need to control three distinct areas: entrances, the inside world and the outside world.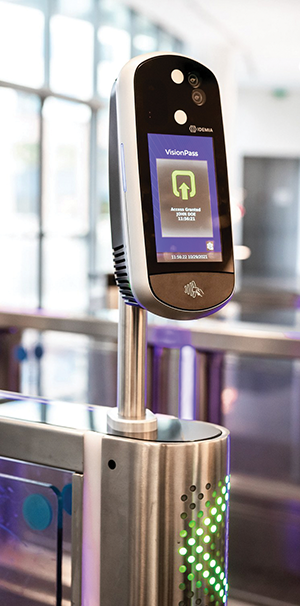 Through entrance and exit gates, estates must ensure that only authorised people go in and out. Access control has transformed over the past few decades, as convenient but unsecure cards gave way to more robust biometric systems. For years now, South Africans have enjoyed the convenience and security of contact biometric technologies. Unlike cards, one cannot lose, give or borrow fingerprints.
While the world keeps on changing, biometric technologies have evolved to offer contactless options such as facial recognition or contactless fingerprint solutions. When selected well, those solutions are faster, more convenient, more hygienic and more efficient than contact solutions, and the advent of artificial intelligence and deep learning has brought the technology to the next level.
The National Institute of Standards and Technology (NIST) and Department of Homeland Security in the USA regularly acclaim IDEMIA South Africa algorithms. The successful implementation of its MorphoWave technology in residential estates in South Africa is proof that these accolades are deserved. Failures to enrol (those who cannot use the system due to bad or no biometric features) and false rejection rates (those rejected when they should not be) have been reduced tenfold.
While they secure entrances, estates can also not live in complete isolation from the outside world. Contractors need to come in to maintain properties, deliveries happen all the time and friends visit residents, and the security manager must secure this constant incoming and exiting flow of people too. Many solutions exist, and biometric systems have a role to play. Security personel can enrol contractors for the time they need to perform a job and the system can remove them automatically at the end of the contract.
With the right system in place, it is possible for visitors to enrol directly on their mobile phone prior to visiting the estate, if a resident sends them an invitation. Like with contactors, visitor access is possible for a predetermined amount of time. With biometrics, it is possible to say without doubt who was in the estate at any given date and time – if a system is designed carefully using the right technology. For instance, while no mandatory certification exists today, vendors can submit their products to credible international evaluation tests such as iBeta Level 1 and 2 to measure resistance to spoofing attempts. It is always frustrating to see a carefully designed system fail because of its weakest link, like reading a face off a piece of paper or the screen of the latest smartphone.
When entrances and the flow of people coming inside the estate are under control, the next question should be "what about inside the estate?" The use of video analytics systems, boosted by biometrics, can also help to monitor/detect potential threats through existing CCTV systems, or allow for investigation at an accelerated pace.
Biometric usage is often restricted to cases described earlier, but it does not have to be that way. Biometrics are essentially a means of identification that open up infinite benefits for users, only one of them being giving access to the estate.
Inside the estate, biometrics solutions could be the key to unlocking services such as access to the pool, or a means for emergency management to identify somebody found unconscious. What about tab management at the clubhouse or controlling kids' spending to a predefined limit?
Estates are slowly becoming smart cities. They play an important role in people's life. Technology should serve people seamlessly, and not the other way around.
Credit(s)
Further reading:
Gallagher Security releases Command Centre v9
Gallagher News & Events Access Control & Identity Management Integrated Solutions
Richer features, greater integrations, with the release of Gallagher Security's Command Centre v9 security site management software designed to integrate seamlessly with various systems and hardware.
Read more...
---
Lock down your access control with Alcatraz AI
C3 Shared Services Healthcare (Industry) Access Control & Identity Management AI & Data Analytics
Alcatraz AI, represented in South Africa by C3 Shared Services, changes access control by harnessing the power of artificial intelligence and analytics at the edge, where facial recognition becomes the essential credential autonomously.
Read more...
---
New generation of cyber-focused controllers
Gallagher News & Events Access Control & Identity Management Products & Solutions
The C7000 gives users an opportunity to leverage their hardware and firmware to build a platform designed to catapult their organisation into the future, with cybersecurity baked in from inception.
Read more...
---
New T&A terminal features revolutionary AI technology
Suprema News & Events Access Control & Identity Management AI & Data Analytics
Suprema has launched BioStation 2a, the world's first deep learning-based fingerprint recognition solution, providing powerful access control features and an improved ability to extract templates from low-quality fingerprints.
Read more...
---
Reliable access management for famous film location
Paxton Access Control & Identity Management Residential Estate (Industry)
The Royal Connaught Park features a private swimming pool, health and fitness suite, outdoor tennis court and onsite parking, with over 100 residents coming and going every day.
Read more...
---
Smart opener for gates and garages
Smart Home Automation Access Control & Identity Management
The Smart Gate and Garage Opener allows consumers to control and monitor gates and garage doors that have already been fitted with automation devices via the Yale Home app on their smartphone.
Read more...
---
Ring announces second generation indoor camera
Smart Home Automation Surveillance Residential Estate (Industry)
Introducing a removable manual privacy cover, Ring's latest indoor camera provides customers with increased privacy, control and peace of mind when it comes to home security.
Read more...
---
Securing a luxurious estate
Access Control & Identity Management Residential Estate (Industry) Products & Solutions
Turnstar Systems recently partnered with Balwin Munyaka Residential Estate to secure the entrance to its Crystal Lagoon, ensuring only authorised residents and guests can access the site.
Read more...
---
Body-worn evidence
Technews Publishing Forbatt SA Betatrac Telematic Solutions Secutel Technologies Surveillance Residential Estate (Industry) Products & Solutions
Body-worn cameras are no longer just a good idea or a luxury item; in fact, they are gaining popularity and finding use in various situations, one of these being in residential estates.
Read more...
---
Integrating control rooms and response
WatchManager Integrated Solutions Residential Estate (Industry)
Control rooms have become a standard in large estates, and remote control rooms are finding a home even in smaller estates due to cost efficiencies and the increasing reliability of analytics and artificial intelligence.
Read more...
---