printer friendly version
Multi-layered security solution
Issue 7 2022
Residential Estate (Industry)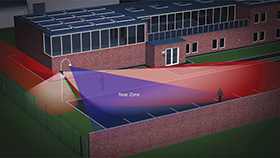 When it comes to protecting larger premises and sites, and stopping intruders in their tracks, Optex, the world leading detection manufacturer, has got you covered with a combination of technologies to create a multi-layered security solution.
Fibre-optics
Fibre-optic technology installed on a fence will detect if someone is attempting to climb over, dig under or cut through. Optex Fiber SenSys can be used for fenced perimeters ranging from 50 m to over 100 km, is designed to last in harsh and hazardous environments and can be remotely deployed with no power or communications required in the field.
What really makes our fibre-optic sensors an integral part of any multi-layered security system is their ability to detect the location of an intruder along even the largest of perimeters and give a better chance to stop them before they have even had a chance to enter the site. Optex also has the capabilities of a buried technology, Echo Point. Working the same as the fence- or wall-mounted solution, this technology can detect and locate where an intrusion is occurring.
LiDAR sensors
LiDAR technology creates high-resolution virtual laser walls and planes to protect perimeters, buildings, roofs and assets. Using onboard sensing analytics, Redscan Pro LiDARs can detect and recognise a moving object's size, speed and distance, pinpoint the exact location of an intruder(s) and enable a fast security response.
The Redscan Pro series is ONVIF compliant and provides high-security protection over large areas, with a range up to 100 m. The sensors also have a built-in camera to assist with configuration and post-event analysis, delivering the ultimate solution and accuracy when it comes to intruder detection. It offers up to eight independent zones which can be adjusted individually to detect different object sizes.
Redwall SIPs
The Redwall Series works in combination with CCTV systems to provide reliable and accurate detection with independent detection zones to locate and track one or several intruders. Part of the wider security system, Redwall SIP sensors can activate security lighting, voice warnings and cameras to deter intruders from going any further.
Compact security radar
Optex can also offer long-range, compact security radars offering early over-the-fence detection from 200 m to 1,5 km and areas up to 380 acres.
Radar is not affected by direct sunlight, fog, mist or dust, and is easily deployed and linked to CCTV and VMS systems. It supports up to 20 possible tracks at a time, with built-in AI at the edge, so vehicles, animals and people can be differentiated.
Scott Wilson, divisional manager for Optex in Africa, says the goal of the company is not simply to provide products but to increase the value delivered to the customer. "Our range of sensors and wireless transmitters can be connected to other hardware and software, enabling more efficient management of the security or facilities. Intruder detectors can be integrated with VMS or PSIM platforms to help improve CCTV operations by triggering alarms and lighting, and tracking individuals and objects across camera views."

For more information contact Optex, sales-sa@optex-europe.com, www.optex-europe.com
Further reading:
Reliable access management for famous film location
Paxton Access Control & Identity Management Residential Estate (Industry)
The Royal Connaught Park features a private swimming pool, health and fitness suite, outdoor tennis court and onsite parking, with over 100 residents coming and going every day.
Read more...
---
Ring announces second generation indoor camera
Smart Home Automation Surveillance Residential Estate (Industry)
Introducing a removable manual privacy cover, Ring's latest indoor camera provides customers with increased privacy, control and peace of mind when it comes to home security.
Read more...
---
Securing a luxurious estate
Access Control & Identity Management Residential Estate (Industry) Products & Solutions
Turnstar Systems recently partnered with Balwin Munyaka Residential Estate to secure the entrance to its Crystal Lagoon, ensuring only authorised residents and guests can access the site.
Read more...
---
Body-worn evidence
Technews Publishing Forbatt SA Betatrac Telematic Solutions Secutel Technologies Surveillance Residential Estate (Industry) Products & Solutions
Body-worn cameras are no longer just a good idea or a luxury item; in fact, they are gaining popularity and finding use in various situations, one of these being in residential estates.
Read more...
---
Integrating control rooms and response
WatchManager Integrated Solutions Residential Estate (Industry)
Control rooms have become a standard in large estates, and remote control rooms are finding a home even in smaller estates due to cost efficiencies and the increasing reliability of analytics and artificial intelligence.
Read more...
---
The difference between a SOP and a SOP
Residential Estate (Industry) Integrated Solutions Security Services & Risk Management Risk Management & Resilience
SOPs are a touchy issue that need careful attention and automation to ensure they deliver the desired security results. Beyond design and automation, implementation is the ultimate road to success.
Read more...
---
Entrance security for residential buildings
Paxton Access Control & Identity Management Residential Estate (Industry) Products & Solutions
Home is where people should feel safe and relax. Installing a reliable access control system is vital to track and prevent non-residents from entering private areas.
Read more...
---
Security without the skin
Alwinco Editor's Choice Security Services & Risk Management Residential Estate (Industry) Risk Management & Resilience
We all know about the layers of security required to form a comprehensive solution, but the layers go deeper than most consider. Andre Mundell dissects security in this article to start the journey into what is under the covers.
Read more...
---
Touchless vehicle access control
Technews Publishing Techsolutions ZKTeco Impro Technologies Editor's Choice Access Control & Identity Management Residential Estate (Industry) Products & Solutions
RFID access for vehicles is a growing market, and many estates (residential and business) have opted for this approach to speed up the process of moving vehicles through access control points.
Read more...
---
Ensuring peace of mind
Fang Fences & Guards Editor's Choice Integrated Solutions Residential Estate (Industry)
With the rapid advance of technology and artificial intelligence, electronic security systems are not only extremely reliable in safeguarding properties, but a well-designed, implemented and maintained system will prevent crimes before they can happen.
Read more...
---