printer friendly version
The benefits of contactless biometrics
Issue 7 2022
Residential Estate (Industry)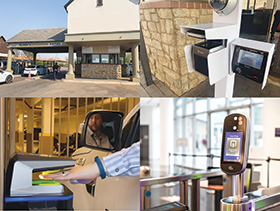 One very important criterion for people moving into a residential estate is the level of security they will find to fulfil their desire to live in a truly secure environment. This can be achieved through the use of multiple technologies including CCTV, perimeter protection and others, but of course it is also absolutely crucial to protect access to the estate.
Residents could be using simple RFID card keys similar to the one they use in the office, but the main drawback of this technology is that it is an imperfect authentication factor: cards can easily be counterfeited if based on old, compromised technologies (kits can be found online for less than R1500 to copy a card in less than 2 minutes); but even with the latest secure technologies, a card can still be stolen easily and used by an intruder.
The only fully powerful authentication factor is biometrics, because contrary to a card which is something I have, it's who I am: my personal, unique, unforgeable human characteristics. Implementing biometric terminals at gates (either pedestrian or vehicle) is therefore the only option to guarantee that the person entering is a genuine, authorised resident or service person. Modern biometric technologies like the ones proposed by IDEMIA, whether based on facial recognition or fingerprint scanning, provide the best security/convenience compromise.
Security means biometric accuracy (very low rate of 'false acceptance' and 'false rejection'). It also means resistance to spoofing attempts (ie, presenting a printed photo of a real resident to fool the facial recognition terminal). Security is also at the terminal level itself, meaning its capacity to resist cybersecurity attacks to take control of its content or modify its behaviour remotely. This is why IDEMIA submits its terminals to external evaluation laboratories to assess and confirm the claimed performance levels.
Convenience means that those technologies must be easy to use, to facilitate user adoption. For this, IDEMIA pioneered the concept of contactless biometrics, in particular with MorphoWave, the only terminal able to scan and identify four fingerprints through a simple and quick hand-wave movement, without touching any part of the device. Thousands of residents at many different estates in South Africa already enjoy the technology every day. Others use our VisionPass facial recognition terminal, the only one certified by iBeta Lab against spoofing.

Credit(s)
Further reading:
Reliable access management for famous film location
Paxton Access Control & Identity Management Residential Estate (Industry)
The Royal Connaught Park features a private swimming pool, health and fitness suite, outdoor tennis court and onsite parking, with over 100 residents coming and going every day.
Read more...
---
Ring announces second generation indoor camera
Smart Home Automation Surveillance Residential Estate (Industry)
Introducing a removable manual privacy cover, Ring's latest indoor camera provides customers with increased privacy, control and peace of mind when it comes to home security.
Read more...
---
Securing a luxurious estate
Access Control & Identity Management Residential Estate (Industry) Products & Solutions
Turnstar Systems recently partnered with Balwin Munyaka Residential Estate to secure the entrance to its Crystal Lagoon, ensuring only authorised residents and guests can access the site.
Read more...
---
Body-worn evidence
Technews Publishing Forbatt SA Betatrac Telematic Solutions Secutel Technologies Surveillance Residential Estate (Industry) Products & Solutions
Body-worn cameras are no longer just a good idea or a luxury item; in fact, they are gaining popularity and finding use in various situations, one of these being in residential estates.
Read more...
---
Integrating control rooms and response
WatchManager Integrated Solutions Residential Estate (Industry)
Control rooms have become a standard in large estates, and remote control rooms are finding a home even in smaller estates due to cost efficiencies and the increasing reliability of analytics and artificial intelligence.
Read more...
---
The difference between a SOP and a SOP
Residential Estate (Industry) Integrated Solutions Security Services & Risk Management Risk Management & Resilience
SOPs are a touchy issue that need careful attention and automation to ensure they deliver the desired security results. Beyond design and automation, implementation is the ultimate road to success.
Read more...
---
AI in 21st century identity technologies
IDEMIA Editor's Choice Access Control & Identity Management
Contemporary society is already experiencing the impact of AI, but we have only just scratched the surface of its potential. A white paper from IDEMIA explains how AI is revolutionising identity and security technologies.
Read more...
---
Entrance security for residential buildings
Paxton Access Control & Identity Management Residential Estate (Industry) Products & Solutions
Home is where people should feel safe and relax. Installing a reliable access control system is vital to track and prevent non-residents from entering private areas.
Read more...
---
Security without the skin
Alwinco Editor's Choice Security Services & Risk Management Residential Estate (Industry) Risk Management & Resilience
We all know about the layers of security required to form a comprehensive solution, but the layers go deeper than most consider. Andre Mundell dissects security in this article to start the journey into what is under the covers.
Read more...
---
Touchless vehicle access control
Technews Publishing Techsolutions ZKTeco Impro Technologies Editor's Choice Access Control & Identity Management Residential Estate (Industry) Products & Solutions
RFID access for vehicles is a growing market, and many estates (residential and business) have opted for this approach to speed up the process of moving vehicles through access control points.
Read more...
---