printer friendly version
Going beyond security
Issue 6 2022 CCTV, Surveillance & Remote Monitoring, Products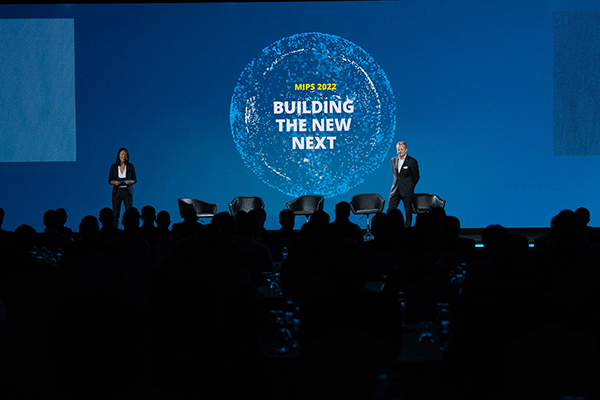 Milestone Systems has unveiled plans to bring its video technology beyond the traditional security market with new specialised solutions, including a special healthcare solution.
Speaking at the 2022 Milestone Partner Summit (MIPS) in Dubai, Milestone Systems' CEO, Thomas Jensen, revealed details of how the provider of XProtect, an open-platform video management software, aims to empower people, businesses and societies with data-driven video technology software that serves end users both in and beyond the traditional video security industry.
As part of this growth strategy, the Danish-headquartered company – which surpassed 1000 employees worldwide last year – aims to more than double its annual turnover within the next five years. Milestone's CEO is also committed to continuing to strengthen the company's position as a responsible technology organisation.
"We are preparing to revolutionise our industry by using data-driven video technology both in and beyond security," said Jensen.
New specialised solutions
While maintaining its core safety and security video management offering, Milestone will introduce video solutions for various industries from 2023 onwards. Next year, it will launch new solutions aimed at the healthcare industry, starting with video-enabled solutions for hospitals.
"We see a future in which data-driven video technology is a game-changer that will help to make the world a better place for us all," Jensen told the gathering of Milestone's top partner resellers, system integrators, security specialists and service providers.
Jensen outlined how XProtect, which can be integrated with the widest choice of devices and other security solutions, currently enables people to understand the world they see by viewing recorded or real-time video data. Through the responsible use of data-driven video technology, XProtect will soon be able to predict events before they happen, which will further enhance Milestone's offering in and beyond security.
"The technology industry has been a bit like the Wild West. Over the last 20 years, technology companies became immensely powerful, maybe too powerful," said Jensen. "The result was techlash – a backlash against technology companies with societies demanding that their power be regulated.
"Techlash was a warning – the Wild West is over. The consequence for us is that current and future generations have very different expectations of technology companies than just five years ago. That's the next industry challenge; we call it responsible technology."
Strong ethical behaviour
Milestone, which celebrates its 25th anniversary next year, has always had strong ethical behaviour as part of its DNA. Jensen noted that Milestone co-authored the Copenhagen Letter in 2017, a declaration calling on tech companies to put people first when designing and using technology. This commitment was then incorporated into Milestone's end user licensing agreements.
"Looking ahead, we want people to feel safe knowing that they can trust our technology. Together with our partners, we will lead the way to strengthen our commitment to responsible technology by introducing further initiatives and putting greater focus on how we develop technology, and how our customers use our technology," said Jensen.
Reflecting on Milestone's ambitious growth strategy, Jensen highlighted how the company has broken new boundaries in the past: "Together with our partners and a handful of other pioneering technology companies, we helped to define modern video surveillance. We helped lead the transformation from analog to IP technology in the safety and security industry.
"Looking ahead, we are preparing to revolutionise our industry again by using data-driven video technology both in and beyond security. Together with our partners, our role is to deliver business outcomes – which is about focusing on the value we deliver to our customers – that will help make societies more productive."
Credit(s)
Further reading:
Turkish university installs IDIS surveillance
CCTV, Surveillance & Remote Monitoring Products
IDIS video streamlines complex surveillance systems for learning institution, upgrading a 350-camera system with 24/7 control room monitoring to transform security for Social Sciences University of Ankara (ASBU).
Read more...
---
Brighter, greener, and smarter
Dahua Technology South Africa Products CCTV, Surveillance & Remote Monitoring
Dahua Technology released its new Dahua CH II Series Indoor Fine Pixel Pitch LED display, providing visual clarity and promoting energy efficiency and sustainability.
Read more...
---
Smart water management
Axis Communications SA CCTV, Surveillance & Remote Monitoring Integrated Solutions
South Africa is currently facing a water crisis, with scarcity and inefficient water management posing significant challenges to sustainable, consistent access to water. Smart technology and powerful partnerships may offer a proactive solution to SA's water crisis.
Read more...
---
Helping retailers optimise monitoring and security
Guardian Eye Retail (Industry) CCTV, Surveillance & Remote Monitoring
From a smart retail perspective, it is crucial to understand that monitoring stock and other assets through camera surveillance and a variety of Internet of Things (IoT) sensors stretches further than the stores themselves.
Read more...
---
Empowering Istanbul's public transportation
Dahua Technology South Africa CCTV, Surveillance & Remote Monitoring Integrated Solutions
Dahua's intelligent transportation solution, using technologies like DSM and AI-based passenger flow counting, has facilitated an intelligent system upgrade for nearly 6 400 minibuses and electric buses in Istanbul.
Read more...
---
Smart manufacturing redefined
Hikvision South Africa CCTV, Surveillance & Remote Monitoring Industrial (Industry)
AI and intuitive visualisation technology allows managers to monitor manufacturing sites, production, and operational processes, and to respond in real time in the event of an issue – helping to drive efficiency and productivity.
Read more...
---
Long-distance connectivity with Simplex ES Net Life Safety
Johnson Controls Global Products Fire & Safety Products
ES Net Network Bridge allows fire alarm system data to be transmitted across distant buildings via a customer's existing network infrastructure, improving system-wide monitoring and control in facilities and campuses where life safety networks are often widely dispersed.
Read more...
---
AI is getting smarter, and critical infrastructure is set to benefit
Axis Communications SA CCTV, Surveillance & Remote Monitoring
With technology advancing at an astonishing pace, AI has emerged as a defining trend in today's business arena. Enterprises across all sectors are prioritising this technology, embracing its transformative potential to drive change and growth.
Read more...
---
Visitor management via QR code
ATG Digital Access Control & Identity Management Products
ATG Digital has launched its QR Code Reader to enhance access control's security and efficiency. The new QR Code Reader enables seamless, contactless access control, creating an efficient user journey.
Read more...
---
District secures activity centre
Paxton Access Control & Identity Management Products
Paxton's Net2 access control solution is a user-friendly and flexible networked access control system, which made installing and managing access control security at an activity centre straightforward.
Read more...
---