printer friendly version
Vivica acquires Activate Group to strengthen IoT portfolio
Issue 5 2022
News & Events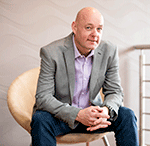 Jacques du Toit, CEO at Vivica Group
Guardian Eye, a Vivica Group company that offers remote CCTV monitoring, access control and industrial control systems, has acquired Internet of Things (IoT) as-a-service provider, Activate Group. The aim is to combine the expertise of Activate with the scale of Vivica to accelerate the deployment of IoT technologies across several sectors in South Africa.
Founded in 2011, Activate Group is a founding member of the IoT Industry Council, which promotes technical excellence and the adoption of best practices and standards in order to drive uptake of the technology in the country. The company's products and solutions include an IoT platform, devices and several types of connectivity, all of which enable a broad range of applications. Vox (which is being transformed into Vivica) has had an existing relationship with Activate since 2018 when it selected the company's IoT platform to power its own offering.
"We evaluated a lot of platforms and found Activate to be the ideal partner for us. There's always a tendency to think or assume that SA is behind the times and international products are better, but we were thrilled to find a local company that is on par with the best international companies. What really excites us is that we have had a relationship for four years already and it was time to 'take it to the next level'," says Jacques du Toit, CEO, Vivica Group.
As part of the acquisition, Activate Group will fall under Guardian Eye, which offers cloud-based access control, visitor management, CCTV security, integrated IoT applications, real-time monitoring and analytics, and runs a remote operations centre that provides customers with 24/7/365 cost-effective monitoring and reduces the requirement for guards on site.
Activate founder, Rodney Taylor, says that bringing together Activate and Guardian Eye solutions offered synergies, as a growing number of IoT applications have to do with security, monitoring and tracking as well. He adds that Guardian Eye will remain the primary brand as it is more well known in the market, with Activate being the IoT product. Within Guardian Eye, Activate will focus on providing IoT solutions to the healthcare, retail and logistics sectors.
"I have built Activate Group by myself over the past few years, and this acquisition will take the company to the next level. Being part of Guardian Eye gives us access to the much larger user base that exists within the broader Vivica Group, as well as the capacity to deploy the huge volumes of sensors that are needed to meet the requirements of larger customers," says Taylor.
The acquisition ties in neatly with Vivica Group's desire to bring together companies that challenge the conventional and enable problem-solving – whether it's energy, security, connectivity or cloud computing – while also enabling an entrepreneurial, visionary spirit to grow and scale in a sustainable manner.
Taylor adds that as the enlarged Guardian Eye business harnesses the synergies resulting from the Activate Group acquisition, the focus will be on job creation through creating opportunities for growth, and training and mentoring employees in order to push them up the ladder.
"We were attracted to Activate Group's entrepreneurial spirit and attitude, and Vivica Group can act as the ideal incubator that can guide this business through to maturity. Security is crucial in South Africa, and Guardian Eye will help create safer communities around South Africa through these innovative IoT products as well as the services provided by the remote operations centre," says Du Toit.
Credit(s)
Further reading:
Pentagon appointed as Milestone distributor
Elvey Security Technologies News & Events Surveillance
Milestone Systems appointed Pentagon Distribution (an Elvey Group company within the Hudaco Group of Companies) as a distributor. XProtect's open architecture means no lock-in and the ability to customise the connected video solution that will accomplish the job.
Read more...
---
South Africa shows a 1200% increase in deepfake fraud
News & Events Risk Management & Resilience
Sumsub released its third annual Identity Fraud Report of the year, analysing identity fraud across industries and regions based on millions of verification checks across 28 industries and over 2 million fraud cases.
Read more...
---
First telemedicine platform for South Africa
Guardian Eye Healthcare (Industry) AI & Data Analytics
South African employees often struggle to receive timely, affordable, and accessible healthcare. The challenge for many healthcare initiatives within organisations is the melting pot of cultures.
Read more...
---
Projections for 2024's Advanced Threats Landscape
News & Events Information Security
Kaspersky Global Research and Analysis Team (GReAT) experts offer insights and projections for 2024 in the Kaspersky Security Bulletin, with a focus on the evolution of Advanced Persistent Threats (APT).
Read more...
---
Helping South African university students and staff to stay safe
News & Events
Buzzer is a free mobile app that allows users to quickly and easily report incidents of crime, violence, or harassment to campus security and other relevant authorities.
Read more...
---
Tech developments lead hologram growth in 2024
News & Events Security Services & Risk Management
Micro-lenses, micro-mirrors and plasmonics are among the rapidly-emerging optical devices that have evolved on the back of holographic and diffractive technologies, and are seen as part of the natural evolution of optical science by R&D teams.
Read more...
---
Trellix detects collaboration by cybercriminals and nation states
News & Events Information Security
Trellix has released The CyberThreat Report: November 2023 from its Advanced Research Centre, highlighting new programming languages in malware development, adoption of malicious GenAI, and acceleration of geopolitical threat activity.
Read more...
---
People are craving connection
News & Events
As 2023 nears its close, global security manufacturer Gallagher Security is sharing key observations from some of the year's biggest industry events, chief among them the rising importance of community building these events facilitate.
Read more...
---
ePSiRA online system
PSiRA (Private Security Ind. Regulatory Authority) News & Events
[Sponsored] As part of the digitisation of the security industry, the Private Security Industry Regulatory Authority (PSiRA) introduced the ePSiRA online system, which allows clients to transact online.
Read more...
---
Simplify AARTO compliance for fleets
Guardian Eye IoT & Automation Asset Management Transport (Industry) Logistics (Industry)
While there are challenges around the management and implementation of the AARTO Amendment Act, there are also benefits that need to be understood today to ensure compliance and value tomorrow.
Read more...
---