printer friendly version
Growing cyber resilience portfolio
Issue 6 2022 Information Security, Risk Management & Resilience
Armata is a cybersecurity company that is being spun off from Vox as part of the Vivica Group. Hi-Tech Security Solutions spoke to Richard Frost, who heads up the cyber venture, to find out what the company offers and his view of what cyber resilience entails.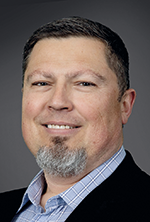 Richard Frost.
Frost says the key to building a cyber resilient company is to follow the NIST framework of Identify, Protect, Detect, Respond and Recover. Starting out, cyber resilience begins with identifying the risks you face through a risk assessment. Armata provides these assessments, as well as a remediation plan for customers which can be mapped to governance processes if required. It has a number of partners that it works with to deliver complete solutions to clients.
Business continuity and disaster recovery preparation form a critical part of the protection function, as well as incident response processes to deal with emergencies such as ransomware. Part of the recovery process is the plan which allows you to switch to recovery mode as soon as necessary without wasting time. These plans include data and servers, and would require failover systems, reliable backups and the ability to restore the data in a worst-case scenario.
Armata also provides 'active threat hunting' services which warn clients that they may be under attack, or at least provide early warning of infection. The ability to do vulnerability scans and penetration testing is also available.
In keeping with the common thread in this issue that cyber resilience is more than only cybersecurity, Frost notes that Armata's Computer Security Incident Response Team (CSIRT) does not only focus on the IT aspect. It empowers businesses' continuity by including legal, HR and other key areas of the business to ensure a comprehensive response to a breach, while also assisting in recovering and getting rid of the malware and/or vulnerabilities that were exploited.
Building the stack
Frost explains that as Armata is a relatively new company (as an independent entity), it is expanding its portfolio of services and solutions as it grows. It already provides a range of services in terms of cybersecurity and cyber resilience, but ultimately it will provide a full stack of services and solutions as a one-stop shop in this field.
Additional offerings can and will include solutions for identity and access management, cloud security, network access control and more. Included in these are phishing protection against fraud and what Frost calls "the impossible traveller." This refers to occasions where users get a fake email, supposedly from their boss, asking them to pay an invoice urgently, but the email was sent from Russia or while he/she is on a flight. The system automatically detects the anomaly through geo-fencing and other techniques, and blocks the mail before it gets to the recipient.
At the data level there is also a range of services which is expanding, including discovery and classification, a key area for every enterprise. Among the benefits will be the ability to classify data according to its sensitivity and then only allow certain people to access it, depending on the categorisation. Data which belongs to the finance department won't be accessible by the receptionist, for example.
Finding out where corporate data is being held and how many copies exist has also become critical for companies needing to protect data in terms of PoPIA and other regulations (as well as internal company rules). This data management will ensure there is only one version of the data, unless there is an authorised reason for it to be in other locations, such as on the user's cloud storage service.
Additional functionality in the 'control' space will block certain types of data from being abused or sent via insecure channels. For example, if a document contains someone's ID number, users can't send it outside the company to ensure compliance with rules and regulations. Additionally, they can also be blocked from sending documents via WhatsApp or some other unapproved app.
Naturally, end-point protection is also part of the service Armata provides, as this is arguably the most vulnerable point for all users, whether in an enterprise or a sole trader. And of course, the weakest endpoints are the users themselves, so Armata also includes user training and awareness in its services.
Credit(s)
Further reading:
Time is of the essence
Information Security
Ransomware attacks are becoming increasingly common. Yet, many individuals and organisations still lack a clear understanding of how these attacks occur and what can be done to secure their data.
Read more...
---
From the editor's desk: A sad but exciting goodbye
Technews Publishing News & Events
Welcome to the final monthly issue of SMART Security Solutions. This is the last issue of the year and the last monthly issue we will print. The SMART Security Solutions team wishes all our readers and advertisers a relaxing festive season and a peaceful and prosperous 2024.
Read more...
---
The human factor side of video management systems
Leaderware Editor's Choice Surveillance Risk Management & Resilience
A video management system (VMS) is central to, and the most vital element to any control room operation using CCTV as part of its service delivery, however, all too often, it is seen as a technical solution rather than an operational solution.
Read more...
---
Get the basics right to win more business
ServCraft Editor's Choice Risk Management & Resilience
The barriers to entry in security are not high. More people are adding CCTV and fencing to their repertoire every year. Cowboys will not last long in a space where customers trust you with their safety.
Read more...
---
All aspects of data protection
Technews Publishing Editor's Choice Information Security Infrastructure AI & Data Analytics
SMART Security Solutions spoke to Kate Mollett, Senior Director, Commvault Africa, about the company and its evolution from a backup specialist to a full data protection specialist, as well as the latest announcements from the company.
Read more...
---
South Africa shows a 1200% increase in deepfake fraud
News & Events Risk Management & Resilience
Sumsub released its third annual Identity Fraud Report of the year, analysing identity fraud across industries and regions based on millions of verification checks across 28 industries and over 2 million fraud cases.
Read more...
---
The song remains the same
Sophos Information Security
Sophos report found that telemetry logs were missing in nearly 42% of the attack cases studied. In 82% of these cases, cybercriminals disabled or wiped out the telemetry to hide their tracks.
Read more...
---
How hackers exploit our vulnerabilities
Information Security Risk Management & Resilience
Distractions, multi-tasking, and emotional responses increase individuals' vulnerability to social engineering, manipulation, and various forms of digital attacks; 74% of all data breaches included a human element.
Read more...
---
Projections for 2024's Advanced Threats Landscape
News & Events Information Security
Kaspersky Global Research and Analysis Team (GReAT) experts offer insights and projections for 2024 in the Kaspersky Security Bulletin, with a focus on the evolution of Advanced Persistent Threats (APT).
Read more...
---
Veeam and Sophos in strategic partnership
Information Security
Veeam and Sophos unite with a strategic partnership to advance the security of business-critical backups with managed detection and response for cyber resiliency, and to quickly recover impacted data by exchanging critical information.
Read more...
---