printer friendly version
Smollan partners with FleetDomain
Issue 6 2022 Logistics (Industry), Asset Management, Security Services & Risk Management, Transport (Industry)
Since 2020, Smollan, a global sales and marketing services company, has been using FleetDomain, an Argility Technology Group company, to manage its fleet of around 2000 vehicles in South Africa. By integrating its software with Smollan's accounting systems and banking partners, FleetDomain has enabled Smollan to contain costs and manage its fleet much more effectively, says Milana Pretorius, finance executive: operations, Smollan.
"With FleetDomain's help, we have been able to automate many manual and time-consuming processes. Information is available quickly and continuously, in turn enabling our managers to make evidence-based decisions to reduce costs and achieve enhanced fleet management," she says. "Gone are the days when the fleet information was only updated monthly."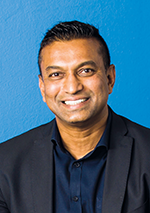 Jai Kalyan.
Jai Kalyan, MD of FleetDomain, says that the integration presented significant challenges because Smollan's cost centres were so complex. "We tailored our FleetDomain fleet management solution extensively in order to meet Smollan's requirements. Now the group benefits from end-to-end business processes. We're constantly working with the Smollan team to improve the software to deliver further value."
FleetDomain is web-based, providing fleet team managers with visibility over their entire operations, enabling them to identify bottlenecks and other potential improvements. Because the process is automated, it is not only more rapid and frequent, but also more accurate – manual inputting typically introduces error.
Another benefit of FleetDomain is the graphical display of information and customised dashboards, ensuring that data is presented in the most user-friendly way to managers. Near-real-time and easy-to-read information also makes it easier to detect fraud early on.
The information generated by the FleetDomain software is also used to monitor individual vehicles to maximise their useful life and enhance reliability. A comprehensive vehicle replacement programme is now in place.
In the 18 months since the implementation was completed, Smollan has been able to reduce its fleet costs and now has automated updates ensuring current information is available.
"The high performance of our fleet is paramount as we service our large range of retail clients," says Pretorius. "FleetDomain has become an essential partner, enabling us to access high-quality business intelligence in near-real-time, thus enabling consistent improvement in costs and efficiencies."
Further reading:
SA fleets face internal and external pressures
IoT & Automation Transport (Industry) Logistics (Industry)
Thousands of trucks clog South African border points and ports, causing shipping companies to levy congestion surcharges; fleet managers must enforce safety rules, develop comprehensive training programmes focusing on early warning systems and AI-powered technology
Read more...
---
Integrated transportation security
Guardian Eye AI & Data Analytics Integrated Solutions Logistics (Industry)
HG Travel installs an AI-powered camera system integrated across 115 vehicles throughout a fleet comprising 160 vehicles of different sizes, along with predictive and self-monitoring tools to track tyre condition, fuel consumption and theft, and overall vehicle maintenance.
Read more...
---
Tech developments lead hologram growth in 2024
News & Events Security Services & Risk Management
Micro-lenses, micro-mirrors and plasmonics are among the rapidly-emerging optical devices that have evolved on the back of holographic and diffractive technologies, and are seen as part of the natural evolution of optical science by R&D teams.
Read more...
---
Simplify AARTO compliance for fleets
Guardian Eye IoT & Automation Asset Management Transport (Industry) Logistics (Industry)
While there are challenges around the management and implementation of the AARTO Amendment Act, there are also benefits that need to be understood today to ensure compliance and value tomorrow.
Read more...
---
From damage management to false alarm prevention
Dallmeier Electronic Southern Africa Transport (Industry) Surveillance Logistics (Industry)
Video surveillance is undergoing an exciting evolution; today's IP-based solutions can be fully integrated into digital systems. With the increasing integration of artificial intelligence (AI); logistics, in particular, can make processes more transparent and exploit previously untapped potential.
Read more...
---
Modern warehouses come with added fire risk
Fire & Safety Transport (Industry)
Along with increased investments in modern warehousing in Africa, there is also a need to focus on protecting warehouses from crime, however, fire can arguably be a greater danger to business continuity.
Read more...
---
Protecting narrow areas in warehouse and logistics sites
OPTEX Facilities & Building Management Transport (Industry) Logistics (Industry)
Logistics facilities, warehouses and distribution centres are critical to the supply chain and any company's business operation and assets. Any disruption can have enormous consequences, both functional and financial.
Read more...
---
Logistics operators stand up to safety challenges
Logistics (Industry) Asset Management Transport (Industry)
The second annual Webfleet Road Safety Report for 2023 outlines common safety factors, challenges and solutions that South African transport operators face; deteriorating roads, poor vehicle maintenance, congestion and driver fatigue are common challenges.
Read more...
---
Are you leaving money on the table?
Editor's Choice Security Services & Risk Management
How many customers have you helped since starting your business? Where does most of your new business come from? If the answer is not from your database's existing customers, you might have a problem.
Read more...
---
People screening goes mobile
Xscann Technologies News & Events Asset Management
Xscann Technologies has delivered a new mobile solution with added value for people screening. This turnkey solution requires no civil works as it is an all-in-one complete body scanning solution built in a shipping container.
Read more...
---