printer friendly version
Smollan partners with FleetDomain
Issue 6 2022 Logistics (Industry), Asset Management, EAS, RFID, Security Services & Risk Management, Transport (Industry)
Since 2020, Smollan, a global sales and marketing services company, has been using FleetDomain, an Argility Technology Group company, to manage its fleet of around 2000 vehicles in South Africa. By integrating its software with Smollan's accounting systems and banking partners, FleetDomain has enabled Smollan to contain costs and manage its fleet much more effectively, says Milana Pretorius, finance executive: operations, Smollan.
"With FleetDomain's help, we have been able to automate many manual and time-consuming processes. Information is available quickly and continuously, in turn enabling our managers to make evidence-based decisions to reduce costs and achieve enhanced fleet management," she says. "Gone are the days when the fleet information was only updated monthly."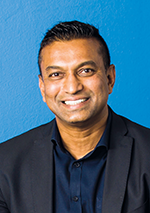 Jai Kalyan.
Jai Kalyan, MD of FleetDomain, says that the integration presented significant challenges because Smollan's cost centres were so complex. "We tailored our FleetDomain fleet management solution extensively in order to meet Smollan's requirements. Now the group benefits from end-to-end business processes. We're constantly working with the Smollan team to improve the software to deliver further value."
FleetDomain is web-based, providing fleet team managers with visibility over their entire operations, enabling them to identify bottlenecks and other potential improvements. Because the process is automated, it is not only more rapid and frequent, but also more accurate – manual inputting typically introduces error.
Another benefit of FleetDomain is the graphical display of information and customised dashboards, ensuring that data is presented in the most user-friendly way to managers. Near-real-time and easy-to-read information also makes it easier to detect fraud early on.
The information generated by the FleetDomain software is also used to monitor individual vehicles to maximise their useful life and enhance reliability. A comprehensive vehicle replacement programme is now in place.
In the 18 months since the implementation was completed, Smollan has been able to reduce its fleet costs and now has automated updates ensuring current information is available.
"The high performance of our fleet is paramount as we service our large range of retail clients," says Pretorius. "FleetDomain has become an essential partner, enabling us to access high-quality business intelligence in near-real-time, thus enabling consistent improvement in costs and efficiencies."
Further reading:
Telematics help protect SA trucks against expanding risks
Logistics (Industry) Asset Management, EAS, RFID
South Africa's road freight transport sector currently accounts for about 85% of all goods transported in the country and is growing rapidly annually. "To ensure that goods are delivered safely, promptly, and affordably is a challenge," says Justin Manson of Webfleet.
Read more...
---
Is AI the game-changer for streamlining anti-money laundering compliance?
Financial (Industry) Security Services & Risk Management
In the aftermath of South Africa's recent grey listing, companies are now confronted with the imperative to address eight identified strategic deficiencies, while simultaneously reducing their financial crime risk through anti-money laundering compliance processes.
Read more...
---
Client satisfaction boosted by 85% at Thungela Mine
Thorburn Security Solutions News Security Services & Risk Management Mining (Industry)
Thorburn Security, a division of Tsebo Solutions Group, has announced its recent collaboration with Kwa-Zulu Natal security company, Ithuba Protection Services, as part of its Enterprise Supplier Development (ESD) initiatives across Africa.
Read more...
---
Migrating to the cloud? Beware the many hurdles
IT infrastructure Security Services & Risk Management
While there are undoubtedly many benefits, there are also numerous hurdles to cloud adoption. Some of the biggest challenges revolve around managing cloud spend, understanding the cost components of cloud infrastructure, and how those costs can scale.
Read more...
---
Key strategies for businesses in the face of cyber threats
Cyber Security Security Services & Risk Management
Businesses face severe financial and reputational consequences due to data breaches and daily website hacks, and not all organisations are adequately prepared to combat these escalating threats.
Read more...
---
Protecting South African systems through XDR cybersecurity
Cyber Security Security Services & Risk Management
Carlo Bolzonello, Country Lead for Trellix South Africa, discusses how the country can protect its valuable digital assets through the artificial intelligence-enabled Extended Detection and Response (XDR) cybersecurity approach.
Read more...
---
[Sponsored] Protecting Against Ransomware Attacks: Lessons from Recent POPIA Fine
Cyber Security Security Services & Risk Management
According to Sophos' most recent ransomware report, an alarming 78% of the South African organisations that Sophos surveyed experienced ransomware attacks in the past year.
Read more...
---
Kaspersky launches Professional Services Packages for SMBs
News Cyber Security Security Services & Risk Management
Kaspersky has announced the launch of a range of Professional Services Packages for SMBs, offering tailored support products that help customers get the most out of their cybersecurity resources.
Read more...
---
AI-driven drones unleash new opportunities and risks
IT infrastructure Security Services & Risk Management
As AI-driven technologies continue to evolve, the incorporation of AI in drone capabilities has become a significant point of interest for many drone operators.
Read more...
---
Six cybersecurity mistakes to avoid
Cyber Security Security Services & Risk Management
Safeguarding sensitive data and maintaining robust cybersecurity practices has become paramount for businesses of all sizes, with the global costs of cybercrime expected to reach US$13 trillion within the next five years.
Read more...
---