printer friendly version
Security solutions that go the distance
Issue 6 2022 Logistics (Industry), CCTV, Surveillance & Remote Monitoring, Asset Management, EAS, RFID, Transport (Industry)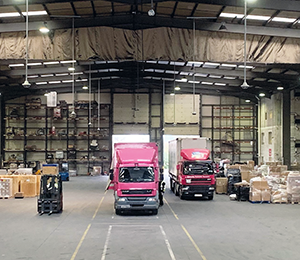 Independent Express Cargo is one of Ireland's largest pallet delivery operators, serving as a national transport network hub and full third-party logistics supplier with 25 depots across the country, 1000 active clients and a turnover of 35 million Euros annually.
As 4000 pallets are moved through its Dublin site daily, security and the ability to track between 8000 and 14 000 pallets of storage at any given time for its clients is essential for the integrity of its services. Independent Express Cargo sought an upgraded security system that could help search for and identify pallets that were reported missing and trace them throughout the site to find out where they went and what vehicle they were loaded onto. Additionally, as over 300 vehicles visit the site daily, it was important for its security operators to be able to monitor access to the site while also obtaining clear video evidence of any accidents, thefts or incidents of damage.
Avigilon solution
To improve security and surveillance throughout its Dublin site, which consists of 180 000 square feet of warehouses on a 9 acre site, Independent Express Cargo worked with integrator Usee.ie to install a complete Avigilon system.
The new system features Avigilon Control Center (ACC) video management software, which provides security operators with a more efficient way to manage video from a central location. ACC software also offers advanced artificial intelligence (AI) and video analytics capabilities, including Avigilon Appearance Search and Unusual Motion Detection (UMD) technologies.
Additionally, a suite of Avigilon cameras was deployed to capture detailed video throughout the site, with models including the H4A bullet with Avigilon self-learning video analytics, H4 Pro and the H4 multi-sensor.
Beyond capturing clear video for monitoring and investigative purposes, the new system offers several significant capabilities to Independent Express Cargo's transport managers, assisting them from the time an event occurs until after it is resolved. First, Avigilon self-learning video analytics help detect potentially critical events and issue an alert within the ACC dashboard, where the officers can then verify event alarms. Then, if a person or vehicle of interest needs to be located onsite, the officers can deploy Appearance Search technology to quickly find their current whereabouts or trace their route during an investigation.
Tracking pallets
Since the system's deployment, transport managers are more easily able to detect people and vehicles in unusual areas, which is not only a security concern but sometimes the reason for a misplaced pallet. By presenting transport managers with this type of information, Avigilon's self-learning video analytics do the heavy lifting by providing alerts for further verification, helping to enable faster response when needed. Then, if the person or vehicle who was last seen with a missing pallet needs to be traced or located throughout the site, the transport managers can use Appearance Search technology to quickly locate them.
If a vehicle needs to be investigated further, transport managers also have the ability to zoom in with excellent detail to read the licence plate and verify the vehicle quickly from a central location. The transport manager monitoring the video can then use their Motorola radio to communicate with roaming officers if the vehicle needs to be intercepted on the ground, providing a complete solution from the time an incident is identified until after it is resolved.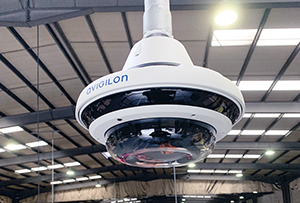 Results that matter
By implementing an end-to-end Avigilon security system that leverages advanced artificial intelligence technologies, Independent Express Cargo has been able to boost operational efficiencies while improving the security of its site, assets and resources. Transport managers are able to spend more time on verification and response rather than merely monitoring live video, which has helped minimise the loss of assets and kept business running smoothly.
In addition, the self-learning video analytics have been so effective they've replaced the legacy door-and-window security systems that Independent Express Cargo previously used. Now, the system's video analytics and connection to Usee.ie's remote CCTV monitoring station help ensure any intrusion is quickly detected and proactively responded to.
"Avigilon's AI-powered security solutions have provided our team with new capabilities that allow them to more efficiently and effectively detect, verify and act on events," said Owen Cooke, director of Independent Express Cargo. "The biggest advantages of the system have been its advanced search capabilities and ability to flag unusual events that may have otherwise been missed – both have been key to improving the security at our site."
---
Avigilon solutions implemented
• Avigilon Control Center software: Allows quick and easy review of live or recorded video with a simplified screen layout, intuitive controls and self-learning video analytics. Also features Avigilon Appearance Search technology to help you quickly find a person or vehicle of interest.
• Unusual Motion Detection technology: Uses advanced AI to reveal events that could otherwise go unnoticed. UMD technology continuously learns what typical activity in a scene looks like and flags unusual motion.
• Self-learning video analytics: Recognise and detect the movements of people and vehicles, notifying operators of events that may need further investigation.
• H4 Pro camera line: Covers vast areas while still delivering exceptional image detail to zoom in, helping to identify and quickly respond to potential security events.
• H4 multi-sensor camera line: Provides flexible scene coverage with one license and wire pull to save installation time and cost.
Credit(s)
Further reading:
Telematics help protect SA trucks against expanding risks
Logistics (Industry) Asset Management, EAS, RFID
South Africa's road freight transport sector currently accounts for about 85% of all goods transported in the country and is growing rapidly annually. "To ensure that goods are delivered safely, promptly, and affordably is a challenge," says Justin Manson of Webfleet.
Read more...
---
Helping retailers optimise monitoring and security
Guardian Eye Retail (Industry) CCTV, Surveillance & Remote Monitoring
From a smart retail perspective, it is crucial to understand that monitoring stock and other assets through camera surveillance and a variety of Internet of Things (IoT) sensors stretches further than the stores themselves.
Read more...
---
SMART Surveillance Conference 2023
Technews Publishing Editor's Choice CCTV, Surveillance & Remote Monitoring Conferences & Events
Some people think the future is all about cloud technologies, but the SMART Surveillance conference demonstrated that AI is making edge surveillance much more attractive, over distributed sites, than ever before.
Read more...
---
Tips for successful fleet management
Asset Management, EAS, RFID Transport (Industry)
Fleet Domain, part of the Argility Technology Group, has announced best practices aimed at reducing fleet management costs and delivering a successful fleet management programme.
Read more...
---
Supporting CCTV intelligence with small and big data
Leaderware Editor's Choice CCTV, Surveillance & Remote Monitoring
The increasing development of AI and its role in enhancing investigation-led surveillance, and the increasing capacity of control rooms and local analysts to deliver data in return, can increase the synergy between intelligence and surveillance.
Read more...
---
Four intelligent ways to bring shoppers to your mall
Hikvision South Africa Retail (Industry) CCTV, Surveillance & Remote Monitoring
In this digital age, when footfall is declining and ecommerce is growing, the challenges for shopping malls seem bigger than ever; the fact is, customer experience is critical for retailers to attract more shoppers.
Read more...
---
Is intelligence alone enough?
Products CCTV, Surveillance & Remote Monitoring Smart Home Automation
By coupling intelligent algorithms with additional features and functionality, Secury360 ensures that users have ultimate control and flexibility over their security systems.
Read more...
---
Same GPS, different application
Logistics (Industry) Security Services & Risk Management
AI systems can predict optimal routes based on driving behaviour and have the potential to reduce crime statistics and save lives on and off the road and enable sustainable economic growth.
Read more...
---
Château Gâteaux optimises delivery process through MultiTRAX
Asset Management, EAS, RFID Logistics (Industry)
With twenty outlets and still growing, Château Gâteaux has implemented an Argility solution in its primary locations to streamline deliveries and allow customers to track their delivery in real time.
Read more...
---
Expanding focus leads to even greater effectiveness
Leaderware Editor's Choice CCTV, Surveillance & Remote Monitoring Security Services & Risk Management
Dr Craig Donald says expanding stakeholder involvement beyond security to operations and production leads to greater control room surveillance effectiveness and the potential of additional budgets from other departments.
Read more...
---