printer friendly version
The challenge of data safety and availability
Issue 6 2022 Editor's Choice, Information Security
Back in the good old days, backing up was not a complex task, as companies knew where their data was and could therefore ensure everything was backed up correctly and regularly. With the growth of technology over the years, this is no longer a simple task.
Today, one's data may reside onsite, in the cloud (whether it is a cloud platform that the company controls or not – as with as-a-service applications and platforms), in virtual machines and containers. Moreover, each of these can include a variety of technologies and brands depending on how the company has structured its IT systems, which means making sure you backup everything can be complex. And then there is having the ability to restore everything to where it belongs in an emergency.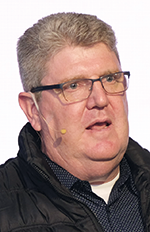 Chris Norton.
Ian Engelbrecht.
This dispersal of data across numerous platforms and technologies has only increased in complexity over the past two years. Chris Norton, regional director of Veeam Software, says that Covid-19 forced the IT industry to take a jump forward in terms of using remote and cloud services, side-stepping about 15 years of 'normal' evolution in one swipe. More companies moved to cloud applications and services (in a hurry), exacerbating the complexity of corporate backups.
As highlighted in this publication, backups and the ability to restore them form a key part of cyber resilience. Veeam is a software company launched in 2006 that provides a set of applications to backup any data from almost any platform, all managed via a single interface. This includes Office 365 data, which many users incorrectly assume is backed up by Microsoft (Microsoft is responsible for making data available, but not for backing it up.)
Last line of recovery
Veeam incorporates a number of cybersecurity features, but its strength lies in the reliable recoverability of data from various platforms. Norton says your backup is your last line of defence and therefore needs to be planned and managed accordingly. This is not only a cyber or ransomware defence, but also a defence against technology failures. In addition, it is a regulatory defence too; PoPIA forces companies to take responsibility for the data they collect and store, meaning they have to be in control of that data no matter what.
Norton says the traditional 3-2-1 approach to backups still applies, but in today's environment he sees it as a 3-2-1-1-0 approach. Enterprises still need three backups on two different types of media, one being offfsite, but one must also be immutable (which is where the cybersecurity protections come in, as well as de-duplication and compression). The zero stands for being able to recover and restore your data with zero errors, including zero corruption from malware of any type.
He says Veeam software ensures this is possible, but its flexibility also drives the complexity out of managing your backups as well as restoring to a variety of platforms. The company does not provide hardware, but supports a range of hardware platforms, both on-premises and in the cloud.
Ian Engelbrecht, system engineering manager, technical sales for Veeam Software Africa, explains that this flexibility caters for any type of emergency. For example, backups from onsite servers can be restored to a cloud platform if the company's hardware is destroyed or non-functional. The backups are stored in a hardware-agnostic format, allowing for easy restoration to the desired platform.
A single pane of glass
All this is done from the much vaunted 'single pane of glass', in other words, from a single interface. He also notes an interesting statistic: on average, organisations recover about 64% of their data from ransomware attacks, even when paying the criminals. The question is whether the other 36% is important or not. He adds that only about 10% of global corporates have 'data certainty', meaning they can recover all their data.
Veeam operates via a two-tier channel approach in South Africa, with distributors and resellers representing and supporting it, and Veeam acting as a technical advisor and providing guidance throughout the process. Norton adds that the company has taken a more hands-on approach in talking to and advising customers in the post-Covid world, although it still works in cooperation with channel partners.
Credit(s)
Further reading:
From the editor's desk: A sad but exciting goodbye
Technews Publishing News & Events
Welcome to the final monthly issue of SMART Security Solutions. This is the last issue of the year and the last monthly issue we will print. The SMART Security Solutions team wishes all our readers and advertisers a relaxing festive season and a peaceful and prosperous 2024.
Read more...
---
The human factor side of video management systems
Leaderware Editor's Choice Surveillance Risk Management & Resilience
A video management system (VMS) is central to, and the most vital element to any control room operation using CCTV as part of its service delivery, however, all too often, it is seen as a technical solution rather than an operational solution.
Read more...
---
Get the basics right to win more business
ServCraft Editor's Choice Risk Management & Resilience
The barriers to entry in security are not high. More people are adding CCTV and fencing to their repertoire every year. Cowboys will not last long in a space where customers trust you with their safety.
Read more...
---
All aspects of data protection
Technews Publishing Editor's Choice Information Security Infrastructure AI & Data Analytics
SMART Security Solutions spoke to Kate Mollett, Senior Director, Commvault Africa, about the company and its evolution from a backup specialist to a full data protection specialist, as well as the latest announcements from the company.
Read more...
---
Projections for 2024's Advanced Threats Landscape
News & Events Information Security
Kaspersky Global Research and Analysis Team (GReAT) experts offer insights and projections for 2024 in the Kaspersky Security Bulletin, with a focus on the evolution of Advanced Persistent Threats (APT).
Read more...
---
Global strength, local craft
Impro Technologies Editor's Choice
Impro Technologies is a resounding success story. Started in South Africa, the company remains true to its roots and still designs and manufactures its access control systems and solutions in the country.
Read more...
---
Identity verification and management trends
Technews Publishing Information Security
Insights into what we can expect from identity fraudsters and the industry next year, ranging from criminal exploitation of AI and digital IDs to multi-layer fraud protection and the need for more control over personal information sharing.
Read more...
---
Trellix detects collaboration by cybercriminals and nation states
News & Events Information Security
Trellix has released The CyberThreat Report: November 2023 from its Advanced Research Centre, highlighting new programming languages in malware development, adoption of malicious GenAI, and acceleration of geopolitical threat activity.
Read more...
---
SA enterprises can benefit from AI-driven cybersecurity
AI & Data Analytics Information Security
Cybercrime is big business, and threat actors deploy cutting-edge tools to carry out attacks. Fortunately, cybersecurity is constantly evolving to meet and counter the threats they face.
Read more...
---
South Africans play a role in becoming scam victims
Editor's Choice Risk Management & Resilience
The South African fraud landscape is becoming increasingly risky as fraudsters and scammers look to target individuals with highly sophisticated scams, in an environment where it is becoming increasingly difficult for lawmakers and authorities to bring these criminals to justice.
Read more...
---