printer friendly version
ESET continues to power and protect women's progress in tech
Issue 5 2022
News & Events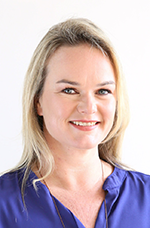 Carey van Vlaanderen.
As champions of digital progress, ESET is proud to have women in leading roles throughout its operations, both in MSP and enterprise specialist positions, as well as marketing, sales and more. "ESET has always maintained a future-forward vision about the role technology has in people's lives," notes Carey van Vlaanderen, CEO of ESET South Africa.
"Technology is how we connect, create and collaborate. We rely on technology to work and express ourselves. Today, communities and businesses are built through digital innovations and women are often at the very heart of these innovations which is why ESET champions women's progress at every opportunity," she says.
ESET enjoys near-perfect workplace parity with a 50/50 gender split. It also blazes a new trail for young women entering the workplace for the first time, with a 90% female intern intake this year alone.
"Women's progress in tech is about more than just numbers though. ESET is a place to grow and learn, make connections, and be engaged creatively in a fulfilling career while working as part of a cohesive team," adds Van Vlaanderen.
It's a sentiment shared by full-time ESET accounts manager Alicia Mshudulu. As a mom to a one-year-old, and studying towards a degree in business management, Mshudulu says being in a collaborative and supportive work environment is vital. "ESET provides you with the tools and guidance to get you to where you want to be in your career. It always provides you with room to grow."
Noxolo Jubati's career in tech began as an ESET intern in 2017. She has steadily progressed through various roles and is now a top-performing account manager. "ESET has a strong mentoring and training system in place which assists the team to stay up to date and informed. Our CEO is an inspiring leader who treats every employee equally. She is always available for one-on-one sessions to share advice on how to reach your goals."
Van Vlaanderen says ESET's partners also champion the core belief that technological progress is linked to women's overall success in the industry. "Aaishah Akoojee, managing director of Sisonke Software Solutions and Lee Beier, EOH BU account manager at IOCO both exemplify what is possible through incredible determination."
Says Akoojee, "Initially I was only involved with the financial aspects of Sisonke Software Solutions, but, as time passed, I developed further interest in tech. I was intrigued by how technology systems could provide relevant solutions for so many industries. When I began my career, there were very few women in the industry, but as the years have passed there is a consistent and gradual increase in both women working in the tech industry and in executive positions."
Beier's advice for women starting their career in tech is to have a strong sense of self. "Believe in yourself and your abilities. The core capabilities needed to succeed in tech aren't learned in school or in the workplace: self-esteem, self-care and resilience is key. There's this business myth that you should have a tech background if you want to be a tech entrepreneur, but soft skills prove invaluable when breaking into the tech world."
Van Vlaanderen says having an inclusive culture is beneficial for the company and its people. "Ultimately, business is about people. When women are able to reach their full potential, it's a net benefit for the entire organisation and its productivity, performance and employee sentiment."
Further reading:
Pentagon appointed as Milestone distributor
Elvey Security Technologies News & Events Surveillance
Milestone Systems appointed Pentagon Distribution (an Elvey Group company within the Hudaco Group of Companies) as a distributor. XProtect's open architecture means no lock-in and the ability to customise the connected video solution that will accomplish the job.
Read more...
---
Re-introduction of the booking system
PSiRA (Private Security Ind. Regulatory Authority) News & Events
[Sponsored] PSiRA is reintroducing the booking system for branch visits. Effective Monday, 4 December 2023, clients will be required to book a slot to visit any PSiRA branch.
Read more...
---
From the editor's desk: A sad but exciting goodbye
Technews Publishing News & Events
Welcome to the final monthly issue of SMART Security Solutions. This is the last issue of the year and the last monthly issue we will print. The SMART Security Solutions team wishes all our readers and advertisers a relaxing festive season and a peaceful and prosperous 2024.
Read more...
---
Regal celebrates successful golf day
Regal Distributors SA News & Events
Regal Distributors held its first official Regal Golf Day on 18 October at the Glendower Golf Course in Johannesburg. SMART Security Solutions was there on a hot summer's day to meet many players and sponsors around the course.
Read more...
---
Gallagher Security releases Command Centre v9
Gallagher News & Events Access Control & Identity Management Integrated Solutions
Richer features, greater integrations, with the release of Gallagher Security's Command Centre v9 security site management software designed to integrate seamlessly with various systems and hardware.
Read more...
---
Regal launches direct-to-branch WhatsApp communication
Regal Distributors SA News & Events
With a quick scan of a QR code and a few taps on your phone, installers, integrators, technicians or even end-users can chat directly with the team at their preferred Regal branch via WhatsApp
Read more...
---
FM Expo highlights industry trends and challenges
Securex South Africa News & Events Facilities & Building Management
Keeping tabs on what is happening within the building/facilities management arena can be frustrating, however, a quick way to find out what current trends, challenges, and solutions are available can be found at the Facilities Management Expo.
Read more...
---
South Africa shows a 1200% increase in deepfake fraud
News & Events Risk Management & Resilience
Sumsub released its third annual Identity Fraud Report of the year, analysing identity fraud across industries and regions based on millions of verification checks across 28 industries and over 2 million fraud cases.
Read more...
---
Projections for 2024's Advanced Threats Landscape
News & Events Information Security
Kaspersky Global Research and Analysis Team (GReAT) experts offer insights and projections for 2024 in the Kaspersky Security Bulletin, with a focus on the evolution of Advanced Persistent Threats (APT).
Read more...
---
Helping South African university students and staff to stay safe
News & Events
Buzzer is a free mobile app that allows users to quickly and easily report incidents of crime, violence, or harassment to campus security and other relevant authorities.
Read more...
---