printer friendly version
360° perimeter intruder detection
Residential Security Handbook 2022: SMART Living Perimeter Security, Alarms & Intruder Detection, Residential Estate (Industry), Products
Perimeter security on large estates, and even for smaller complexes, is the key to securing the estate as a whole. Without a secured and monitored perimeter, criminals are able to come and go as they please.
Even an electric fence alone is a worthwhile perimeter security investment as it will, at the very least, raise an alarm when the fence is breached, allowing the security team to take action. Of course, in an instance like this, the action they can take is limited if they have no additional data as to where the breach occurred, but it's a start.
For complete perimeter security, the ideal would be the ability to monitor what happens outside the perimeter, the perimeter fence or wall itself, and inside the perimeter to track anyone who manages to get inside. Without using technology to track people once inside, if security does not apprehend them before they get through, they are inclined to "disappear into the estate," as so many security managers will tell you.
Radar is becoming a more common solution for estates with large open areas, since intruders can be automatically detected, the security team can be alerted, and officers can be sent to the exact location of the criminals, as they are tracked as they move. With intelligence software, some radar systems are even able to differentiate between people, animals and vehicles (and if you believe some marketing material, they can even identify people who are carrying weapons). Naturally, terrain is a factor since radar can't 'see' down into gulleys or through thick foliage.
Perimeter protection with Thermal Radar
Johan Schoeman, CTO of StratIT (Strategic Information Technology), recommends thermal radar products from Thermal Radar (www.thermalradar.com). Schoeman says thermal radar solutions provide "inside-out security which monitors the perimeter, inside the perimeter and outside the perimeter, giving early detection with unparalleled situational awareness and actionable intelligence. With the ability to detect a single human over an 850 000 m2 area, thermal radar literally finds the needle in a haystack.
"Thermal Radar is now affordable and applicable in a myriad of business applications including airports, bridges, car dealerships, construction sites, power plants, residential estates or substations, just to name a few."
To get the best of both worlds, he suggests combining a thermal radar solution with a powerful PTZ camera. This enables not only detection, but also visual verification. Schoeman uses the TR6600 from Thermal Radar as an example.
The Thermal Imaging Radar TR6600 model includes an integrated long-range PTZ camera. This should be installed at a high point to ensure the best results. "Thermal Radar's unique, continuous 360° monitoring with flexible communication options, allows all types of facilities to be monitored day and night (see the Google Earth map in Figure 1 as an example). Thermal Radar not only monitors the perimeter, but also the approach to these facilities, by reducing the critical reaction time for deterrent action activities. Fewer cameras equals less cost and maintenance," Schoeman notes.
The thermal radar continuously scans the designated area; sophisticated analytics assess what the thermal camera identifies and then sends the coordinates to the colour PTZ camera which zooms in on the incursion. This provides 24/7 thermal coverage plus the benefit of forensic data from the PTZ. It's worth highlighting that the radar slews the PTZ to cue upon detections – this means no more cases where touring mode leaves you hoping the PTZ is at the right place when an intruder enters.
While the coverage area can reach 360° and over 1 km, depending on the model chosen (Figure 2), the solution sends one video stream to your VMS containing the 360° thermal imagery and a zoomed view of the area where an alert occurred, with a map showing where the detection occurred (Figure 3). When it detects an intruder, an alert is sent to the VMS, which, combined with the targeted PTZ, gives users timely, actionable intelligence.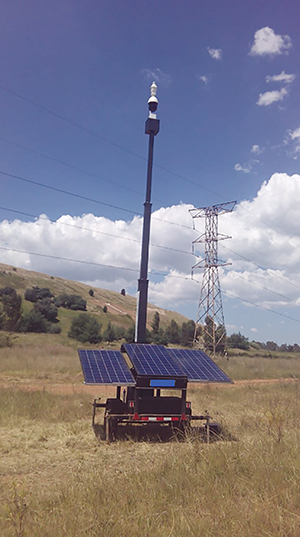 Figure 4.
Mobile and solar options
An estate would likely install the Thermal Radar system in a set location, however, StratIT can also deliver mobile solutions that can be mounted from a trailer and be powered by solar panels and batteries (Figure 4). This type of solution is useful for increased security when a known risk situation increases in an area, or when a specific event is being held on the estate.
The system can also be used as a fire detection system. Schoeman says StratIT's mobile 9 m tower system with a thermal camera can be placed at high-ground areas and be configured to detect a 3 m fire from over 5 km away.
Credit(s)
Further reading:
Turkish university installs IDIS surveillance
CCTV, Surveillance & Remote Monitoring Products
IDIS video streamlines complex surveillance systems for learning institution, upgrading a 350-camera system with 24/7 control room monitoring to transform security for Social Sciences University of Ankara (ASBU).
Read more...
---
What South Africans need to know about smart devices
Technews Publishing Editor's Choice
We live in a world surrounded by smart devices, from our pockets to our driveways and living rooms.
Read more...
---
Long-distance connectivity with Simplex ES Net Life Safety
Johnson Controls Global Products Fire & Safety Products
ES Net Network Bridge allows fire alarm system data to be transmitted across distant buildings via a customer's existing network infrastructure, improving system-wide monitoring and control in facilities and campuses where life safety networks are often widely dispersed.
Read more...
---
Visitor management via QR code
ATG Digital Access Control & Identity Management Products
ATG Digital has launched its QR Code Reader to enhance access control's security and efficiency. The new QR Code Reader enables seamless, contactless access control, creating an efficient user journey.
Read more...
---
District secures activity centre
Paxton Access Control & Identity Management Products
Paxton's Net2 access control solution is a user-friendly and flexible networked access control system, which made installing and managing access control security at an activity centre straightforward.
Read more...
---
Manage security systems remotely
Hikvision South Africa CCTV, Surveillance & Remote Monitoring IT infrastructure Products
Hikvision launched a new generation of smart managed switches that, in conjunction with the Hik-Partner Pro mobile app, enable installers to remotely deploy and configure security systems with comprehensive operation and maintenance capabilities.
Read more...
---
From overwhelm to oversight
Editor's Choice Cyber Security Products
Security automation is vital in today's world, and Microsoft Sentinel is a widely adopted, but complex answer. ContraForce is an easy-to-use add-on that automatically processes, verifies and warns of threats round-the-clock.
Read more...
---
Synology enhances functions for advanced surveillance integration
Technews Publishing CCTV, Surveillance & Remote Monitoring IT infrastructure Products
With the capability to function as both an API client and server, Surveillance Station offers a versatile platform for integration, whether it's embedding video streams into other platforms or overlaying external data onto recorded video.
Read more...
---
Planning for the worst is key to success
Technews Publishing Security Services & Risk Management
Planning for the worst is key to success when disaster strikes. Amidst frequent load shedding and often unpredictable stages of power outages, many businesses are concerned about the possibility of a total blackout.
Read more...
---
SMART Surveillance Conference 2023
Technews Publishing Editor's Choice CCTV, Surveillance & Remote Monitoring Conferences & Events
Some people think the future is all about cloud technologies, but the SMART Surveillance conference demonstrated that AI is making edge surveillance much more attractive, over distributed sites, than ever before.
Read more...
---