printer friendly version
Load shedding and home security systems
Residential Security Handbook 2022: SMART Living Smart Home Automation, Residential Estate (Industry)
Homeowners should make sure they understand the impact load shedding can have on any security system. Sufficient battery backups and charging capacity can extend the uptime of alarm systems during load shedding. It is not ideal, though, for any battery to be faced with continuing bouts of power cuts – whether they are planned or unplanned.
This advice was issued by armed response company, Fidelity ADT, following several weeks of scheduled power cuts across the country. At the peak, it reached Stage 6 of load shedding being implemented.
"The focus on home security systems and their battery backups should remain, even after load shedding has been suspended," says the company's head of communications and marketing, Charnel Hattingh.
"Batteries play a big part in your home's security system, which includes your electric fence and the gate motor. Wireless security systems have batteries in the detectors that are not affected by load shedding, but the main control box still contains a backup battery that should not be neglected.
"When you check your backup batteries, make sure you look at everything. Preventive maintenance action today can help ensure that your security system still operates the way it should tomorrow."
Batteries have a finite lifespan which is affected by the number of times it discharges and charges up again. Batteries that have gone through too many of these cycles deteriorate and may not be able to charge sufficiently in the periods between load shedding times. This compromises the backup time the battery provides in the event of a power failure.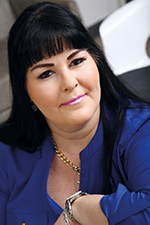 Charnel Hattingh.
Hattingh says load shedding Stage 1 can give batteries enough recharging time, while any higher stage will start cutting into the time needed. Keep in mind, though, that there can be other unrelated technical issues affecting a battery, which is why regular testing is critical. No battery will last forever, and at some point it will need to be replaced.
She also urges people to pay attention to text messages they receive from their armed response company, especially when it relates to any potential low battery warning signals. Fixing these issues as early as possible can take the pressure off monitoring systems caused by a flood of signals received during load shedding.
Regular power cuts are impacting a range of technologies and communications systems, including alarm systems which start to malfunction without adequate battery backup. Malfunctioning alarm systems during load shedding result in an increase of false alarm activations that impact armed response companies' ability to deal with real emergency signals.
Homeowners can help by taking ownership of their alarm system hardware to ensure it is operating as optimally as possible during these rolling power cuts, especially as it seems to be happening more frequently.
"Your security system's keypad can provide you with information about any problems that need technical intervention. Search on the Internet for a copy of the system's user guide or ask your monitoring company to send you a copy."
Hattingh says UPS backup systems are also useful to add to any home system, even if they are costly. They can play a part in keeping you and your property safe if they are connected properly and used in the way they were intended to be used.
"If you have any questions about your home security system and its battery backups, please contact your armed response company as soon as possible. They will help you test to see if any technical problems need urgent attention."
Further reading:
Regal fusses over Fluss
Regal Distributors SA IoT & Automation Smart Home Automation
When the team from Fluss brought their Bluetooth-enabled device to Regal's research team, they were hooked. Effortless in its simplicity, the Fluss device means no more losing remotes, endless waiting at the gate for visitors, scanning fingerprints, etc.
Read more...
---
Reliable access management for famous film location
Paxton Access Control & Identity Management Residential Estate (Industry)
The Royal Connaught Park features a private swimming pool, health and fitness suite, outdoor tennis court and onsite parking, with over 100 residents coming and going every day.
Read more...
---
Smart opener for gates and garages
Smart Home Automation Access Control & Identity Management
The Smart Gate and Garage Opener allows consumers to control and monitor gates and garage doors that have already been fitted with automation devices via the Yale Home app on their smartphone.
Read more...
---
Ring announces second generation indoor camera
Smart Home Automation Surveillance Residential Estate (Industry)
Introducing a removable manual privacy cover, Ring's latest indoor camera provides customers with increased privacy, control and peace of mind when it comes to home security.
Read more...
---
Understanding the language of connectivity
Smart Home Automation
Having a better understanding of the available options can help you communicate your internet needs more effectively with a service provider. You don't need to be an expert on the topic, but having some insight can ensure you always stay connected.
Read more...
---
Securing a luxurious estate
Access Control & Identity Management Residential Estate (Industry) Products & Solutions
Turnstar Systems recently partnered with Balwin Munyaka Residential Estate to secure the entrance to its Crystal Lagoon, ensuring only authorised residents and guests can access the site.
Read more...
---
Body-worn evidence
Technews Publishing Forbatt SA Betatrac Telematic Solutions Secutel Technologies Surveillance Residential Estate (Industry) Products & Solutions
Body-worn cameras are no longer just a good idea or a luxury item; in fact, they are gaining popularity and finding use in various situations, one of these being in residential estates.
Read more...
---
Integrating control rooms and response
WatchManager Integrated Solutions Residential Estate (Industry)
Control rooms have become a standard in large estates, and remote control rooms are finding a home even in smaller estates due to cost efficiencies and the increasing reliability of analytics and artificial intelligence.
Read more...
---
Entrance security for residential buildings
Paxton Access Control & Identity Management Residential Estate (Industry) Products & Solutions
Home is where people should feel safe and relax. Installing a reliable access control system is vital to track and prevent non-residents from entering private areas.
Read more...
---
Security without the skin
Alwinco Editor's Choice Security Services & Risk Management Residential Estate (Industry) Risk Management & Resilience
We all know about the layers of security required to form a comprehensive solution, but the layers go deeper than most consider. Andre Mundell dissects security in this article to start the journey into what is under the covers.
Read more...
---