printer friendly version
Keeping your home surveillance private
Residential Security Handbook 2022: Smart Living
Smart Home Automation
The number of private homes using video surveillance as part of their security infrastructure is continually growing, and there are a number of cameras and video kits available for home use on the market. While it is easy enough to set up a PC or NVR/DVR to store video data, most suppliers also offer a cloud service for remote viewing and storage.
The range of options available starts from the ultra-cheap and increases to the expensive, with homeowners getting what they pay for – especially if they opt for the convenience of cloud services. The cloud option always brings up the question of privacy. While an office environment does not guarantee privacy, one wants your home security system, especially video-based systems, to ensure you are the only one able to access your video – live and stored – unless you decide to give it to someone else.
Arcanum Africa sells a product that makes it easy to collate video from almost any camera into a private recorder, which can also be available for remote viewing via a laptop or mobile device and includes advanced artificial intelligence (AI) functionality. The product, Camect, is a small box that you connect to your router, after which it will automatically discover any cameras you have on the same network.
The Camect website lists many cameras that are autodetected, with the device able to use ONVIF or RSTP streams to find cameras and provide streaming along with its AI services. It also sports 1 TB of storage in the box for continuous recording, which allows users to view recorded footage as and when they choose.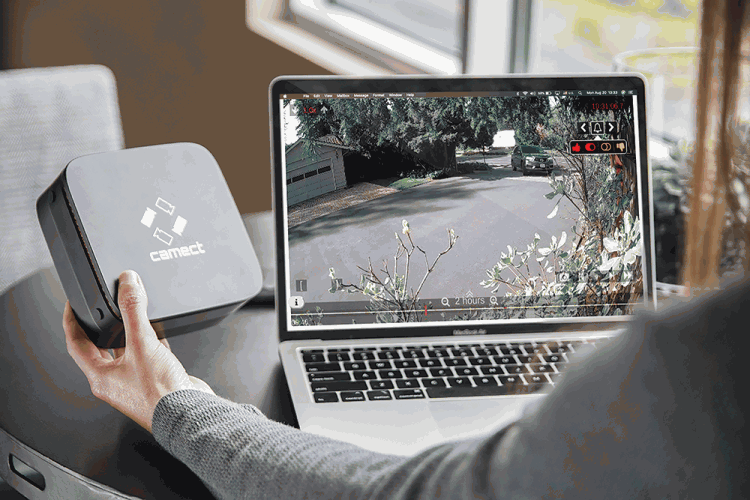 Arcanum's Peter Stolwerk and Aaron van Schaik add that Camect offers much more than camera streams. It has an advanced AI that can detect over 30 types of objects with a false alarm rate of less than 0,5%. It differentiates between animals, people and vehicles, and can alert users when a person is seen at the door, for example. The AI is also able to learn, so if it sends an alert that is incorrect, the user will mark the object as safe and the system will learn accordingly.
A night vision option is also built in, which makes investigating an alert at night easier as the user will have a better view inside dark rooms or yards.
Cloud with privacy
Users have the option of buying the Camect box as a standalone solution, in which case their footage stays on the box and is accessible via the home network. The system supports up to 24 MP of total video resolution, which equates to about 12 HD (1080p) cameras.
There is also an annual subscription option which includes cloud services, but also guarantees privacy. With three or four points of authentication, the system is only accessible to the authorised user. Moreover, with this option users can choose to backup video footage to the cloud service of their choice.
The subscription also guarantees weekly updates to the system, keeping it current and also continually updating the AI system. Given the size of the Camect box, it can be used anywhere and even moved without losing the settings or footage.
While the Camect device, created by two ex-Google employees, is aimed at providing private video surveillance for home users, Stolwerk says it can also be used by security companies looking to take advantage of the AI functionality, due to the less than 0,5% false alarm rate and constant upgrading of the system and the AI, and of course, any cybersecurity updates that are required.
For more information contact Arcanum Africa, [email protected], www.arcanum-africa.com
Further reading:
Smart home security
Olarm Smart Home Automation Perimeter Security, Alarms & Intruder Detection Products
The applied use of smart technology within the Olarm ecosystem, through smart features coupled with existing systems, extends the benefits of technology into different spheres.
Read more...
---
All-in-one smart access solution for residential living
Salto Systems Africa Smart Home Automation
SALTO Homelok is set to change residential living with its all-in-one solution that integrates smart access control technology, hardware, cloud software, digital keys, a smart living ecosystem, and global service support.
Read more...
---
Cut the home access fuss with Fluss
Smart Home Automation
The Fluss app integrates with a small device connected to your home or business electrical system that turns your smartphone into a key to open any gate, garage, or door.
Read more...
---
Kaspersky announces new consumer portfolio
Products Smart Home Automation
Kaspersky has announced availability of its new, simplified consumer solutions portfolio, with an enhanced user interface and experience across multiple platforms.
Read more...
---
Upgrade your customers' outdoor security lighting
ADI Global Distribution Perimeter Security, Alarms & Intruder Detection Products Smart Home Automation
With the soaring cost of living and the nights getting darker, it is so important to make sure your customers' properties are protected against theft and crime.
Read more...
---
Nomad launches early adopter programme
Editor's Choice News Integrated Solutions Smart Home Automation
Participants in Nomad's Early Adopter Programme will receive 10% of their volume order to facilitate testing before the commercial launch later this year.
Read more...
---
The smart home according to Astrel
Black Point Tech cc t/a BPT Smart Home Automation
Riccardo Battaini from BPT SA addresses the advantages of living in a connected home, highlighting the capabilities of the Astrel brand.
Read more...
---
Load shedding and home security systems
Smart Home Automation Residential Estate (Industry)
Preventive maintenance action today can help ensure that your security system still operates the way it should tomorrow when Eskom once again turns off the power.
Read more...
---
Seeking alternative power sources
Smart Home Automation Residential Estate (Industry)
Gregor Kuepper highlights some solutions that can keep the lights on and machines running during load shedding and other long power outages.
Read more...
---
What to consider when choosing a power backup plan
Products Smart Home Automation
Electricity is set to double in price in the next five years, and load-shedding will be an ongoing occurrence for at least the next decade.
Read more...
---