printer friendly version
Reliable connectivity remains key for mining
Issue 5 2022 Mining (Industry), IT infrastructure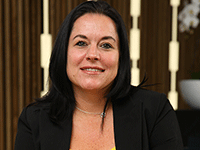 Mandy Duncan.
There are so many factors that make commercial mining an incredibly intricate process. Currently, South Africa's mines are getting deeper as mining companies try to reach new deposits. This significantly increases the cost of extraction, ups safety risks and makes mining operations even more complex. But with strategic innovation, automation, the implementation of modern mining equipment, mechanisation and the use of connected digital technologies, it is possible to create entirely new ways of extracting valuable minerals and other materials from the ground.
The mining industry has, however, been quite slow to adopt innovative ideas and new technologies. According to BCG's Digital Acceleration Index (DAI), the metals and mining industry is roughly 30% to 40% less digitally mature than comparable industries. While the pandemic changed this slightly – forcing businesses across all sectors to embrace different tools and technologies to minimise disruptions to their operations – the challenge for mining leaders is to take what they've learned over the last two and a half years and use this to move forward and thrive.
Innovation as a mining industry enabler
A few key technologies reshaping the sector include autonomous vehicles, automated drilling and tunnel boring systems, drones and Internet of Things (IoT)-enabled smart sensors.
In action, autonomous haulage vehicles minimise delays and disruptions in production, and enable miners to move more material with fewer people on site, enabling near-continuous operation. Automated tunnelling and drilling systems make it possible for remote drill operators to extract valuable materials from the ground while sitting in a comfortable office. This eliminates the need for human miners to put themselves in dangerous situations.
Drones equipped with a downward-facing camera can be flown over a mining site to capture images of the operation from different vantage points, improving stockpile and inventory management. Finally, when IoT devices are integrated into mining operations, this sensor technology will send an alert to a supervisor if a worker's clothing or personal protective equipment is not working or being worn correctly, or they can be used to measure air quality in real time and notify relevant parties should readings deviate from usual patterns.
But all of these devices demand a constant, reliable Internet connection to ensure that these connected things can communicate with one another. Without it, these pieces of highly specialised equipment will have difficulty doing what they're supposed to do – sharing and collecting data – which means that they add little value to the business.
According to a new survey and report, a lack of connectivity across mine sites is a concern shared by 45% of respondents. A further 40% said they had access to the Internet but often experienced connectivity issues that prevented them from collecting the data they need. Only 15% indicated that they had access to reliable connectivity and were able to gather data as and when they needed to.
Helping IT get a handle on innovation
The same survey highlighted that 67% of mining organisations had already fully deployed at least one IoT project and 95% were currently trialling an IoT initiative. What enabled them to do so? Again, it comes down to the network. The study found a clear link between those who have managed to fully deploy an IoT project and the level of reliable connectivity they could access. Of the 130 respondents who had fully deployed an IoT project, only around one fifth struggled to access reliable connectivity across their mine sites. This reality puts additional pressure on IT to deliver the network stability mining operations need to succeed.
Today, IT is being bombarded with requests to connect all manner of devices to the corporate network. But traditional networks aren't designed to handle data growth, connected devices and computing on the edge. This is why it is often a good idea for IT teams to partner with network experts to ensure that they are able to connect and protect what matters most.
While mining is already a significant contributor to South Africa's gross domestic product – around 9% in 2021 – government believes it can contribute more in the very near future. But only if the sector gets several interventions right. One of these is embracing different tools and technologies to totally reimagine and redefine how mines are operated. Not only can improving mining operations empower the mining industry to be more efficient and productive, it also makes it safer, more cost-effective and more sustainable.
Further reading:
Rack-mounted, three-phase online UPS
Security Services & Risk Management IT infrastructure Products
The new Eaton 93PX 15-20 kVA UPS combines high efficiency with a compact footprint, lower TCO, and improved cybersecurity to provide stable power for critical IT, industrial, manufacturing, and medical applications.
Read more...
---
Five reasons why your board should push cybersecurity 'boundaries'
Security Services & Risk Management IT infrastructure
From a technological perspective, micro-segmentation of your IT security environment can be viewed as a way to identify, isolate and curtail the reach of any threat – even once it is in your network.
Read more...
---
Plan to use AI? Get your data ready
Integrated Solutions IT infrastructure
Artificial Intelligence (AI) is often perceived as an intelligent system that can handle any task. However, this notion crumbles when the AI is given poorly formatted or incorrect data. You cannot simply provide a few spreadsheets or databases to AI and expect it to work flawlessly.
Read more...
---
Paratus signs re-seller agreement with Starlink for Africa
News IT infrastructure
Pan-African telco and network services provider Paratus Group announced it has entered an agreement as a distributor for Starlink's high-speed services across the African continent, available immediately in Mozambique, Kenya, Rwanda and Nigeria.
Read more...
---
Client satisfaction boosted by 85% at Thungela Mine
Thorburn Security Solutions News Security Services & Risk Management Mining (Industry)
Thorburn Security, a division of Tsebo Solutions Group, has announced its recent collaboration with Kwa-Zulu Natal security company, Ithuba Protection Services, as part of its Enterprise Supplier Development (ESD) initiatives across Africa.
Read more...
---
The state of edge security report
News IT infrastructure
Edge computing has grown from being a niche use case in a handful of industries to offering a major opportunity for enterprises across industries to spread computing power around the world.
Read more...
---
Manage security systems remotely
Hikvision South Africa CCTV, Surveillance & Remote Monitoring IT infrastructure Products
Hikvision launched a new generation of smart managed switches that, in conjunction with the Hik-Partner Pro mobile app, enable installers to remotely deploy and configure security systems with comprehensive operation and maintenance capabilities.
Read more...
---
Synology enhances functions for advanced surveillance integration
Technews Publishing CCTV, Surveillance & Remote Monitoring IT infrastructure Products
With the capability to function as both an API client and server, Surveillance Station offers a versatile platform for integration, whether it's embedding video streams into other platforms or overlaying external data onto recorded video.
Read more...
---
Simplify adoption of Generative AI
News IT infrastructure Products
Nutanix simplifies adoption of Generative AI with Nutanix GPT-in-a-Box, an AI infrastructure solution that accelerates customers' path to GPT and LLMs while keeping organisations in control of their data.
Read more...
---
Veeam's route to immutability
News Cyber Security IT infrastructure
National and international data protection and ransomware recovery experts gathered to exchange data protection and ransomware recovery best practise that bolster cyber resilience at VeeamON Tour: Expand 2023.
Read more...
---