printer friendly version
Dahua WizMind Illegal Parking Detection
Issue 5 2022 CCTV, Surveillance & Remote Monitoring, Transport (Industry), Products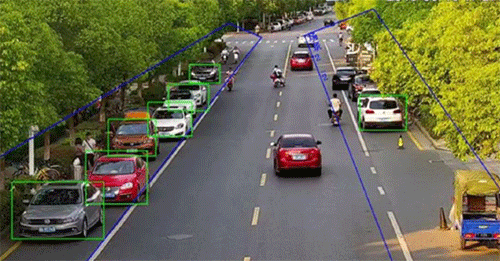 As the number of people who can afford vehicles rises over time, this causes a constant surge of vehicles on the roads that drastically exhausts the limited parking spaces in cities, resulting in some parking their car recklessly.
Illegal parking has become a challenge for transport departments and traffic officers, especially in those cities that still issue parking tickets manually due to lack of funding for an adequate parking ticket system. The efficiency of manual parking ticket systems is often subpar, not to mention the inability of on-site personnel to be on duty 24/7.
Current products on the market are also not capable of detecting/tracking a vehicle, preventing these traditional devices from capturing the licence plate of the offending car. Implementing an intelligent solution that can alleviate these issues is of paramount importance to help maintain an orderly city.
The Dahua WizMind Illegal Parking Detection solution is a traffic solution that can effectively solve traffic problems on the road.
Warning sound deterrent
A warning siren is a new feature of WizMind Illegal Parking Detection and will be available in the upcoming camera model SDT5X425-4Z4-FAJG-PV-0832. When a vehicle parks in a no-parking zone, the alarm will be triggered and the siren will sound a warning voice to deter or warn the car's driver to leave. This warning sound can be customised by the user on the app. There are two high-powered speakers installed on each side of the camera. The independent PTZ enables them to rotate 360° horizontally, which sends audible warnings in different directions.
Wide detection range
This solution simultaneous supports the display of both panoramic and detail views on the screen. Both channels of the dual-PTZ camera are equipped with illegal parking detection with a maximum detection radius of up to 100 m.
In addition, this feature also has two primary modes:
• Linkage mode: The panoramic camera runs illegal parking detection while the detail camera zooms in to capture the vehicle when an illegal parking event occurs.
• Independent mode: Panoramic camera and detail camera run illegal parking detection separately. The detail camera runs a tour plan to cover different scenarios and zooms in to capture the vehicle when an illegal parking event occurs in both the panoramic and detail views.
Multi-scenario deployment
Multiple detection modes are also available based on the nature of the scenario:
• Scenario priority mode: The camera runs illegal parking detection at the current scenario and will only switch to the next scenario if the time allocated by the tour plan has been reached.
• Detection priority mode: While the tour plan has not started, the camera will only switch to the next scenario if all snapshots of the illegally parked vehicles in the current scenario have been taken.
• Group snapshot mode: Before the tour plan begins, the camera will capture a group of snapshots of all vehicles in the current scenario (two pictures by default). When all the snapshots of vehicles have been taken, it will switch to the next scenario. During the tour plan, when the preset time for scenario one is reached, the camera will return to scenario one to capture another set of photos (two images).

Licence plate number and other violation information can be overlaid on the captured images of the camera, serving as evidence in case of an investigation.
The camera is designed to be installed easily with simplified configuration steps. This greatly reduces labour costs and significantly improves efficiency.
Credit(s)
Further reading:
Turkish university installs IDIS surveillance
CCTV, Surveillance & Remote Monitoring Products
IDIS video streamlines complex surveillance systems for learning institution, upgrading a 350-camera system with 24/7 control room monitoring to transform security for Social Sciences University of Ankara (ASBU).
Read more...
---
Brighter, greener, and smarter
Dahua Technology South Africa Products CCTV, Surveillance & Remote Monitoring
Dahua Technology released its new Dahua CH II Series Indoor Fine Pixel Pitch LED display, providing visual clarity and promoting energy efficiency and sustainability.
Read more...
---
Smart water management
Axis Communications SA CCTV, Surveillance & Remote Monitoring Integrated Solutions
South Africa is currently facing a water crisis, with scarcity and inefficient water management posing significant challenges to sustainable, consistent access to water. Smart technology and powerful partnerships may offer a proactive solution to SA's water crisis.
Read more...
---
Helping retailers optimise monitoring and security
Guardian Eye Retail (Industry) CCTV, Surveillance & Remote Monitoring
From a smart retail perspective, it is crucial to understand that monitoring stock and other assets through camera surveillance and a variety of Internet of Things (IoT) sensors stretches further than the stores themselves.
Read more...
---
Empowering Istanbul's public transportation
Dahua Technology South Africa CCTV, Surveillance & Remote Monitoring Integrated Solutions
Dahua's intelligent transportation solution, using technologies like DSM and AI-based passenger flow counting, has facilitated an intelligent system upgrade for nearly 6 400 minibuses and electric buses in Istanbul.
Read more...
---
Smart manufacturing redefined
Hikvision South Africa CCTV, Surveillance & Remote Monitoring Industrial (Industry)
AI and intuitive visualisation technology allows managers to monitor manufacturing sites, production, and operational processes, and to respond in real time in the event of an issue – helping to drive efficiency and productivity.
Read more...
---
Long-distance connectivity with Simplex ES Net Life Safety
Johnson Controls Global Products Fire & Safety Products
ES Net Network Bridge allows fire alarm system data to be transmitted across distant buildings via a customer's existing network infrastructure, improving system-wide monitoring and control in facilities and campuses where life safety networks are often widely dispersed.
Read more...
---
AI is getting smarter, and critical infrastructure is set to benefit
Axis Communications SA CCTV, Surveillance & Remote Monitoring
With technology advancing at an astonishing pace, AI has emerged as a defining trend in today's business arena. Enterprises across all sectors are prioritising this technology, embracing its transformative potential to drive change and growth.
Read more...
---
Visitor management via QR code
ATG Digital Access Control & Identity Management Products
ATG Digital has launched its QR Code Reader to enhance access control's security and efficiency. The new QR Code Reader enables seamless, contactless access control, creating an efficient user journey.
Read more...
---
District secures activity centre
Paxton Access Control & Identity Management Products
Paxton's Net2 access control solution is a user-friendly and flexible networked access control system, which made installing and managing access control security at an activity centre straightforward.
Read more...
---