printer friendly version
Dahua WizMind Illegal Parking Detection
Issue 5 2022 Surveillance, Transport (Industry), Products & Solutions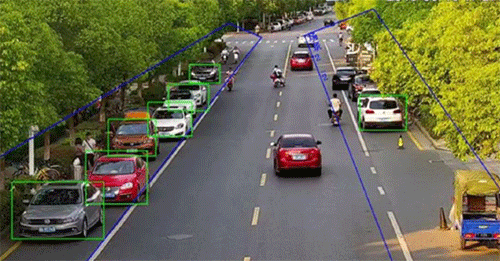 As the number of people who can afford vehicles rises over time, this causes a constant surge of vehicles on the roads that drastically exhausts the limited parking spaces in cities, resulting in some parking their car recklessly.
Illegal parking has become a challenge for transport departments and traffic officers, especially in those cities that still issue parking tickets manually due to lack of funding for an adequate parking ticket system. The efficiency of manual parking ticket systems is often subpar, not to mention the inability of on-site personnel to be on duty 24/7.
Current products on the market are also not capable of detecting/tracking a vehicle, preventing these traditional devices from capturing the licence plate of the offending car. Implementing an intelligent solution that can alleviate these issues is of paramount importance to help maintain an orderly city.
The Dahua WizMind Illegal Parking Detection solution is a traffic solution that can effectively solve traffic problems on the road.
Warning sound deterrent
A warning siren is a new feature of WizMind Illegal Parking Detection and will be available in the upcoming camera model SDT5X425-4Z4-FAJG-PV-0832. When a vehicle parks in a no-parking zone, the alarm will be triggered and the siren will sound a warning voice to deter or warn the car's driver to leave. This warning sound can be customised by the user on the app. There are two high-powered speakers installed on each side of the camera. The independent PTZ enables them to rotate 360° horizontally, which sends audible warnings in different directions.
Wide detection range
This solution simultaneous supports the display of both panoramic and detail views on the screen. Both channels of the dual-PTZ camera are equipped with illegal parking detection with a maximum detection radius of up to 100 m.
In addition, this feature also has two primary modes:
• Linkage mode: The panoramic camera runs illegal parking detection while the detail camera zooms in to capture the vehicle when an illegal parking event occurs.
• Independent mode: Panoramic camera and detail camera run illegal parking detection separately. The detail camera runs a tour plan to cover different scenarios and zooms in to capture the vehicle when an illegal parking event occurs in both the panoramic and detail views.
Multi-scenario deployment
Multiple detection modes are also available based on the nature of the scenario:
• Scenario priority mode: The camera runs illegal parking detection at the current scenario and will only switch to the next scenario if the time allocated by the tour plan has been reached.
• Detection priority mode: While the tour plan has not started, the camera will only switch to the next scenario if all snapshots of the illegally parked vehicles in the current scenario have been taken.
• Group snapshot mode: Before the tour plan begins, the camera will capture a group of snapshots of all vehicles in the current scenario (two pictures by default). When all the snapshots of vehicles have been taken, it will switch to the next scenario. During the tour plan, when the preset time for scenario one is reached, the camera will return to scenario one to capture another set of photos (two images).

Licence plate number and other violation information can be overlaid on the captured images of the camera, serving as evidence in case of an investigation.
The camera is designed to be installed easily with simplified configuration steps. This greatly reduces labour costs and significantly improves efficiency.
Credit(s)
Further reading:
Pentagon appointed as Milestone distributor
Elvey Security Technologies News & Events Surveillance
Milestone Systems appointed Pentagon Distribution (an Elvey Group company within the Hudaco Group of Companies) as a distributor. XProtect's open architecture means no lock-in and the ability to customise the connected video solution that will accomplish the job.
Read more...
---
SA fleets face internal and external pressures
IoT & Automation Transport (Industry) Logistics (Industry)
Thousands of trucks clog South African border points and ports, causing shipping companies to levy congestion surcharges; fleet managers must enforce safety rules, develop comprehensive training programmes focusing on early warning systems and AI-powered technology
Read more...
---
Embracing next-generation surveillance for safer cities
Surveillance Integrated Solutions AI & Data Analytics
With the South African government highlighting the importance of building smart cities by integrating advanced technologies to make them more resilient and liveable, the role of next-generation network video and surveillance technologies cannot be ignored.
Read more...
---
Hik-Connect for Teams released
Hikvision South Africa Products & Solutions Surveillance
Hikvision has released an update for its security management platform; Hik-Connect for Teams not only meets the specific needs of individual users, but also caters to various medium-sized businesses (SMBs) and multi-site management scenarios.
Read more...
---
The human factor side of video management systems
Leaderware Editor's Choice Surveillance Risk Management & Resilience
A video management system (VMS) is central to, and the most vital element to any control room operation using CCTV as part of its service delivery, however, all too often, it is seen as a technical solution rather than an operational solution.
Read more...
---
A simple system for complex protection
Surveillance AI & Data Analytics IoT & Automation
Reconeyez is a company that provides autonomous wireless visual verification systems with built-in artificial intelligence. Running on batteries, each device includes communication capabilities, creating a mesh network between the various devices, linking them to the control room.
Read more...
---
Revolutionise your security with integrated solutions
Secutel Technologies Products & Solutions Surveillance
By merging the capabilities of SecuVue and Secutraq, Secutel has forged a robust system empowering users to fine-tune analytics and harness facial recognition, pose detection, and XFS, among other features.
Read more...
---
Effective access control
Flow Systems Access Control & Identity Management Products & Solutions
Flow Systems has introduced its new Extra Heavy Duty Industrial Rising Vehicle Barrier, which provides a high level of protection. It is a traditional-looking control barrier with the benefits of high-level physical protection.
Read more...
---
Safer roads to a sustainable future
Dahua Technology South Africa Surveillance
With the ever-increasing number of vehicles on the road, it is imperative to constantly improve the quality of transportation monitoring and traffic management in urban and rural areas.
Read more...
---
Simplify AARTO compliance for fleets
Guardian Eye IoT & Automation Asset Management Transport (Industry) Logistics (Industry)
While there are challenges around the management and implementation of the AARTO Amendment Act, there are also benefits that need to be understood today to ensure compliance and value tomorrow.
Read more...
---