printer friendly version
From the editor's desk: More and more
Residential Security Handbook 2022: SMART Living
News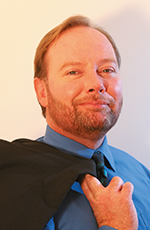 Andrew Seldon, Editor.
Welcome to the Smart Living Handbook. While this handbook is not the normal size of our handbooks, it is still packed full of information about the security issues and solutions estates and homes in southern Africa face (with more published online).
While there are still almost endless technologies that estates can use to improve their security, one of the trends that has become apparent is that estates want more from their security and their security integrators. We have talked about integrated solutions for years, and this has never been more important in a world where the public authorities are unwilling or unable to handle the crime situation (as the last official crime statistics show, as if we needed to be told that).
However, not only are we seeing estates opting for more integrated solutions from a security perspective, they are also increasingly looking to get a 'full service' from a single supplier. Currently this applies primarily to the larger estates with larger budgets, but we will see the trend moving into smaller estates and complexes in the future – as long as the system integrators can deliver.
Interestingly enough, some are also looking at their same security suppliers to provide other, non-security services in the same contract. One simply needs to look at some of the services offered by the big players in the market to see how operational functions are being bundled with security, often using the same technology for multiple purposes.
What is interesting is to see how many camera manufacturers are making better use of the processing power within cameras to integrate more of these traditionally non-security functions into their cameras, to allow users to extract extra value from them without losing the security functionality they expect.
On the technical front, we are seeing more devices being incorporated into the management platforms used by estates and monitored on a constant basis. This ranges from surveillance cameras that are not only monitored for the video feeds they provide, but the system does automatic health checks on the cameras to provide early warnings of possible problems, reducing downtime.
Of course, the IoT trend extends beyond cameras to electric fencing and other security systems, as well as other 'things' that estates need to keep an eye on, such as water levels, temperature fluctuations in generator systems and, increasingly, the status of solar installations. Having technology monitor technology has become more common and the results are, as noted, early warnings, more efficient delivery of SLAs, and over time the estates can gain a proper overview of how their technology performs and which brands are worth their price tag.
These are some of the issues we will be discussing at the Residential Security Conference later this year (see www.resc.co.za for more Information on the conference).</a> for more Information on the conference).
I hope you enjoy the handbook and, as always, comments, criticisms and ideas on how we can improve it are welcome at [email protected].
Credit(s)
Further reading:
Paxton opens first experience centre in South Africa
Paxton News Access Control & Identity Management
The new Paxton Experience Centre in Johannesburg is now open and welcoming security installers and end users who want to see Paxton's products in action.
Read more...
---
Paratus signs re-seller agreement with Starlink for Africa
News IT infrastructure
Pan-African telco and network services provider Paratus Group announced it has entered an agreement as a distributor for Starlink's high-speed services across the African continent, available immediately in Mozambique, Kenya, Rwanda and Nigeria.
Read more...
---
4IR is opportunity
News
In South Africa, digitalisation remains 'at a nascent stage' which means significant work still has to be done when it comes to addressing skills development around 4IR in the country.
Read more...
---
Five ways to reduce your cyber insurance premiums
Security Services & Risk Management News
With the global costs of cybercrime expected to soar to $13 trillion within the next five years, cyber insurance is booming as organisations try to mitigate the risk of financial losses.
Read more...
---
What South Africans need to know about smart devices
Technews Publishing Editor's Choice
We live in a world surrounded by smart devices, from our pockets to our driveways and living rooms.
Read more...
---
Client satisfaction boosted by 85% at Thungela Mine
Thorburn Security Solutions News Security Services & Risk Management Mining (Industry)
Thorburn Security, a division of Tsebo Solutions Group, has announced its recent collaboration with Kwa-Zulu Natal security company, Ithuba Protection Services, as part of its Enterprise Supplier Development (ESD) initiatives across Africa.
Read more...
---
Fidelity SecureFire steps into critical fire response space
News Fire & Safety
With the majority of fire stations around the country being crippled by a lack of resources to offer effective responses, Fidelity Fire Solutions has launched its own 'first responder' model, Fidelity SecureFire.
Read more...
---
The state of edge security report
News IT infrastructure
Edge computing has grown from being a niche use case in a handful of industries to offering a major opportunity for enterprises across industries to spread computing power around the world.
Read more...
---
CHI selects NEC XON as trusted cybersecurity partner
News Cyber Security Industrial (Industry)
CHI Limited, Nigeria's leading market player in fruit juices and dairy products, has engaged in a strategic cybersecurity partnership with NEC XON, a pan-African ICT systems integrator.
Read more...
---
Collaboration delivers integrated and holistic security
Guardian Eye CCTV, Surveillance & Remote Monitoring News Integrated Solutions
Guardian Eye and Lytehouse have partnered to integrate their speciality solutions and provide a holistic security offering that overcomes the fragmentation of security systems and services.
Read more...
---