printer friendly version
27 cameras cover 80 000 square metres
Issue 5 2022 Surveillance, Logistics (Industry)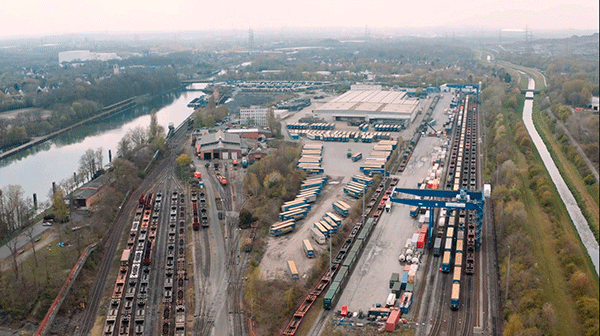 The Container Terminal Herne (CTH) is a model company in Germany's Ruhrgebiet industrial region. Here, on premises spread over almost 80 000 square metres, goods from all over the world are distributed to their final destinations.
The security strategy previously in place, involving a guard system, was no longer delivering the desired results for the CTH, and did not contribute any improvement in terms of workplace safety and business processes. So, CTH decided to introduce an AI-based video and software solution from Dallmeier. With the system implemented, the CTH is saving more than 60 000 Euros in operating costs every year.
From the point of view of security, two aspects of container logistics are particularly important: First, protection of temporarily stored goods from theft and damage, as well as tracking of incidents to allow rapid, conflict-free claims management. And second, it is imperative for logistics companies to always be able to identify and understand hazardous situations. This enables the company to investigate incidents reliably and predictably, and to optimise workplace and operational safety.
Coordinating all contractors
After receiving the go-ahead, the first thing the experts at Dallmeier Systems had to do was establish routing continuity. For this purpose, the company tasked a local pipe cleaning business. In addition, a civil engineering company, also from the region, was engaged to make the connections between the line routing and the existing installation masts. Once these works were complete, the Dallmeier Systems personnel began connecting the cables to the installation sites and setting up the server infrastructure. Then they could install and commission the cameras. All installations, construction work and approval procedures were conducted in close cooperation with the CTH.
Only significant alarms incur costs
The system as implemented consists of 16 Panomera multifocal sensor systems, one PTZ camera, ten single-sensor cameras, three IPS 10 000 recording systems and the SEDOR AI Professional software from Dallmeier. The decisive feature for the efficiency of the solution is the combination of the camera and recording systems with the AI-based analysis software. AI analysis verifies incidents and events in advance, thus minimising the number of false alarms caused by animals, weather conditions or light reflections, for example. This, in turn, substantially reduces the costs of detection and verification compared with conventional solutions such as deploying security personnel.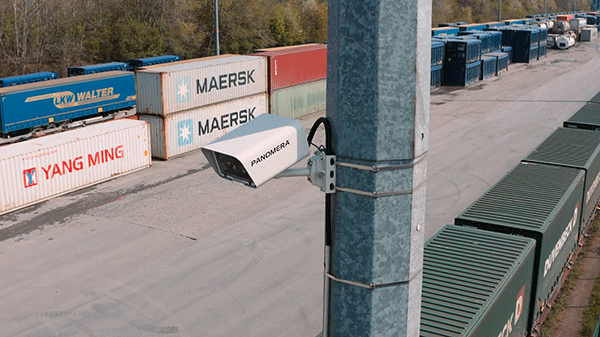 Recognition protects more than property
On the CTH site, large containers are unloaded from rail vehicles onto trucks. However, since large vehicles and cranes are in use, the hazard to personnel, equipment and goods is ever-present. To avoid accidents, the CTH is now able to analyse hazardous situations after the fact with the video system and prevent them from occurring in future. If an accident happens despite this, the data is used in the investigation and to preserve evidence.
The Panomera multifocal sensor technology implemented combines up to eight camera lenses with different focal lengths in one optical unit, and enables a high minimum resolution (pixel density) of at least 125 px/m. This resolution density is deployed over the entire area and all perimeter segments of the site. In this way, it is ensured that details are recognisable at all points of the site, and the CTH can submit the recordings as evidence in court if necessary.
AI classifies, humans verify and respond
The AI system transmits alarm messages to an external emergency call and service centre. If a person gains access to the company premises at a certain day and time without disabling the system with a key, the video security system evaluates the alarms automatically and sends them in real time to the call centre, which in turn initiates the necessary steps for investigating the situation. In the first step, a member of the call centre personnel addresses the person via a public address system which has also been installed by Dallmeier Systems. If the person does not then leave the premises immediately, the police are alerted.
"We are extremely satisfied with the system which has been set up by Dallmeier Systems. Besides the improved protection from theft and unauthorised access provided by the combination of AI and video technology, we also benefit particularly from the high quality of the video material in our efforts to improve safety in the workplace," said Thorsten Kinhöfer, managing director of the CTH.
Savings in infrastructure and operation
"We were also impressed by the cooperation with the Dallmeier Systems branch office in Gladbeck. Because of this proximity to the manufacturer, the entire project – from the planning, through the coordination of all companies involved and up to the cooperation with the emergency call centre – were coordinated smoothly and with no complications for us," continued Kinhöfer. "Apart from the immensely improved security and the important contribution to improving workplace safety and processes, we are also seeing evidence of financial benefits. Through the exceptional functionality of the multifocal sensor technology, we are achieving satisfactory results with a comparatively very small number of camera systems – with correspondingly positive effects on infrastructure and overall operating costs. AI reduces the commitment, and thus also the costs, for the emergency call centre to a minimum."
Credit(s)
Further reading:
Pentagon appointed as Milestone distributor
Elvey Security Technologies News & Events Surveillance
Milestone Systems appointed Pentagon Distribution (an Elvey Group company within the Hudaco Group of Companies) as a distributor. XProtect's open architecture means no lock-in and the ability to customise the connected video solution that will accomplish the job.
Read more...
---
SA fleets face internal and external pressures
IoT & Automation Transport (Industry) Logistics (Industry)
Thousands of trucks clog South African border points and ports, causing shipping companies to levy congestion surcharges; fleet managers must enforce safety rules, develop comprehensive training programmes focusing on early warning systems and AI-powered technology
Read more...
---
Integrated transportation security
Guardian Eye AI & Data Analytics Integrated Solutions Logistics (Industry)
HG Travel installs an AI-powered camera system integrated across 115 vehicles throughout a fleet comprising 160 vehicles of different sizes, along with predictive and self-monitoring tools to track tyre condition, fuel consumption and theft, and overall vehicle maintenance.
Read more...
---
Embracing next-generation surveillance for safer cities
Surveillance Integrated Solutions AI & Data Analytics
With the South African government highlighting the importance of building smart cities by integrating advanced technologies to make them more resilient and liveable, the role of next-generation network video and surveillance technologies cannot be ignored.
Read more...
---
Hik-Connect for Teams released
Hikvision South Africa Products & Solutions Surveillance
Hikvision has released an update for its security management platform; Hik-Connect for Teams not only meets the specific needs of individual users, but also caters to various medium-sized businesses (SMBs) and multi-site management scenarios.
Read more...
---
The human factor side of video management systems
Leaderware Editor's Choice Surveillance Risk Management & Resilience
A video management system (VMS) is central to, and the most vital element to any control room operation using CCTV as part of its service delivery, however, all too often, it is seen as a technical solution rather than an operational solution.
Read more...
---
A simple system for complex protection
Surveillance AI & Data Analytics IoT & Automation
Reconeyez is a company that provides autonomous wireless visual verification systems with built-in artificial intelligence. Running on batteries, each device includes communication capabilities, creating a mesh network between the various devices, linking them to the control room.
Read more...
---
Revolutionise your security with integrated solutions
Secutel Technologies Products & Solutions Surveillance
By merging the capabilities of SecuVue and Secutraq, Secutel has forged a robust system empowering users to fine-tune analytics and harness facial recognition, pose detection, and XFS, among other features.
Read more...
---
Safer roads to a sustainable future
Dahua Technology South Africa Surveillance
With the ever-increasing number of vehicles on the road, it is imperative to constantly improve the quality of transportation monitoring and traffic management in urban and rural areas.
Read more...
---
Simplify AARTO compliance for fleets
Guardian Eye IoT & Automation Asset Management Transport (Industry) Logistics (Industry)
While there are challenges around the management and implementation of the AARTO Amendment Act, there are also benefits that need to be understood today to ensure compliance and value tomorrow.
Read more...
---