printer friendly version
The cost of safety
Issue 5 2022
Security Services & Risk Management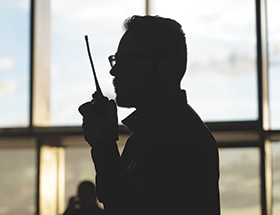 Mandy Weiner recently said that she had been wondering if the recent tavern shootings and mass shootings in South Africa had always been there, or if the media wasn't highlighting them in the past. Regardless of what the fact is, security in South Africa is a massive concern for every person and every business.
In June 2022, the South African police statistics showed that crime had increased significantly. Contact crimes saw a jump of 15%. According to the SAPS, 6083 people were murdered over the quarter (up 22%) – the equivalent of 68 people a day – which is the highest number recorded over this period in the last five years.
These are frightening statistics for South Africans who often take care of their own security because they have little faith in the protection that the SAPS should be providing to citizens. In informal areas, people often resort to kangaroo courts and street justice, whilst in the more affluent areas, companies resort to making use of private security services – the SAPS personal safety tips website actually recommends that people should become a member of an armed response company to protect their home.
Armed response is one of the services provided by the private security industry in South Africa. This industry is one of the largest in the world, and while there is a government regulatory body that attempts to ensure all security companies are legally compliant, it is no easy task as there are over 9000 registered companies and as many as three private security officers for every registered police officer in South Africa.
Tony Botes of the Security Association of South Africa says that non-compliance by private security companies and criminal exploitation of security employees has always been a problem, but this has (mainly due to Covid-19 and the massive downturn in the national economy) escalated to a new high. Minimum levels of remuneration are being ignored, as are statutory benefits, such as the Security Officer Premium Allowance, provident fund and medical insurance.
On the other hand, consumer resistance has also, because of economic restraints, increased to unprecedented levels, 'forcing' security businesses to find ways of retaining existing clients and sourcing new business. There is currently no way for the end-user (the consumer) to be held jointly liable for the underpayment of security officers by the security service, but clause 38(3) (g) of the PSIRA Act states: "Any person who knowingly, or without the exercise of reasonable care, contracts for the rendering of a security service contrary to a provision of this Act or the Levies Act ... is guilty of an offence ..."
Significant fines of up to R1 million and/or imprisonment of up to 24 months can be imposed on transgressing consumers.
While you as a consumer are trying to protect yourself in a country where crime is rampant, you have the right to ask your security service provider if they are legally compliant, and ask to see the company's industry compliance documents and their employee screening policy.
Screening checks
Employee screening checks recommended for security officers include:
• Photo-enhanced ID verification.
• Criminal record check.
• Credit check basic (where applicable).
• Verification of matric certificate.
• Verification of PSIRA registration.
• Integrity test – security aptitude profile (SAP).
• Verification of CV references.
• Verification of driver's and public driving permit (where applicable).
• Verification of firearms licence and competence.
Vendor verification checks recommended when doing business with a security guarding company:
• A CIPC (South African company office) registration certificate.
• A valid PSIRA registration certificate.
• A valid PSIRA letter of good standing indicates that its legal company and security officer fees are up to date.
• A valid South African Revenue Services clearance document. This will indicate that the company is in good standing with the authority and that all taxes are up to date.
• A valid letter of good standing with the Department of Labour to ensure that all workman's compensation matters are up to date.
• By law, in South Africa, all security guarding companies belong to the Private Security Sector Provident Fund (PSSPF) and a compliance certificate is easily obtainable if they are compliant.
• A valid Broad-Based Black Economic Empowerment certificate.
• Proof of submission of the company's Employment Equity Plan to the Department of Labour.
Credit(s)
Further reading:
Rack-mounted, three-phase online UPS
Security Services & Risk Management IT infrastructure Products
The new Eaton 93PX 15-20 kVA UPS combines high efficiency with a compact footprint, lower TCO, and improved cybersecurity to provide stable power for critical IT, industrial, manufacturing, and medical applications.
Read more...
---
South Africa's solar boom against load shedding
Security Services & Risk Management
South Africa has installed more rooftop and onsite solar contracted to private consumers in the last year and a half than under government programmes in the last ten years.
Read more...
---
Five reasons why your board should push cybersecurity 'boundaries'
Security Services & Risk Management IT infrastructure
From a technological perspective, micro-segmentation of your IT security environment can be viewed as a way to identify, isolate and curtail the reach of any threat – even once it is in your network.
Read more...
---
Key timelines to ensure compliance
Security Services & Risk Management
Regulations to the Occupational Health and Safety Act that apply to major hazard installations require that certain actions be taken to manage health and safety risks – some with timelines for compliance that must be monitored.
Read more...
---
Best practice tips for strengthening data privacy system
Security Services & Risk Management Cyber Security
International cybercriminals are increasingly targeting South African organizations, making data privacy more difficult to maintain. A standardization expert offers insight to help combat this threat.
Read more...
---
Is AI the game-changer for streamlining anti-money laundering compliance?
Financial (Industry) Security Services & Risk Management
In the aftermath of South Africa's recent grey listing, companies are now confronted with the imperative to address eight identified strategic deficiencies, while simultaneously reducing their financial crime risk through anti-money laundering compliance processes.
Read more...
---
Five ways to reduce your cyber insurance premiums
Security Services & Risk Management News
With the global costs of cybercrime expected to soar to $13 trillion within the next five years, cyber insurance is booming as organisations try to mitigate the risk of financial losses.
Read more...
---
What South Africans need to know about smart devices
Technews Publishing Editor's Choice
We live in a world surrounded by smart devices, from our pockets to our driveways and living rooms.
Read more...
---
Client satisfaction boosted by 85% at Thungela Mine
Thorburn Security Solutions News Security Services & Risk Management Mining (Industry)
Thorburn Security, a division of Tsebo Solutions Group, has announced its recent collaboration with Kwa-Zulu Natal security company, Ithuba Protection Services, as part of its Enterprise Supplier Development (ESD) initiatives across Africa.
Read more...
---
Migrating to the cloud? Beware the many hurdles
IT infrastructure Security Services & Risk Management
While there are undoubtedly many benefits, there are also numerous hurdles to cloud adoption. Some of the biggest challenges revolve around managing cloud spend, understanding the cost components of cloud infrastructure, and how those costs can scale.
Read more...
---