printer friendly version
Hard times, increased crime
Issue 5 2022 Security Services & Risk Management, Integrated Solutions, IT infrastructure
The release of the latest crime statistics was a big disappointment in that there seems to be a significant increase in crime across the board. People in the security industry already knew that, but seeing it in black and white is still a shock to the system – unless your system is the government, then it won't be a shock because your system doesn't work.
As crime and criminals evolve, the security industry is always changing in an attempt to keep people and assets safe (while the criminal industry is also evolving to do the opposite). Unfortunately, the attitudes of customers are also changing, which is leading to some unsavoury practices becoming more normal in the industry (or some would say, more normal than usual).
Sean Drishner.
Hi-Tech Security Solutions spoke to Sean Drishner and Johan de Bruyn from Mezuzah Security Services to find out what is happening in the real world, and how security companies are dealing with the added pressure inherent to the South African market. Mezuzah Security is a PSIRA-accredited, BEE Level 4, South African owned security company located in Johannesburg.
The pressure is on
Mezuzah has seen an increase in crimes over the past few months, even the past couple of years, in almost every sector is works in. For petty crimes like shoplifting and common theft, the numbers are increasing. While one would expect this type of crime in an environment like South Africa, where almost half the working population is unemployed, the company is seeing an increase in these crimes from people who have jobs. People are finding it harder and harder to make ends meet, and often resort to crime as the money they take home doesn't go as far as it used to.
And as many people have experienced, copper and aluminium theft is also on the rise as these commodities are relatively easy to steal and very easy (and profitable) to sell to criminal middlemen. The criminal element is very motivated and sure of itself as it sees major corruption at government level and the limited abilities of the authorities to deal with crime. So, while the expectation of government help is continually declining, this puts pressure on the private security industry as the expectations of customers are climbing.
This is a great environment for crime syndicates that are organised, experienced and well-funded. The syndicates are naturally not involved in petty crime, but have the time and resources to do their homework and plan their attacks carefully.
Given the economic pressures faced right now, the idea of ensuring your security company is registered ,and all its guards are registered and trained (and remunerated according to regulations), seems to be less important to customers. This has seen cutthroat responses to tenders and guards that are, to put it bluntly, ripped off seemingly right under the noses of the regulator, the bargaining council and the Department of Labour. [The cutthroat tendering process seems to reach far beyond only the guarding industry, according to some SI discussions Hi-Tech Security Solutions has had recently – Ed.]
The above is forcing security companies to adopt a new approach to securing their customers' people, assets and premises. While Mezuzah says armed response is still a critical factor in any security offering, more clients are learning the advantages of offsite monitoring as opposed to having a guard on site. A remote monitoring solution has eyes on your premises all the time, instead of only where the security officer happens to be.
Yet, while remote monitoring has many benefits and significant potential, it is still not the silver bullet people want.
Remote monitoring is not all you need
Mezuzah says the key difference technology makes is that it allows security to become more proactive instead of reactive. Instead of an alarm sounding when someone is inside your premises already, many offsite options making use of the latest technology and AI algorithms allow earlier warning that can prevent them gaining entrance at all, or simply give the armed response more time to get to the scene.
However, the company also notes that this is not the only solution one needs. Given Eskom's regular blackouts and the regular loss of Internet connectivity in some areas, a backup plan is needed. This is where a layered security solution comes into play.
Mezuzah says the layered solution not only acts as a backup should the surveillance be out of action, but also adds to the time it takes for criminals to gain entry – again giving the armed response more time to get on top of the situation. Some of the backups, or layers, Mezuzah recommends include:
• An electric fence.
• A battery-operated alarm system.
• A solar-powered light with a battery to keep things illuminated when Eskom fails.
• And, of course, a remotely monitored surveillance system.
No security system is foolproof, and these are not the only systems one needs, but they form a starting point for companies facing tough budgetary decisions. At the same time, Mezuzah notes that small things can often have a big impact on security, such as always ensuring your phone is charged so you can be reached in an emergency, and can reach out if needed.
Other simple tips include keeping valuables locked away and testing your alarms and panic buttons regularly. Testing is easy to forget and hard to forgive when you press a panic button in a real emergency and nothing happens.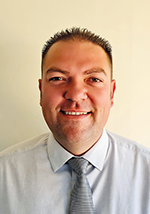 Johan de Bruyn.
A hard, then easy, sell
As noted above, Mezuzah recommends the offsite component as one of the best security services companies can employ (with the relevant backups). Both Drishner and De Bruyn note that clients are often hesitant to go the remote monitoring route at first, as they still feel safer knowing there is a guard on site. However, when they see the efficiencies of the remote approach and the result of having eyes on the whole premises all the time (assisted by AI and video analytics), they are sold.
Offsite systems also provide business owners and managers with the ability to see what is happening onsite via a computer or their smartphones, often preventing them from going into the office because of a false alarm or because someone left a window open and a stray cat jumped in.
Security companies like Mezuzah are not likely to see a decrease in pressure from customers or criminals at any time in the future, and are adapting to the new security normal. And while the reputation of the SAPS may not be coated in gold, the company says the police are a great help in its efforts and do their best to assist in arrests and prosecutions. Perhaps the police officers on the ground need more support from further up the ladder?
Credit(s)
Further reading:
Key timelines to ensure compliance
Security Services & Risk Management
Regulations to the Occupational Health and Safety Act that apply to major hazard installations require that certain actions be taken to manage health and safety risks – some with timelines for compliance that must be monitored.
Read more...
---
Best practice tips for strengthening data privacy system
Security Services & Risk Management Cyber Security
International cybercriminals are increasingly targeting South African organizations, making data privacy more difficult to maintain. A standardization expert offers insight to help combat this threat.
Read more...
---
Paratus signs re-seller agreement with Starlink for Africa
News IT infrastructure
Pan-African telco and network services provider Paratus Group announced it has entered an agreement as a distributor for Starlink's high-speed services across the African continent, available immediately in Mozambique, Kenya, Rwanda and Nigeria.
Read more...
---
Smart water management
Axis Communications SA CCTV, Surveillance & Remote Monitoring Integrated Solutions
South Africa is currently facing a water crisis, with scarcity and inefficient water management posing significant challenges to sustainable, consistent access to water. Smart technology and powerful partnerships may offer a proactive solution to SA's water crisis.
Read more...
---
Is AI the game-changer for streamlining anti-money laundering compliance?
Financial (Industry) Security Services & Risk Management
In the aftermath of South Africa's recent grey listing, companies are now confronted with the imperative to address eight identified strategic deficiencies, while simultaneously reducing their financial crime risk through anti-money laundering compliance processes.
Read more...
---
Five ways to reduce your cyber insurance premiums
Security Services & Risk Management News
With the global costs of cybercrime expected to soar to $13 trillion within the next five years, cyber insurance is booming as organisations try to mitigate the risk of financial losses.
Read more...
---
What South Africans need to know about smart devices
Technews Publishing Editor's Choice
We live in a world surrounded by smart devices, from our pockets to our driveways and living rooms.
Read more...
---
Client satisfaction boosted by 85% at Thungela Mine
Thorburn Security Solutions News Security Services & Risk Management Mining (Industry)
Thorburn Security, a division of Tsebo Solutions Group, has announced its recent collaboration with Kwa-Zulu Natal security company, Ithuba Protection Services, as part of its Enterprise Supplier Development (ESD) initiatives across Africa.
Read more...
---
Empowering Istanbul's public transportation
Dahua Technology South Africa CCTV, Surveillance & Remote Monitoring Integrated Solutions
Dahua's intelligent transportation solution, using technologies like DSM and AI-based passenger flow counting, has facilitated an intelligent system upgrade for nearly 6 400 minibuses and electric buses in Istanbul.
Read more...
---
The state of edge security report
News IT infrastructure
Edge computing has grown from being a niche use case in a handful of industries to offering a major opportunity for enterprises across industries to spread computing power around the world.
Read more...
---