printer friendly version
Water deluge fire suppression system
Issue 5 2022 Editor's Choice, Fire & Safety, Mining (Industry), Products
Storing explosives underground, in close proximity to active mining operations, poses a serious risk to the safety of miners. A global gold mining company understood this problem and searched for a solution to minimise the risk, as well as satisfy stringent industry regulations. Having had a good relationship with the FS Group, the client reached out to the company, which consulted with other experts and in-house resources to develop a concept proposal.

The concept system was a quick-response water deluge system which would result in complete saturation of the entire area. Detailed schematic drawings were produced, supported by hydraulic calculations to provide functionality of the design. Once approved, specifications for the water supply were issued and construction at a dam 100 metres above the risk area began.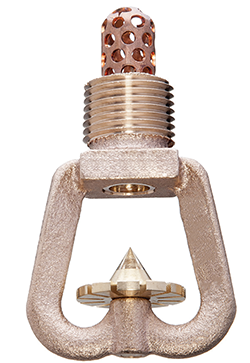 The procurement and fabrication team obtained all the raw materials and began the preparation of the components for transportation and assembly onsite. Sprinkler heads, valves and other items were packaged for safe delivery, valves and solenoids were wet-tested, and interfaces were set up and pre-commissioned. All equipment was then shipped to the mining site.
FS Group selected an electrically actuated water-type sprinkler system as the method of fire extinguishment and control. The sprinkler heads were positioned with consideration of the practicality of the desired location in the excavation tunnels.
The sprinkler heads selected allow the discharge of a minimum of 25,9 litres per minute, per nozzle, and cover an area of around 4,5 m2. This is a dry system, and all nozzles in a zone will discharge water should the system be caused to operate.
Steel piping was used in the risk areas and all exposed pipes were wrapped with an impact-resistant, fire-retardant material. Valve components were tied into the water supply and prefabricated sections of pipework were fitted and hung from the tunnel roof.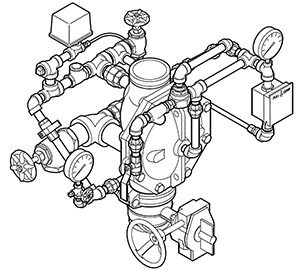 DV-5 deluge valve, diaphragm style, 1-1/2 through 8-inch (DN40 through DN200) deluge system – wet pilot actuation.
An Edwards EST3 fire alarm control panel was used as the primary fire detection system, to which other detection solutions were fitted. The combination of the detection technologies provides a double-knock detection network that was designed for highly sensitive fire detection capabilities with the highest immunity against false alarms. Any combination of two or more devices will cause the system to operate the solenoid units on the deluge valves.
The EST3 system was integrated via fibre-optic connectivity into the mine's site-wide Edwards fire detection network, which was the standard in use at the mine at that time. Secondary activation of the sprinkler system was done via the operation of one of two manual call points which are located on the emergency exit routes from the storage magazines.
A tertiary activation of the sprinkler system was done through a third-party system and is monitored from a remote location.
This underground system was interfaced into the site-wide fire control network using fibre-optic networking components. Live testing and a comprehensive handover were done to prove the functionality of the system, and the result was an automatic, electronically actuated water deluge system for the underground explosives magazine, complying with the best engineering practices and current regulations.
See a video of the installation by following the QR code.
Credit(s)
Further reading:
What South Africans need to know about smart devices
Technews Publishing Editor's Choice
We live in a world surrounded by smart devices, from our pockets to our driveways and living rooms.
Read more...
---
Client satisfaction boosted by 85% at Thungela Mine
Thorburn Security Solutions News Security Services & Risk Management Mining (Industry)
Thorburn Security, a division of Tsebo Solutions Group, has announced its recent collaboration with Kwa-Zulu Natal security company, Ithuba Protection Services, as part of its Enterprise Supplier Development (ESD) initiatives across Africa.
Read more...
---
Fidelity SecureFire steps into critical fire response space
News Fire & Safety
With the majority of fire stations around the country being crippled by a lack of resources to offer effective responses, Fidelity Fire Solutions has launched its own 'first responder' model, Fidelity SecureFire.
Read more...
---
Long-distance connectivity with Simplex ES Net Life Safety
Johnson Controls Global Products Fire & Safety Products
ES Net Network Bridge allows fire alarm system data to be transmitted across distant buildings via a customer's existing network infrastructure, improving system-wide monitoring and control in facilities and campuses where life safety networks are often widely dispersed.
Read more...
---
Visitor management via QR code
ATG Digital Access Control & Identity Management Products
ATG Digital has launched its QR Code Reader to enhance access control's security and efficiency. The new QR Code Reader enables seamless, contactless access control, creating an efficient user journey.
Read more...
---
District secures activity centre
Paxton Access Control & Identity Management Products
Paxton's Net2 access control solution is a user-friendly and flexible networked access control system, which made installing and managing access control security at an activity centre straightforward.
Read more...
---
Manage security systems remotely
Hikvision South Africa CCTV, Surveillance & Remote Monitoring IT infrastructure Products
Hikvision launched a new generation of smart managed switches that, in conjunction with the Hik-Partner Pro mobile app, enable installers to remotely deploy and configure security systems with comprehensive operation and maintenance capabilities.
Read more...
---
From overwhelm to oversight
Editor's Choice Cyber Security Products
Security automation is vital in today's world, and Microsoft Sentinel is a widely adopted, but complex answer. ContraForce is an easy-to-use add-on that automatically processes, verifies and warns of threats round-the-clock.
Read more...
---
Synology enhances functions for advanced surveillance integration
Technews Publishing CCTV, Surveillance & Remote Monitoring IT infrastructure Products
With the capability to function as both an API client and server, Surveillance Station offers a versatile platform for integration, whether it's embedding video streams into other platforms or overlaying external data onto recorded video.
Read more...
---
SMART Surveillance Conference 2023
Technews Publishing Editor's Choice CCTV, Surveillance & Remote Monitoring Conferences & Events
Some people think the future is all about cloud technologies, but the SMART Surveillance conference demonstrated that AI is making edge surveillance much more attractive, over distributed sites, than ever before.
Read more...
---