printer friendly version
Specialised surveillance and communications
Issue 5 2022 Editor's Choice, News & Events, Integrated Solutions, Residential Estate (Industry)
Communications are the backbone of security, and a fairly new company on the security scene in South Africa is Arcanum Africa. The company sells a range of products not typically found in the local security market, most of which were developed for military or intelligence use.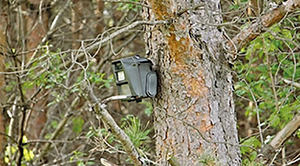 Hi-Tech Security Solutions spoke to Arcanum's Peter Stolwerk and Aaron van Schaik to find out a bit more about the company and the products it is bringing to the local market.
Stolwerk explains that his background is in military and law enforcement work in Europe and the UK, which has enabled him to gain exposure to these solutions, none of which have been available in South Africa before. The range of products is continually growing, but Stolwerk and Van Schaik highlighted a few that have already proved their worth in the local arena. The products are generally aimed at private security, commercial security and wildlife protection.
The first product is uSwitch, which Stolwerk describes as a "relay on steroids." This little box provides users with control over almost anything on a network (whether a private network or connected to the Internet) in a couple of minutes.
uSwitch is an electromechanical relay with a built-in web server that allows you to switch things on or off, or open and close gates, and more, from a computer or mobile device. In an environment with many IP cameras, connecting cameras to the uSwitch monitors the cameras around the clock. If a camera freezes or becomes unresponsive, the system will automatically trigger a reboot without having to physically go to the camera – which is useful in covert operations, or to save time and money to send out a service vehicle at a remote location. Rebooting can also be done manually.
In remote regions, like game farms or mining sites without cellular connectivity, the uSwitch works just as well on a private network that has no Internet connectivity.
Failsafe mesh network
Another communications solution the company offers is HyphaMesh. These devices communicate with each other and form a mesh network in almost any setting. Whether tethered to a fixed position or on a person, the Hypha devices communicate with each other and are able to find another route to a bridge or switch if one device goes down. The bridge is a Hypha device that is connected to a satellite or GSM network, allowing the whole network to function as if everything were connected.
In a situation like this, every individual carrying a device (for example) will be able to use their phone or tablet as if they were in an area of connectivity. It is also possible to create a private network that does not have Internet access, allowing the Hypha devices to create and use their own network for communications. Each device is pre-programmed to search for other devices and automatically become a node in the network.
Arcanum also provides a range of surveillance cameras that can be used in a mesh network in remote areas. The battery power on one of these cameras will last about 400 days before it needs a recharge (unless it has a solar charger). The cameras can communicate via 4G connections, or to a bridge or hub (at a distance of up to 500 m as long as it has line-of-sight; less if there is dense bush or some other obstacle in the way).
To save bandwidth, the cameras take high-resolution images when the PIR detects movement and sends these to the hub, where the AI analytics will determine if the images contain a person, vehicle or other object of interest. In anti-poaching efforts, this will prevent false alarms when animals walk in front of the cameras, only raising an alert when a person or vehicle is identified.
Arcanum says these cameras take only 10 minutes to install and one can have up to eight cameras per bridge, and multiple bridges. They also include low-light functionality up to about 35 m, with up to 80 m in daylight with a clear view.
All communications are secure by default, encrypted according to the AES-128 (128-bit encryption) standard. In addition, any images stored on the devices will be similarly encrypted.
Just off the boat
Among other 'toys' Arcanum has released, or will be releasing shortly, are artificial intelligence solutions (including for drones), as well as a jamming detector that alerts you if someone decides to jam your wireless communications network. The anti-jamming device is very sensitive, so companies will know the moment a jamming operation begins.
Arcanum is also selling Camect, touted as the most private camera hub for your home. The Camect hub detects IP surveillance devices installed in your home and takes control of them. It includes a range of AI algorithms to differentiate between people, pets, cars, bicycles and others. It is controllable from a computer, smartphone or tablet, allowing users to set zones and times when alerts should be raised.
Camect allows you to view live and recorded video from your mobile device, and is compatible with a host of cameras, including ONVIF-conformant devices (or it can access the RTSP stream). All of this is managed from one hub.
Arcanum currently sells direct to end-users, but is open to partnerships with companies that have the required skills to support its product range effectively.
Credit(s)
Further reading:
Integrated transportation security
Guardian Eye AI & Data Analytics Integrated Solutions Logistics (Industry)
HG Travel installs an AI-powered camera system integrated across 115 vehicles throughout a fleet comprising 160 vehicles of different sizes, along with predictive and self-monitoring tools to track tyre condition, fuel consumption and theft, and overall vehicle maintenance.
Read more...
---
Embracing next-generation surveillance for safer cities
Surveillance Integrated Solutions AI & Data Analytics
With the South African government highlighting the importance of building smart cities by integrating advanced technologies to make them more resilient and liveable, the role of next-generation network video and surveillance technologies cannot be ignored.
Read more...
---
From the editor's desk: A sad but exciting goodbye
Technews Publishing News & Events
Welcome to the final monthly issue of SMART Security Solutions. This is the last issue of the year and the last monthly issue we will print. The SMART Security Solutions team wishes all our readers and advertisers a relaxing festive season and a peaceful and prosperous 2024.
Read more...
---
Gallagher Security releases Command Centre v9
Gallagher News & Events Access Control & Identity Management Integrated Solutions
Richer features, greater integrations, with the release of Gallagher Security's Command Centre v9 security site management software designed to integrate seamlessly with various systems and hardware.
Read more...
---
The human factor side of video management systems
Leaderware Editor's Choice Surveillance Risk Management & Resilience
A video management system (VMS) is central to, and the most vital element to any control room operation using CCTV as part of its service delivery, however, all too often, it is seen as a technical solution rather than an operational solution.
Read more...
---
Get the basics right to win more business
ServCraft Editor's Choice Risk Management & Resilience
The barriers to entry in security are not high. More people are adding CCTV and fencing to their repertoire every year. Cowboys will not last long in a space where customers trust you with their safety.
Read more...
---
Integrating farming and security solutions for productivity
Security BIS Agriculture (Industry) Integrated Solutions
Security challenges are a harsh reality in South Africa, particularly for those in remote areas. Sadly, recurring rural crimes like farm attacks and livestock theft are part of the farming community's lives.
Read more...
---
All aspects of data protection
Technews Publishing Editor's Choice Information Security Infrastructure AI & Data Analytics
SMART Security Solutions spoke to Kate Mollett, Senior Director, Commvault Africa, about the company and its evolution from a backup specialist to a full data protection specialist, as well as the latest announcements from the company.
Read more...
---
Global strength, local craft
Impro Technologies Editor's Choice
Impro Technologies is a resounding success story. Started in South Africa, the company remains true to its roots and still designs and manufactures its access control systems and solutions in the country.
Read more...
---
Identity verification and management trends
Technews Publishing Information Security
Insights into what we can expect from identity fraudsters and the industry next year, ranging from criminal exploitation of AI and digital IDs to multi-layer fraud protection and the need for more control over personal information sharing.
Read more...
---