printer friendly version
Clarity and control to IoT fleet costs
Issue 5 2022
Integrated Solutions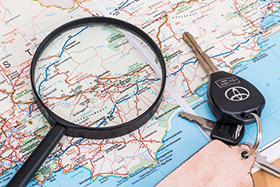 Fidelity Services Group is using Apex BI's Clarity IoT platform to underpin its Fidelity SecureDrive solution, an offering from Fidelity that delivers insurance telematics, smart fleet management and data insights. Fidelity SecureDrive extends Fidelity's residential and commercial security brand into the fleet management space, providing fleet owners with a safer, smarter, and more connected fleet experience.
"Clearly the lynchpin of our Fidelity SecureDrive solution is the free flow of data between the vehicle and the control room. This means the vehicle can be monitored in real time to oversee movements, enforce route or geographical policies and so on. At any one time we have tens of thousands of SIM cards either in active operation or held in stock from multiple suppliers, all of which must be monitored and managed," says Wahl Bartmann, CEO, Fidelity. "For us, it's crucial to have accurate near real-time insights to manage the costs and services associated with the SIMs so that we can keep costs down for our customers, while also ensuring that the solution is optimised."
Aside from the sheer number of SIMs in use, a related challenge is that they come from multiple network providers, including local and international providers. Fidelity needs to know where each of these SIMs is located, who the customer is, what the contract terms are and so on. If the SIMs are not properly configured and assigned to the right tariff structures, they can attract dramatically higher costs.
"The nature of an IoT ecosystem such as the Fidelity SecureDrive environment, is the inherent amount of disparate data originating from various sources. Some examples of this data include CRM application data, stock information and financial data, not to mention the large amounts of network provider cost and consumption data received every day, throughout the day. Providing Fidelity with a single view of all the data was a game changer because it made managing everything so much easier, and eliminated the need to manually capture the data," says Regan Erasmus, operations director, Apex BI. "Also, if any issues in the data are identified, Fidelity can fix the problem at source, thus ensuring that the data quality is constantly improving."
Bartmann adds: "The consolidation of our data into a single platform has not only aligned all of Fidelity's internal stakeholders and yielded cost and process efficiencies, but also the automation and centralisation of the data has created time and resource efficiencies for staff. They are now freed up to spend less time on internal tasks and more time delivering value and a positive customer experience to our Fidelity SecureDrive customer base.
"The accurate, timely data provided by Apex BI's Clarity IoT platform has enabled us to effectively scale the business, consolidating several business processes and creating a single, centralised data store which can be used to support effective decision-making and enhance our offering to customers. Additionally, now that the platform is in place and the data is available accurately and on demand, we can – at the click of a button – easily establish which SIM cards are actually in use and being charged for, versus those that are dormant and could be cancelled or suspended," concludes Bartmann.
Further reading:
Integrated transportation security
Guardian Eye AI & Data Analytics Integrated Solutions Logistics (Industry)
HG Travel installs an AI-powered camera system integrated across 115 vehicles throughout a fleet comprising 160 vehicles of different sizes, along with predictive and self-monitoring tools to track tyre condition, fuel consumption and theft, and overall vehicle maintenance.
Read more...
---
Embracing next-generation surveillance for safer cities
Surveillance Integrated Solutions AI & Data Analytics
With the South African government highlighting the importance of building smart cities by integrating advanced technologies to make them more resilient and liveable, the role of next-generation network video and surveillance technologies cannot be ignored.
Read more...
---
Gallagher Security releases Command Centre v9
Gallagher News & Events Access Control & Identity Management Integrated Solutions
Richer features, greater integrations, with the release of Gallagher Security's Command Centre v9 security site management software designed to integrate seamlessly with various systems and hardware.
Read more...
---
Zero Trust in 2024
Mantis Security Integrated Solutions IoT & Automation
The rapid development of artificial intelligence (AI) applications and uses in 2024 will profoundly impact security operations and AI-driven analytics, which can enhance threat detection, anomaly identification and predictive maintenance.
Read more...
---
Integrating farming and security solutions for productivity
Security BIS Agriculture (Industry) Integrated Solutions
Security challenges are a harsh reality in South Africa, particularly for those in remote areas. Sadly, recurring rural crimes like farm attacks and livestock theft are part of the farming community's lives.
Read more...
---
Optimise operations in healthcare
Cathexis Technologies Integrated Solutions
Hospitals can see thousands of people gathering daily to provide medical care, seek help, visit loved ones, or undertake essential support or administrative work. Protecting everyone is critical to maintaining a safe environment.
Read more...
---
Hikvision unveils range of network speakers
Hikvision South Africa Integrated Solutions
Hikvision has recently unveiled its latest audio product line, featuring various advanced network speakers. Each product is designed to meet different application needs, ensuring flexibility and adaptability across numerous environments.
Read more...
---
HDR multi-camera solution for autonomous mobility
IoT & Automation Integrated Solutions
e-con Systems has launched the STURDeCAM31, a small form factor camera that has been engineered to make autonomous mobility safer by ensuring reliable and superior imaging quality even in challenging outdoor lighting conditions.
Read more...
---
Integrating control rooms and response
WatchManager Integrated Solutions Residential Estate (Industry)
Control rooms have become a standard in large estates, and remote control rooms are finding a home even in smaller estates due to cost efficiencies and the increasing reliability of analytics and artificial intelligence.
Read more...
---
The difference between a SOP and a SOP
Residential Estate (Industry) Integrated Solutions Security Services & Risk Management Risk Management & Resilience
SOPs are a touchy issue that need careful attention and automation to ensure they deliver the desired security results. Beyond design and automation, implementation is the ultimate road to success.
Read more...
---