printer friendly version
From the editor's desk: Maybe I'm too old?
Issue 5 2022
News & Events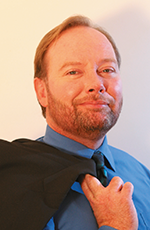 Andrew Seldon, Editor
There are many companies these days touting their ability to securely authenticate people via mobile devices (or selfies), claiming that it is secure and easy. Some banks are even allowing people to open accounts via selfies without having to physically enter a bank – which is everyone's dream.
The argument often used is that verifying your identity at the bank is simply a matter of the person behind the counter looking at you and your ID or passport and making a decision. In the past this may have been true, but South African banks can now also check your fingerprints against Home Affairs to make sure it's you.
Of course, Hi-Tech Security Solutions carried a few stories about 'selfie enrolment' over the past two or three years, and everyone involved stressed the simplicity and reliability of the process. I was recently forced to enrol via mobile for a course I was doing and my experience was anything but simple. And while I am not an expert in the technicalities of it, my experience left me doubting the reliability of the enrolment (never mind the question of who my data is going to, what are they doing with it, how long they intend to hold onto it and more. Quite honestly, from what I have seen of some American companies, I would expect the data sent there to be distributed to every server in the USA within seconds – although I may be biased. And yes, I said America and not China which is the usual whipping boy for privacy hysteria, especially from America).
Leaving the privacy issue behind, the process I used was cumbersome. It didn't like the picture of me taken by my laptop's camera (although Microsoft seems happy to log me in as administrator via my mugshot in less than a second). Then it couldn't get a good enough image of my ID credentials. So I moved onto my smartphone (a Nokia X10, so it's not a cheapie).
Six attempts at reading my ID credentials later and I decided to just take a picture myself and upload it. That worked. However, the idea that a picture taken by someone, somewhere was accepted instead of a real-time scan is a bit off-putting. Then came the 'live selfie' confirmation.
I know more about lighting now than Hollywood celebrities. And after however many attempts I apparently still wasn't me. Eventually I just said some rude words and thought I'd give it one more try before making it someone else's problem and it worked. Maybe they were monitoring the audio feed and decided to avoid having to talk to me?
The reason for the enrolment was just to get a certificate (if I pass), so maybe that's OK. Maybe I'm just old and paranoid, but if I was opening a bank account I would be horrified if a bank would accept that enrolment. I would even be prepared to face the trauma of going into a branch rather than trust the process I went through; it's like saying "here's a picture of someone's ID and I promise it's me."
Credit(s)
Further reading:
Pentagon appointed as Milestone distributor
Elvey Security Technologies News & Events Surveillance
Milestone Systems appointed Pentagon Distribution (an Elvey Group company within the Hudaco Group of Companies) as a distributor. XProtect's open architecture means no lock-in and the ability to customise the connected video solution that will accomplish the job.
Read more...
---
Re-introduction of the booking system
PSiRA (Private Security Ind. Regulatory Authority) News & Events
[Sponsored] PSiRA is reintroducing the booking system for branch visits. Effective Monday, 4 December 2023, clients will be required to book a slot to visit any PSiRA branch.
Read more...
---
From the editor's desk: A sad but exciting goodbye
Technews Publishing News & Events
Welcome to the final monthly issue of SMART Security Solutions. This is the last issue of the year and the last monthly issue we will print. The SMART Security Solutions team wishes all our readers and advertisers a relaxing festive season and a peaceful and prosperous 2024.
Read more...
---
Regal celebrates successful golf day
Regal Distributors SA News & Events
Regal Distributors held its first official Regal Golf Day on 18 October at the Glendower Golf Course in Johannesburg. SMART Security Solutions was there on a hot summer's day to meet many players and sponsors around the course.
Read more...
---
Gallagher Security releases Command Centre v9
Gallagher News & Events Access Control & Identity Management Integrated Solutions
Richer features, greater integrations, with the release of Gallagher Security's Command Centre v9 security site management software designed to integrate seamlessly with various systems and hardware.
Read more...
---
Regal launches direct-to-branch WhatsApp communication
Regal Distributors SA News & Events
With a quick scan of a QR code and a few taps on your phone, installers, integrators, technicians or even end-users can chat directly with the team at their preferred Regal branch via WhatsApp
Read more...
---
FM Expo highlights industry trends and challenges
Securex South Africa News & Events Facilities & Building Management
Keeping tabs on what is happening within the building/facilities management arena can be frustrating, however, a quick way to find out what current trends, challenges, and solutions are available can be found at the Facilities Management Expo.
Read more...
---
All aspects of data protection
Technews Publishing Editor's Choice Information Security Infrastructure AI & Data Analytics
SMART Security Solutions spoke to Kate Mollett, Senior Director, Commvault Africa, about the company and its evolution from a backup specialist to a full data protection specialist, as well as the latest announcements from the company.
Read more...
---
South Africa shows a 1200% increase in deepfake fraud
News & Events Risk Management & Resilience
Sumsub released its third annual Identity Fraud Report of the year, analysing identity fraud across industries and regions based on millions of verification checks across 28 industries and over 2 million fraud cases.
Read more...
---
Projections for 2024's Advanced Threats Landscape
News & Events Information Security
Kaspersky Global Research and Analysis Team (GReAT) experts offer insights and projections for 2024 in the Kaspersky Security Bulletin, with a focus on the evolution of Advanced Persistent Threats (APT).
Read more...
---