printer friendly version
What WizMind panoramic surveillance offers
Issue 5 2022
Surveillance
Designing an effective monitoring solution for a large-scale scenario is never an easy task, and often faces many challenges. Ordinary cameras are not enough to accommodate the needs of large scenarios, resulting in extensive camera coverage that increases installation, wiring and maintenance costs.
It is impossible for traditional cameras with subpar zoom capabilities to be able to accurately detect human and vehicle targets on the scene, or filter out false alarms caused by irrelevant objects. Decentralised management and lack of substantial statistical data for business analysis have also been one of the downsides of traditional monitoring systems.
The Dahua WizMind Panoramic Surveillance solution is designed for applications that require a 360°, 270° or 180° panoramic view for situational awareness, such as crowd maps and vehicle density. Its high-speed PTZ camera and EPTZ technology can quickly and automatically track moving targets without missing target behaviour details. It can replace multiple conventional cameras, reduce monitoring complexity and save costs.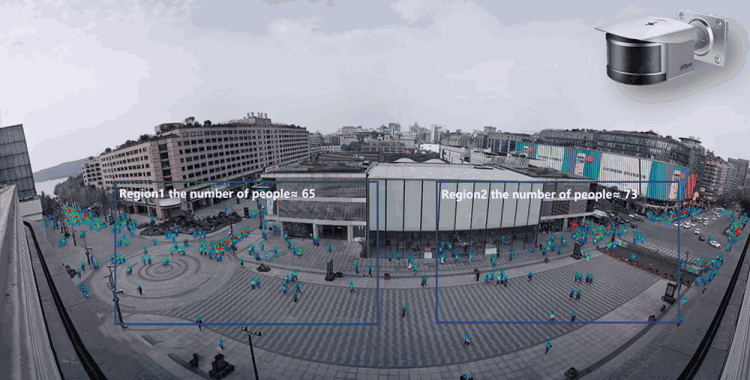 Wide coverage and cost-effective implementation
WizMind Panoramic Surveillance provides an all-in-one design consisting of one device, one cable and one power supply. With a PTZ camera, users can easily zoom in for close-up details. One panoramic camera can efficiently replace multiple conventional cameras, greatly reducing installation wiring and maintenance costs.
Smart Tracking is basically the linkage between the panoramic camera and a PTZ camera; only panoramic cameras with PTZ support this feature. It can track one target at a time, supports up to 45x optical zoom, and can quickly auto-track a moving target from a distance without missing any details.
On the other hand, an electric PTZ, or simply EPTZ, is only available in panoramic cameras that don't have PTZ cameras. When the alarm is triggered, an EPTZ camera can simultaneously zoom in and track multiple human and vehicle targets. It can focus on up to five important areas when there is no alarm. With high-speed positioning, this intelligent camera can quickly track the moving target that triggered the alarm until it disappears from the scene.
AR Panorama
The Dahua AR Panorama adopts augmented reality technology, and combines enhanced real-time sensing data and information data. It allows a single system to achieve a visual, controllable and dispatchable new command mode, which makes surveillance more visual, convenient and efficient, and offers a better user experience.
Crowd density and vehicle density
Equipped with a deep learning algorithm, the Crowd Density function of Dahua's WizMind Panoramic Surveillance provides early warning when the real-time crowd density exceeds the pre-set threshold to protect public security. It can detect up to 1024 human targets with an accuracy rate of over 92%, and cover up to eight areas with a radius of 30 m. What's more, it can also generate crowd reports for BI analysis.
Moreover, the Vehicle Density function of this solution analyses the real-time vehicle situation in the monitored scene, such as the number of vehicles in an area (maximum 8 areas) and vehicle congestion in selected lanes. It offers a detection radius of up to 125 m and detection accuracy rate of over 95%. When the number of vehicles exceeds the pre-set threshold, the system will promptly raise an alarm and generate vehicle reports for BI analysis.
Scenario applications
WizMind Panoramic Surveillance is a comprehensive solution suitable for various large scenario applications. Here are a some of examples:
• Squares: These are often places with heavy foot traffic and large numbers of people. With restrictions still in place due to the pandemic, a lot of squares are still implementing strict measures to avoid people gathering. Using a Dahua panoramic camera like the IPC-PFW8 series, operators can easily monitor the number of people in the scene, allowing them to respond in time when the number of people has reached the prescribed limit.
• City roads: Public roads like urban roads, viaducts and toll gates are prone to traffic jams. The Hubble series can be deployed in such scenarios to efficiently monitor the number of vehicles in the scene, providing timely alarms and statistical data to aid traffic management departments in their decision-making.
Overall, the Dahua WizMind Panoramic Surveillance solution ticks all the boxes of an effective and efficient monitoring solution for large scenarios. It meets the fundamental requirements for large scene monitoring, smart tracking, resource integration and cost saving. It also provides intelligent analysis of targets in large application scenarios such as public squares, urban roads, entrance and exit areas, enterprise campuses and parking lots.
Credit(s)
Further reading:
Pentagon appointed as Milestone distributor
Elvey Security Technologies News & Events Surveillance
Milestone Systems appointed Pentagon Distribution (an Elvey Group company within the Hudaco Group of Companies) as a distributor. XProtect's open architecture means no lock-in and the ability to customise the connected video solution that will accomplish the job.
Read more...
---
Embracing next-generation surveillance for safer cities
Surveillance Integrated Solutions AI & Data Analytics
With the South African government highlighting the importance of building smart cities by integrating advanced technologies to make them more resilient and liveable, the role of next-generation network video and surveillance technologies cannot be ignored.
Read more...
---
Hik-Connect for Teams released
Hikvision South Africa Products & Solutions Surveillance
Hikvision has released an update for its security management platform; Hik-Connect for Teams not only meets the specific needs of individual users, but also caters to various medium-sized businesses (SMBs) and multi-site management scenarios.
Read more...
---
The human factor side of video management systems
Leaderware Editor's Choice Surveillance Risk Management & Resilience
A video management system (VMS) is central to, and the most vital element to any control room operation using CCTV as part of its service delivery, however, all too often, it is seen as a technical solution rather than an operational solution.
Read more...
---
A simple system for complex protection
Surveillance AI & Data Analytics IoT & Automation
Reconeyez is a company that provides autonomous wireless visual verification systems with built-in artificial intelligence. Running on batteries, each device includes communication capabilities, creating a mesh network between the various devices, linking them to the control room.
Read more...
---
Revolutionise your security with integrated solutions
Secutel Technologies Products & Solutions Surveillance
By merging the capabilities of SecuVue and Secutraq, Secutel has forged a robust system empowering users to fine-tune analytics and harness facial recognition, pose detection, and XFS, among other features.
Read more...
---
Safer roads to a sustainable future
Dahua Technology South Africa Surveillance
With the ever-increasing number of vehicles on the road, it is imperative to constantly improve the quality of transportation monitoring and traffic management in urban and rural areas.
Read more...
---
From damage management to false alarm prevention
Dallmeier Electronic Southern Africa Transport (Industry) Surveillance Logistics (Industry)
Video surveillance is undergoing an exciting evolution; today's IP-based solutions can be fully integrated into digital systems. With the increasing integration of artificial intelligence (AI); logistics, in particular, can make processes more transparent and exploit previously untapped potential.
Read more...
---
Marshall Security partners with Blacklight to introduce Reconeyez to KZN
News & Events Surveillance Power Management
Marshal Security has joined forces with Blacklight Group to launch Reconeyez, a cutting-edge battery-powered surveillance platform with mesh network capability, in the KwaZulu-Natal market.
Read more...
---
Professional mobile video management in your pocket
Dallmeier Electronic Southern Africa Surveillance
With the SeMSy Mobile Client for its Domera and Panomera cameras, Dallmeier is now launching a solution that combines the functional and security requirements of professional organisations with the user-friendliness and simplicity of consumer apps.
Read more...
---