printer friendly version
Business continuity during outages
Issue 5 2022
Security Services & Risk Management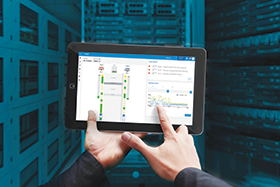 With the increased load-shedding in South Africa, having a backup power source in place is essential as it ensures that a business will continue running, preventing losses. In addition, frequent power outages can damage data storage and cause it to fail, taking data backups down with it. Protecting technical equipment from unplanned outages is arguably even more important to maintain business continuity and safeguard critical equipment.
Eaton's Intelligent Power Manager (IPM) 2.0 provides the tools needed to monitor and manage power devices in your physical or virtual environment. The newly upgraded software was rebuilt on Eaton's Brightlayer digital platform with all the disaster avoidance functionality already valued by thousands of customers worldwide, plus a host of new features.
"Digital transformation is happening across all sectors, and this is leading to greater adoption of distributed IT environments with data more accessible to end-user IT devices," says Jaco du Plooy, product manager at Eaton.
"The risks inherent to this type of environment make energy management all the more critical, which is why we have redesigned our IPM software to further automate energy management and ensure business continuity across a wide range of applications."
Available in three different editions – Monitor, Manage and Optimise – IPM is designed to meet varying power management requirements of any organisation. The latest edition of IPM features a redesigned user interface, more options to automate critical processes, and enhanced visualisation and contextualisation options to better understand the status of equipment, from anywhere and at any time.
Cybersecurity is integral to IPM 2.0, with the risk of cyberattacks minimised through the integration of a gigabit network card and ModBus card – the first in the industry to be UL 2900-2-2 and IEC-62443 certified for cybersecurity.
With the help of Eaton's IPM, users can focus on delivering essential services to their customers without worrying about power and the integrity of their devices.
Further reading:
More than just a criminal record check
iFacts Security Services & Risk Management
When it comes to human-related risks, organisations and their most senior leaders focus on a narrow set of workforce risks, the potential risks that human workers pose to the business.
Read more...
---
Tech developments lead hologram growth in 2024
News & Events Security Services & Risk Management
Micro-lenses, micro-mirrors and plasmonics are among the rapidly-emerging optical devices that have evolved on the back of holographic and diffractive technologies, and are seen as part of the natural evolution of optical science by R&D teams.
Read more...
---
Are you leaving money on the table?
Editor's Choice Security Services & Risk Management
How many customers have you helped since starting your business? Where does most of your new business come from? If the answer is not from your database's existing customers, you might have a problem.
Read more...
---
The business value of ChatGPT
Security Services & Risk Management Risk Management & Resilience
Transparency, policy and integrity. It is critical for organisations to have a line of sight into processes and procedures that clearly define employee use cases when it comes to ChatGPT, says Lizaan Lewis, Head of the Legal Department at Altron Systems Integration.
Read more...
---
BMS for smaller businesses
Security Services & Risk Management Products & Solutions Risk Management & Resilience
Small businesses can also benefit from tailored energy management solutions just like large corporations. Effective energy management is essential for more sustainable and efficient operations.
Read more...
---
Kidnapping for ransom
News & Events Security Services & Risk Management Risk Management & Resilience
There has been an 8,6% increase in reported kidnapping cases in South Africa compared to last year, with 3 854 cases reported between April and June this year, leaving ordinary South Africans increasingly vulnerable.
Read more...
---
The difference between a SOP and a SOP
Residential Estate (Industry) Integrated Solutions Security Services & Risk Management Risk Management & Resilience
SOPs are a touchy issue that need careful attention and automation to ensure they deliver the desired security results. Beyond design and automation, implementation is the ultimate road to success.
Read more...
---
Scoping out potential estates
Alwinco Security Services & Risk Management
When an intruder surveys a residential estate of 200 houses, they see at least 200 cars, 400 cell phones, 400 computers, 200 flat screen TVs, 600 bank cards, and various other items of value.
Read more...
---
Your face is the key
Suprema Editor's Choice Access Control & Identity Management Security Services & Risk Management Risk Management & Resilience
FaceStation 2, Suprema's newest facial authentication terminal, is an access control, time and attendance terminal, featuring a better user experience with Android 5.0 Lollipop and Suprema's latest algorithm, hardware, and software.
Read more...
---
Security without the skin
Alwinco Editor's Choice Security Services & Risk Management Residential Estate (Industry) Risk Management & Resilience
We all know about the layers of security required to form a comprehensive solution, but the layers go deeper than most consider. Andre Mundell dissects security in this article to start the journey into what is under the covers.
Read more...
---