printer friendly version
Why LiFePO4 batteries are the future
Issue 5 2022
Security Services & Risk Management
With the now ubiquitous load-shedding that is prevalent in South Africa, more people are moving to solutions that can provide ongoing electricity despite regular power outages, as well as options that allow them to go off-grid completely. One of the most important aspects of these solutions is the capability to provide uninterrupted electricity to security measures such as electric gates, alarms, CCTV, access control and fences, as well as to inverter systems.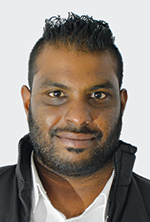 Brenden Pillay.
Until the early 1990s, lead acid batteries were the order of the day. And while these do provide the needed power, their output degrades over time and they take longer to recharge. In the load-shedding scenario, where some periods between power outages can be less than four hours, these batteries often don't have time to fully recharge, resulting in a loss of power and leaving South Africans in the dark and at risk.
In the early '90s, lithium-ion batteries became the order of the day – they last longer and require less looking after. Now there's a new kid on the block (in a sense), the lithium iron phosphate (LiFePO4) battery, and it's a step up from both lead acid and lithium-ion batteries. Although invented in 1996, these batteries are only now coming into their own as one of the safest, most stable and most reliable lithium batteries.
Let's look at what LiFePO4 batteries can deliver, and what sets them apart from other batteries that perform the same, or similar, operations.
Why LiFePO4 is better than other batteries
Capacity and energy: Capacity is described as the energy that can be stored by a battery when charged. The regular charge rate of a standard sealed lead acid (SLA) battery is 0,1 coulombs (C), with a maximum rate of 0,3 C, and a full charge taking up to 10 hours. On the flip side, the LiFePO4's charge rate is 1 C, with a peak rate of 10 C, and full charge can be achieved within 1 hour.
Because the LiFePO4 battery is denser than the SLA battery, it's able to store and discharge more energy, giving you more power, for more appliances, for longer.
Another factor to consider is that of 'opportunity charging', which, with the country's load-shedding schedule being increased, might become the order of the day when it comes to charging a battery. SLAs don't respond well to this method of recharging; they need their beauty sleep. Even with just two 2-hour power outages in a 24-hour period, an SLA might not have the chance to recharge fully, especially if the second outage occurs within four hours of the first. Sporadic charging of this nature damages SLAs in the long term.
LiFePO4s, on the other hand, perform even better when charged quickly for shorter periods of time. And with their fairly constant discharge rate, they also deliver almost full power for the duration of use, right up until the battery is fully depleted.
Energy is described as the ratio between the incoming energy during charge and the outgoing energy during discharge. Most SLA batteries come in at about 70% efficiency, with LiFePO4 batteries being uber-efficient at around 95%. This efficiency translates to faster charging and increased peace of mind due to minimal power loss.
Financial benefits: While SLAs are less expensive, they have a shorter lifespan, so you could very well be buying a new battery much sooner than anticipated. LiFePO4 batteries perform better for longer, and require no maintenance, making them a more cost-effective choice in the long run. Here's why: A battery works in cycles; one discharge and recharge is considered one cycle, while depth of discharge (DoD) is the percentage of the battery that has been used relative to its overall capacity.
On average, you'll get less than 300 cycles at 80% DoD from an SLA before its capacity drops below 80% and damage occurs – this DoD gives you an average lifespan of about two years for the SLA. Your typical lithium-ion battery will give you more than 2000 cycles at the same 80% DoD, while the lithium iron phosphate battery delivers over 3000 cycles at the same DoD and has enough juice to last a few more years, depending on usage.
In 2020, the United States Department of Energy found that the cost per kilowatt of LiFePO4 batteries was about 6% less than lithium-nickel-manganese-cobalt-oxide (NMC) batteries. They also projected that the LiFePO4 cells would last about 67% longer than those in NMC batteries.
Safety first: LiFePO4 batteries are arguably the safest and most environmentally friendly batteries. Boasting better thermal and structural stability than either SLA or Li-ion batteries, LiFePO4 batteries often come with a built-in battery management system, allowing them to take the heat during charging and keep their cool during usage.
As for the environment, LiFePO4 batteries don't contain any toxic chemicals such as nickel or cobalt; in fact, lithium iron phosphate occurs naturally in the mineral triphylite, while the other materials used are the commonly occurring ones such as copper, iron and graphite. In addition to them being carbon-friendly to make, LiFePO4 batteries are also easier to recycle and reuse, with many of the materials from the original batteries being used to make more batteries.
With all these benefits, plus the fact that they're 30% lighter than SLAs, it's clear that lithium iron phosphate batteries are the future of off-grid power supplies and backup supply units, especially in the context of load-shedding. However, there is a proviso: before going out and buying a LiFePO4 battery, remember to read the specs on the unit or appliance you need to power up. Each one will have its own power needs.
Credit(s)
Further reading:
Regal celebrates successful golf day
Regal Distributors SA News & Events
Regal Distributors held its first official Regal Golf Day on 18 October at the Glendower Golf Course in Johannesburg. SMART Security Solutions was there on a hot summer's day to meet many players and sponsors around the course.
Read more...
---
Regal launches direct-to-branch WhatsApp communication
Regal Distributors SA News & Events
With a quick scan of a QR code and a few taps on your phone, installers, integrators, technicians or even end-users can chat directly with the team at their preferred Regal branch via WhatsApp
Read more...
---
More than just a criminal record check
iFacts Security Services & Risk Management
When it comes to human-related risks, organisations and their most senior leaders focus on a narrow set of workforce risks, the potential risks that human workers pose to the business.
Read more...
---
Regal fusses over Fluss
Regal Distributors SA IoT & Automation Smart Home Automation
When the team from Fluss brought their Bluetooth-enabled device to Regal's research team, they were hooked. Effortless in its simplicity, the Fluss device means no more losing remotes, endless waiting at the gate for visitors, scanning fingerprints, etc.
Read more...
---
Tech developments lead hologram growth in 2024
News & Events Security Services & Risk Management
Micro-lenses, micro-mirrors and plasmonics are among the rapidly-emerging optical devices that have evolved on the back of holographic and diffractive technologies, and are seen as part of the natural evolution of optical science by R&D teams.
Read more...
---
Are you leaving money on the table?
Editor's Choice Security Services & Risk Management
How many customers have you helped since starting your business? Where does most of your new business come from? If the answer is not from your database's existing customers, you might have a problem.
Read more...
---
The business value of ChatGPT
Security Services & Risk Management Risk Management & Resilience
Transparency, policy and integrity. It is critical for organisations to have a line of sight into processes and procedures that clearly define employee use cases when it comes to ChatGPT, says Lizaan Lewis, Head of the Legal Department at Altron Systems Integration.
Read more...
---
BMS for smaller businesses
Security Services & Risk Management Products & Solutions Risk Management & Resilience
Small businesses can also benefit from tailored energy management solutions just like large corporations. Effective energy management is essential for more sustainable and efficient operations.
Read more...
---
Kidnapping for ransom
News & Events Security Services & Risk Management Risk Management & Resilience
There has been an 8,6% increase in reported kidnapping cases in South Africa compared to last year, with 3 854 cases reported between April and June this year, leaving ordinary South Africans increasingly vulnerable.
Read more...
---
The difference between a SOP and a SOP
Residential Estate (Industry) Integrated Solutions Security Services & Risk Management Risk Management & Resilience
SOPs are a touchy issue that need careful attention and automation to ensure they deliver the desired security results. Beyond design and automation, implementation is the ultimate road to success.
Read more...
---