printer friendly version
Flexible perimeter solutions
Issue 4 2022
Perimeter Security, Alarms & Intruder Detection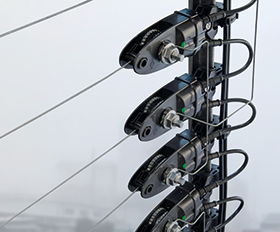 Every site faces its own individual challenges when it comes to perimeter protection. According to Nico Smit, technical business development manager for Gallagher, the flexibility of Gallagher's perimeter solutions is key to allowing sites to overcome their unique challenges, including environmental extremes, size considerations, varying intruder behaviours and site geometry.
"Gallagher's solutions are highly configurable and offer high integrity detection with very low nuisance alarm rates, making them ideal for any site, from estates to mines, utility plants, prisons, border protection and more," says Smit.
Gallagher's networked perimeter solution incorporates sensors that continuously measure and report on wire tension and monitor fence structure vibration or movement. "The system prevents false alarms by intelligently differentiating between serious breaches and disturbances by wildlife, birds, or harsh weather conditions," explains Smit.
Sensors can be used with or without an energised pulse to detect intrusion without alerting the intruder.
The Z10 Tension Sensor measures the mechanical disturbance of a tensioned fence wire to raise an alarm when a wire is deflected during an attack. It continuously measures and reports wire tension in real time to identify when maintenance is required, or the fence has been damaged.
The Z20 Disturbance Sensor detects vibration or movement of the fence structure, generating alarms when disturbance meets predefined criteria – allowing early detection of any potential attacks.
Gallagher's monitored pulse fence monitors voltage and detects if there is a short or a cut to the energised fence circuit resulting in a loss of voltage below a set threshold, generating an alarm for operators to follow up on. CCTV integrations with Command Centre allow operators to view live footage in response to an alarm, providing visual verification of any attacks.
Credit(s)
Further reading:
GardaWorld partners with Gallagher
Gallagher Access Control & Identity Management
Access control via facial recognition was at the top of GardaWorld's wish list, and Gallagher's integration with IDEMIA's VisionPass played a crucial role in delivering a seamless experience.
Read more...
---
June Coetzer joins Olarm as Partner Manager
News Perimeter Security, Alarms & Intruder Detection
Armed with a solid background in sales and business development, June Coetzer recently joined Olarm as an additional Partner Manager covering Gauteng and the surrounding areas.
Read more...
---
No missed alarms and reduced false alarms
Perimeter Security, Alarms & Intruder Detection Products
Remote sites have always been more vulnerable to opportunistic intrusion, but over the last two years in particular, sites such as solar farms or industrial parks have become more common targets for criminals.
Read more...
---
Access to sustainability
Gallagher Integrated Solutions
With access control and mobile solutions rapidly advancing, businesses have an unprecedented opportunity to exceed expectations with frictionless experiences, while also cutting costs on energy efficiency and supporting sustainability efforts.
Read more...
---
Olarm launches Olarm LINK
Olarm News Perimeter Security, Alarms & Intruder Detection Products
Olarm LINK extends the Olarm PRO communicators smart control with additional sensing and control, allowing multiple users to control a wide range of devices, including gate access, garage motors, boom gates, water pumps and more.
Read more...
---
New APAC and IMEA role to drive customer-centric approach
Gallagher News Access Control & Identity Management
Global security manufacturer, Gallagher has announced the promotion of Mike Margrain to the position of Regional Technical Manager for Asia-Pacific (APAC), India, Middle East, and Africa (IMEA).
Read more...
---
Olarm launches the Olarm LINK
Olarm Perimeter Security, Alarms & Intruder Detection News Products
Building on the success of smart-enabling, monitoring and controlling alarm panels and electric fences, Olarm has a new solution for customers to integrate gates, garage doors, pumps and other electrical products with the Olarm APP and Olarm PRO communicator.
Read more...
---
Ultimate smart monitoring and reliability
Olarm Perimeter Security, Alarms & Intruder Detection News Products
Olarm is gearing up to unveil its latest product, the Olarm MAX, set to be available in late 2023, which will redefine smart monitoring by offering unparalleled connectivity options and functionality.
Read more...
---
New distributed acoustic sensors in EMEA
Perimeter Security, Alarms & Intruder Detection Products
OPTEX introduces new EchoPoint Distributed Acoustic Sensors (DAS) for advanced point location intrusion detection, using intelligent detection algorithms to provide point detection of +/- 6 m in a range of up to 100 km.
Read more...
---
Improved security health check tool
Gallagher Access Control & Identity Management Products
Gallagher Security has streamlined its free Security Health Check tool, making it easier than ever to protect against potential system risks and improve business efficiencies.
Read more...
---