printer friendly version
Malicious file protection for mobile devices
Issue 3 2022
Cyber Security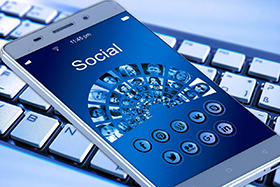 Check Point Software Technologies has announced the availability of cyber protection against mobile-related threats with a new version of Harmony Mobile. Harmony Mobile prevents the download of malicious files to mobile devices. The release further extends Harmony Mobile with additional security capabilities including operating system vulnerability assessment, advanced mitigation capabilities on Samsung devices, easy-to-manage HTTPS inspection and more, to provide a complete mobile security solution.
With the global shift to remote and hybrid working, employees are increasingly using mobile devices to perform critical business tasks or to access and share sensitive company information. This has made employees' mobile devices a significant entry point for cybercriminals. According to Check Point Research (CPR), almost all organisations (97%) have faced mobile threats from all vectors over the last two years, with one of the most overlooked vectors being file downloads. As an example, CPR found a critical vulnerability in the Instagram app that would have given an attacker the ability to take over a victim's account and turn their phone into a spying tool, simply by sending them a malicious image file.
Harmony Mobile's new File Protection works by using Check Point's Threat Cloud to scan downloaded files for malicious intent. In the case that such an intent is found, the download is completely blocked and the malicious file never reaches the device. On Android handsets, Harmony Mobile can also scan files in the mobile device's on-board storage, and will alert both the user and administrator if any malicious file is found. The user will be advised to delete the file and the administrator can choose to restrict the device's access to corporate resources.
As part of Check Point's drive to enhance mobile security, the new Harmony Mobile Release 4.0 also includes integration with Samsung Knox for mitigation capabilities, OS CVE assessment to allow administrators to understand and remediate vulnerabilities in the organisation's mobile fleet, automated certificate deployments for simplified management, and more.
Rafi Kretchmer, VP of product marketing at Check Point Software Technologies, commented: "Most mobile security solutions that are on the market today can only scan files that are related to the mobile operating system, such as apps and iOS profiles. This does not protect your mobile from other malicious file types such as executables, MS Office files, PDFs and more. As we are becoming more reliant on mobiles, cybercriminals are increasingly targeting them, and so it has never been more important to have a robust mobile security solution that protects you from any type of file."
Find out more about Harmony Mobile Release 4.0 on the Check Point blog
Further reading:
A surge of cybersecurity for the energy sector
Government and Parastatal (Industry) Cyber Security
With a rapid transition towards renewable energy, the energy sector has an increased reliance on technology. This makes it particularly vulnerable with regards to cybersecurity, as it depends on interconnected systems and digital technologies.
Read more...
---
Secure backup strategies imperative for business continuity
IT infrastructure Cyber Security
Cybercrime is on the rise, and businesses need to adjust how they manage their data to fend off attackers, or risk irreparable damage, writes Lisa Strydom, Senior Manager Channel and Alliance for Africa at Veeam Software.
Read more...
---
CHI selects NEC XON as trusted cybersecurity partner
News Cyber Security Industrial (Industry)
CHI Limited, Nigeria's leading market player in fruit juices and dairy products, has engaged in a strategic cybersecurity partnership with NEC XON, a pan-African ICT systems integrator.
Read more...
---
Mitigating escalating DDoS cyberattacks
Cyber Security
As cyberattacks, particularly those of the Distributed Denial of Services (DDoS) variety, continue to rise at an unprecedented rate across Africa, it is no longer a question of 'if' your organisation will be targeted, but rather 'when'.
Read more...
---
Six effective antidotes to modern cyber adversaries
Cyber Security
As the head of cybersecurity at NEC XON, Armand Kruger has witnessed the transformation from hooded hackers to a sophisticated dark economy that poses unprecedented threats and is run like a business.
Read more...
---
Key strategies for businesses in the face of cyber threats
Cyber Security Security Services & Risk Management
Businesses face severe financial and reputational consequences due to data breaches and daily website hacks, and not all organisations are adequately prepared to combat these escalating threats.
Read more...
---
Cyberattacks are inevitable for small businesses
Cyber Security
The recent cyberattack on Microsoft is a stark reminder that no organisation, regardless of its size or industry, is immune to cyber threats. Even small businesses, often assuming they are less attractive targets, are vulnerable.
Read more...
---
From overwhelm to oversight
Editor's Choice Cyber Security Products
Security automation is vital in today's world, and Microsoft Sentinel is a widely adopted, but complex answer. ContraForce is an easy-to-use add-on that automatically processes, verifies and warns of threats round-the-clock.
Read more...
---
FutureBank and IDVerse partner to fight cybercrime
Cyber Security Financial (Industry)
Generative AI is breeding different fraud types, and cybercrime is predicted to become the biggest economy in the world in the next 18 months. FutureBank and IDVerse have joined forces to keep their customers safe.
Read more...
---
Kaspersky appoints new GM for Africa
News Cyber Security
Kaspersky has announced the appointment of Andrew Voges as the new General Manager for Africa to boost regional market positioning and enterprise protection.
Read more...
---