printer friendly version
AI for advanced fleet management
Issue 2 2022
Asset Management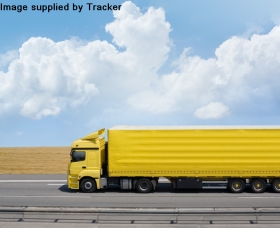 Time is critical when your business is about getting goods from A to B. Delivering an efficient service to your clients, minimising the risks associated with doing this and improving the effectiveness and productivity of your fleet is therefore of utmost importance to your business's success.
To take it back to the basics, fleet management refers to actions, technologies and processes put in place to keep a fleet operation running efficiently. Choosing to use a smart device such as a tracker that utilises artificial intelligence-based software offers a fleet owner seamless control of their business. By supplying real-time analytics and insights, owners are provided with full visibility on all aspects of their fleet management so that they are able to make real-time decisions with confidence.
Using artificial intelligence-based software, fleet owners can optimise deliveries by knowing exactly where every driver is every minute of the day, being kept informed which vehicles are going to need services and when and even being able to monitor driver attentiveness using on-board AI Dashcams. Fleet management services offer an holistic overview of the entire fleet process, factoring in everything from the weather to real-time traffic data and individual driver habits.
The benefits of implementing artificial intelligence-based services include:
• Increased vehicle lifespan due to tracking factors such as tire wear, mileage and braking habits.
• Improved safety through monitoring travel through 'safe' and 'no-go' zones, alongside monitoring driver behaviour.
• Financial insights and reduced costs through effective vehicle and space utilisation.
• Optimised route mapping for more streamlined delivery schedules, timing and greater customer satisfaction.
• Real-time alerts and remote management, making reactive and informed decisions possible.
"With advanced planning, optimisation and execution management, businesses small and large can realise improved operating efficiencies and lower operating costs," says Kobus Visagie, executive: business solutions at Tracker South Africa. "There has never been a better time to harness the intelligence from the information provided by vehicle telematics and related software and use it to place your business a cut above the rest."
Aside from the efficiencies and impact on your bottom line, the greatest benefit of artificial intelligence-based software services such as Tracker's is undoubtedly peace of mind. You can sleep better at night knowing that your fleet, drivers and business is taken care of, 24/7.
Further reading:
Simplify AARTO compliance for fleets
Guardian Eye IoT & Automation Asset Management Transport (Industry) Logistics (Industry)
While there are challenges around the management and implementation of the AARTO Amendment Act, there are also benefits that need to be understood today to ensure compliance and value tomorrow.
Read more...
---
Logistics operators stand up to safety challenges
Logistics (Industry) Asset Management Transport (Industry)
The second annual Webfleet Road Safety Report for 2023 outlines common safety factors, challenges and solutions that South African transport operators face; deteriorating roads, poor vehicle maintenance, congestion and driver fatigue are common challenges.
Read more...
---
People screening goes mobile
Xscann Technologies News & Events Asset Management
Xscann Technologies has delivered a new mobile solution with added value for people screening. This turnkey solution requires no civil works as it is an all-in-one complete body scanning solution built in a shipping container.
Read more...
---
Securing road transport across Africa
Technews Publishing Editor's Choice Asset Management Transport (Industry) Logistics (Industry) Risk Management & Resilience
SMART Security Solutions spoke to Filipe de Almeida, the Portugal & Spain Regional TAPA EMEA Lead, and Massimo Carelle, the TAPA EMEA Africa Region Lead, about securing transport and logistics in hostile environments.
Read more...
---
Electronic Document Centre uses Synology
Infrastructure Asset Management
Electronic Document Centre (EDC), a semi-government company operating under Emirates Post Group, opted for Synology to streamline its data management infrastructure. This decision has led to improved operational efficiency and enhanced collaboration.
Read more...
---
Telematics help protect SA trucks against expanding risks
Logistics (Industry) Asset Management
South Africa's road freight transport sector currently accounts for about 85% of all goods transported in the country and is growing rapidly annually. "To ensure that goods are delivered safely, promptly, and affordably is a challenge," says Justin Manson of Webfleet.
Read more...
---
The right security solution removes the opportunity
Asset Management Retail (Industry)
South African retailers are facing a multitude of challenges, including economic fluctuations, changing consumer behaviour, increased competition, supply chain disruptions, regulatory changes and the need to adapt to digital transformation, not to mention theft.
Read more...
---
Tips for successful fleet management
Asset Management Transport (Industry)
Fleet Domain, part of the Argility Technology Group, has announced best practices aimed at reducing fleet management costs and delivering a successful fleet management programme.
Read more...
---
Château Gâteaux optimises delivery process through MultiTRAX
Asset Management Logistics (Industry)
With twenty outlets and still growing, Château Gâteaux has implemented an Argility solution in its primary locations to streamline deliveries and allow customers to track their delivery in real time.
Read more...
---
Making cash management more intelligent
Deposita Retail (Industry) Asset Management Products & Solutions
By using state of the art SaaS cash and payment management solutions, keeping a close eye on the situation is a breeze. In fact, it'll save you loads of stress, time, and overhead costs.
Read more...
---