printer friendly version
The best defence is good offence
Residential Security Handbook 2022: SMART Estate Living Residential Estate (Industry), Products & Solutions, Smart Home Automation
Housebreaking has been identified by authorities as the number one crime in South Africa. And as burglaries continue to rise throughout the country, homeowners are looking for effective and affordable ways to improve security. It now requires more than burglar bars, an alarm system, caring neighbours and a 'beware of the dog' sign, to protect a home from intruders.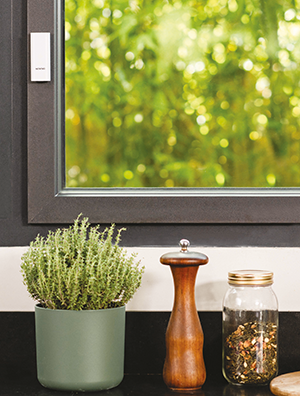 Netatmo window and door sensor.
Legrand's home automation team works closely with local designers, installers and homeowners to provide reliable security solutions for connected homes that greatly reduce the risk of crime.
Legrand's flexible Arteor with Netatmo home automation system is accessible, affordable and easy to use. A combination of connected switches and socket outlets has been developed to enhance safety and convenience in the home and to also improve energy efficiency.
Legrand's flexible system offers the freedom to create a smart, customised home by linking controls and features, to manage scenarios, create centralised functions and allow remote control of individual functions, from anywhere in the world, to suit exact requirements.
Wireless home automation
Arteor with Netatmo, part of Legrand's ELIOT programme, is a radio technology and Wi-Fi enabled solution that simplifies usage, by making complex functions in home automation easy to use. Intelligent products in the installation communicate with one another via ZigBee, which means there is no need for complicated cabling.
For user convenience, this smart system integrates easily into existing installations, requiring no additional wiring, as it uses the current electrical infrastructure. Selected scenarios can be modified and upgraded at any time and with wireless switches, users have their controls exactly where they want them.
By using Legrand's Home + Control app, users have everything under control and stay connected with their home, no matter where they are in the world. At home, by using voice commands, the installation can be managed without having to lift a finger.
Arteor with Netatmo offers peace of mind by creating central control of lights, curtains and roller blinds and simulating a presence when no one is at home.
A full home solution
Legrand's smart Netatmo indoor and outdoor security system – which is easy to install, configure and manage –comprises security cameras, alarms, window and door sensors, as well as sirens and smoke alarms. With this reliable security system, users are alerted wherever they are, via the Netatmo app.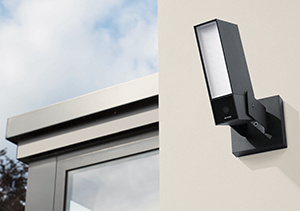 Netatmo smart outdoor camera.
Smart outdoor and indoor cameras provide real-time notifications, in the event of a person or vehicle trespassing on a property. Netatmo cameras can be programmed to communicate only useful alerts with the highly accurate Alert-Zones feature and precise notification parameters. With this system, there is no annoyance of false alarms. These outdoor cameras are equipped with an integrated smart lighting system that provides the convenience of light at night, which also deters intruders.
Smart indoor cameras, with a facial recognition facility, provide real-time intruder alerts if an unfamiliar person is filmed entering the home. To protect a family's privacy, the facial recognition feature is used to pre-record familiar faces and to disable notifications and video recordings of them. These indoor cameras can also be programmed to offer additional protection in an emergency. This system provides a real-time alert if a fire alarm, smoke detector, or safety siren goes off, enabling immediate action to be taken, again from anywhere in the world.
Specially designed accessories include smart door and window sensors, designed to offer further protection at home. Sensors operate in conjunction with indoor cameras, by detecting vibrations, or a door or window being opened. An immediate alert is sent to a smartphone, saving valuable time in the event of an attempted break-in. A quick glance at the app will indicate if a home's doors and windows are open or shut – an important feature for safety and peace of mind.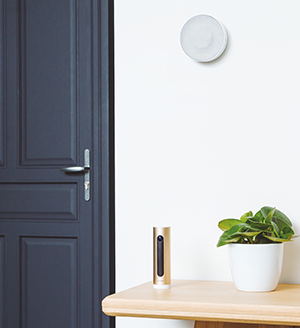 Netatmo indoor camera and siren.
For added protection, Legrand specialists recommend the installation of a Netatmo smart indoor siren that operates in conjunction with the indoor camera. The indoor siren automatically sounds a loud 110-decibel alarm when the indoor camera detects an intruder. This system has an automatic arm and disarm facility, which is easy to set up and operate.
In the event of a power failure, fire alarm signal or safety siren while users are away, the app gives an automatic alert to the smartphone, so appropriate action can be taken.
Credit(s)
Further reading:
Regal fusses over Fluss
Regal Distributors SA IoT & Automation Smart Home Automation
When the team from Fluss brought their Bluetooth-enabled device to Regal's research team, they were hooked. Effortless in its simplicity, the Fluss device means no more losing remotes, endless waiting at the gate for visitors, scanning fingerprints, etc.
Read more...
---
Effective access control
Flow Systems Access Control & Identity Management Products & Solutions
Flow Systems has introduced its new Extra Heavy Duty Industrial Rising Vehicle Barrier, which provides a high level of protection. It is a traditional-looking control barrier with the benefits of high-level physical protection.
Read more...
---
SafeQuip introduces lithium fire extinguishers
Fire & Safety Products & Solutions
With the use of Lithium batteries increasing in many types of portable devices and battery storage solutions, SafeQuip, in partnership with AVD Lithex, is introducing a fire extinguisher aimed at suppressing and extinguishing, and also preventing re-ignition of lithium fires.
Read more...
---
New generation of cyber-focused controllers
Gallagher News & Events Access Control & Identity Management Products & Solutions
The C7000 gives users an opportunity to leverage their hardware and firmware to build a platform designed to catapult their organisation into the future, with cybersecurity baked in from inception.
Read more...
---
Nextivity CEL-FI ROAM R41 boosts your cell signal
IoT & Automation Products & Solutions
Designed for cars, trucks, and boats, it is the industry's most powerful cellular coverage solution for on-the-go applications. It features the 4th generation IntelliBoost chip to deliver channelised coverage for mobile network operator (MNO) signals.
Read more...
---
Olarm advances smart security with Texecom integration
Olarm News & Events Perimeter Security, Alarms & Intruder Detection Products & Solutions
Following Olarm's achievement as the OSPA 2023 winner of 'Outstanding Security Integrator', it has taken another significant step in its innovation journey with the announcement of its integration with Texecom Premier Elite.
Read more...
---
Enhanced security at Xanadu Nature Estate
Turnstar Systems Access Control & Identity Management Products & Solutions
Turnstar Systems recently installed two bicycle turnstiles at the 240-hectare Xanadu Nature Estate, set in the Magaliesberg, the perfect location for secure communal living catering to the lifestyle of residents.
Read more...
---
Reliable access management for famous film location
Paxton Access Control & Identity Management Residential Estate (Industry)
The Royal Connaught Park features a private swimming pool, health and fitness suite, outdoor tennis court and onsite parking, with over 100 residents coming and going every day.
Read more...
---
Ring announces second generation indoor camera
Smart Home Automation Surveillance Residential Estate (Industry)
Introducing a removable manual privacy cover, Ring's latest indoor camera provides customers with increased privacy, control and peace of mind when it comes to home security.
Read more...
---
BMS for smaller businesses
Security Services & Risk Management Products & Solutions Risk Management & Resilience
Small businesses can also benefit from tailored energy management solutions just like large corporations. Effective energy management is essential for more sustainable and efficient operations.
Read more...
---