printer friendly version
Estate d'Afrique security upgrade
Residential Security Handbook 2022: Smart Estate Living
Editor's Choice
Estate d'Afrique is a premier residential estate situated on the banks of the Crocodile River at the mouth of Hartbeespoort dam in the Northwest Province. Due to increased risk in the region, the estate embarked on a physical security Request for Information regarding concepts around securing the estate. With a perimeter of 6,2 km and nestled between mountains and the Crocodile River, there were several challenges when looking to deploy an effective security solution.
Challenges faced
The topography and layout of the estate across the region posed a number of challenges. The estate is broken down into different villages set in different areas on the estate. These challenges included no foundation infrastructure, free-to-use fibre with no sleeves deployed, multiple blind spots, hard to access areas, dense bush, no road access to areas and continuous power outages and extreme weather conditions.
Why Estate d'Afrique chose Blacklight Group
Blacklight Group was approached as one of the bidders due to its experience in the residential estate industry and its security design expertise with an ability to think outside the box. A design concept was required which would take in all the challenges on the estate and this is where a company like Blacklight Group is extremely comfortable, having developed solutions for other prestigious estates with difficult terrain in South Africa.
Kelly Mclintock.
How Blacklight Group responded
Initially, a concept needed to be deployed which would look to isolate specific areas on the estate, the villages, as opposed to trying to deploy a total perimeter solution. The challenges to deploy power and network around the entire boundary would be cost-prohibitive. Therefore, a nodal approach was developed. Blacklight Group decided to look to a depth-of-defence approach, using different off-grid IoT solutions and blend of pan, tilt and zoom (PTZ) cameras, radar and fixed thermal cameras.
AI-enhanced false alarm detection.
The two primary vendors chosen for the project were Axis Communications and Cambium Networks. Besides Blacklight Group being a certified partner, the product features lent themselves to the project. These included Axis cameras' stability, low power demand, video compression engine and low light capability. Cambium was selected due to its stability, long distance broadcast capability and near line-of-site connection, with central management and configuration provided by CNMaestro. These manufacturers proved to be the only products which could deliver in these harsh conditions.
Thermal cameras in action.
Strategic areas were identified for general field-of-view to create situational awareness; this was delivered by deployment on to high site areas (koppies).
For strategic situational awareness, these sites are delivered with Axis Q8742 Dual Optical and Thermal Pan Tilt and Zoom cameras for vast coverage across the entire area. These nodes also acted as wireless connection nodes for other deployed hardware. The high-site nodes are powered by solar and operate 100% off-grid with up to seven days of power backup per node. The solar solution generates 3,5 kilowatts of power to ensure the batteries remain charged and the nodes avoid any load-shedding or power outages due to cable theft and other municipal challenges. To date not a single high site has gone down in 24 months.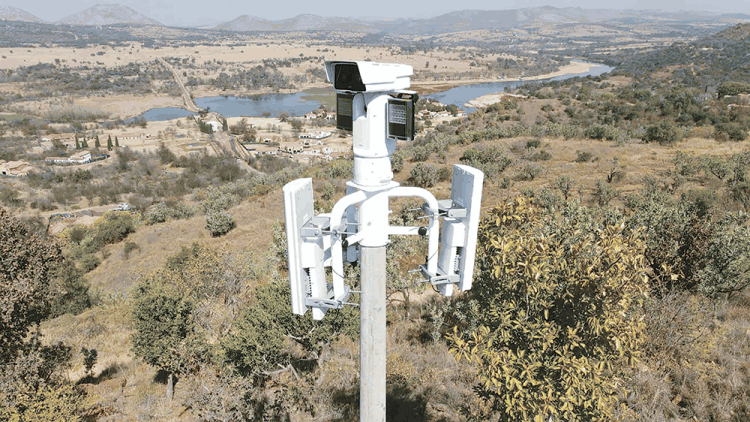 In specific areas on the perimeter and internally within the estate, thermal and PTZ nodes were deployed and these would be connected by grid power, backed up with area-based generators. Furthermore, every node has its own UPS and backup batteries which last six hours. The grid supply being irregular or thoroughly unreliable, posed a significant threat to the longevity of the equipment and security on the estate. This is certainly a challenge not unique to Estate d'Afrique, but the entire country and should be investigated as a standard for business continuity and disaster recovery.
All these onsite sensors, alarms, cameras and video analytics create a vast number of alarms, which make it exceptionally difficult to manage. A cloud-based artificial intelligence platform was deployed to filter out all the false alarms and only human and vehicle classifications are escalated to the controllers.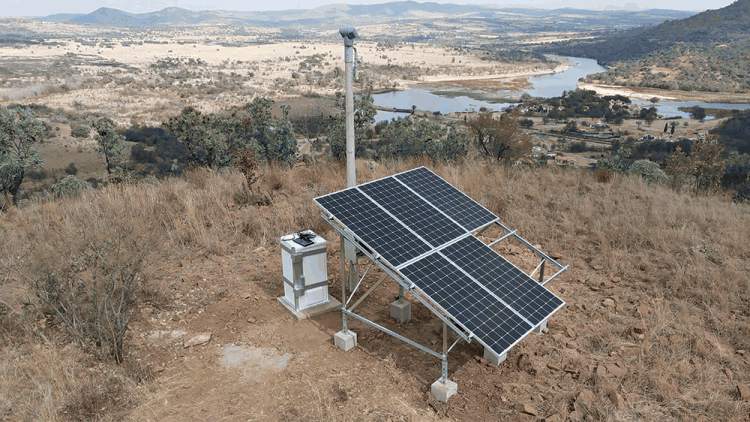 The results
The result of the deployment meant that the estates' strategic areas are covered with a depth-of-defence technology solution, driven by a blend of artificial intelligence and human interaction. This immediately allowed for a reduction in manpower costs, faster and targeted response times due to situational awareness and deployed manpower being far more effective and proactive when a threat is detected. Over the past 24 months several threats have been actively deterred and prevented due to the design and implementation of the integrated system.
Due to the efficacious delivery of the overall solution, there has been a definite long-term cost saving and return of investment along with the primary deliverable: protection of the estate's homeowners and tenants.
Credit(s)
Further reading:
Accenture Technology Vision 2023
Editor's Choice News
New report states that generative AI is expected to usher in a 'bold new future' for business, merging physical and digital worlds, transforming the way people work and live.
Read more...
---
Economists divided on global economic recovery
Editor's Choice News
Growth outlook has strengthened in all regions, but chief economists are divided on the likelihood of a global recession in 2023; experts are concerned about trade-off between managing inflation and maintaining financial stability, with 76% anticipating central banks to struggle to bring down inflation.
Read more...
---
Success in business process best practices
Technews Publishing Kleyn Change Management Editor's Choice Integrated Solutions Security Services & Risk Management
This month we commandeer time with the woman who is spearheading our national conversation on Women in Security, Lesley-Anne Kleyn, to get to know the lady herself a little better.
Read more...
---
SAFPS to launch a platform to combat fraud
Editor's Choice News Security Services & Risk Management
In response to the growing need for a proactive approach to fraud prevention, the SAFPS is developing a product called Yima, which will be a one-stop-shop for South Africans to report scams, secure their identity, and scan any website for vulnerabilities.
Read more...
---
Relaxed home cybersecurity could render consumers accidental 'inside actors'
Editor's Choice Cyber Security Smart Home Automation
Cisco security experts warn of snowball impact of relaxed approach to cybersecurity on personal devices, noting 60% of users primarily use their personal phone for work tasks and 76% have used unsecured public networks for work tasks.
Read more...
---
The importance of the operator's frame of reference
Leaderware Editor's Choice CCTV, Surveillance & Remote Monitoring Security Services & Risk Management Mining (Industry)
The better the operator's frame of reference and situational awareness, and the more informed they are in dealing with CCTV surveillance in the mining industry, the more successful they are likely to be in surveillance.
Read more...
---
The art of drive and focus
Technews Publishing Editor's Choice Mining (Industry)
Riette Smeda did not find security, security found her. In doing so, she found an environment where grit and determination make all the difference in a country where crime pays.
Read more...
---
AI, risk management, and frameworks
Blacklight Group Technews Publishing Editor's Choice Security Services & Risk Management Mining (Industry)
A risk management framework is a basic necessity to meet the always-evolving criminal war against mines, perpetrated by ruthless organised crime gangs that often are better informed and resourced than their targets.
Read more...
---
Complex, but critical partner in security
Technews Publishing Bidvest Protea Coin Editor's Choice Integrated Solutions IT infrastructure Mining (Industry)
Smart Security looks at how drones can be applied effectively in mine security operations. The ability to quickly gain a birds-eye view of a situation, whether security, safety or operational in nature, makes drones a significant value-add to mines.
Read more...
---
Enhancing surveillance on mines
Avigilon Technews Publishing Axis Communications SA Forbatt SA Hikvision South Africa Bosch Building Technologies Editor's Choice CCTV, Surveillance & Remote Monitoring Integrated Solutions Mining (Industry)
Smart Security approached a number of surveillance vendors to find out what the latest in surveillance technology is that can make a difference to security operations in mines, as well as general operations.
Read more...
---