printer friendly version
From the editor's desk: The human factor
Residential Security Handbook 2022: SMART Estate Living
News
In the security world, whether cyber or physical security, we often hear about the risks of 'the human factor'. It's common to say that the human factor is the weakest link and this is true. However, it's also common to blame the human factor risks on guards and other low-paid staff.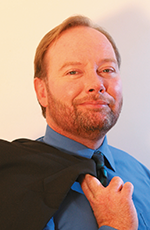 Andrew Seldon, Editor
In this year's Residential Security Handbook: Smart Estate Living, we read more about the human factor and the potential to reduce the number of guards on an estate by using more intelligent technology and remote (or cloud) services. Over the next few years we will be seeing more estates moving in this direction as artificial intelligence (AI) comes into its own and really delivers results.
The one human factor that does come out in this handbook, reading between the lines, is the human risks imposed by those at the top of the pile and by service providers. While certain government people are providing jobs for pals, some estates are providing contracts for pals. The result is the illusion (or is it delusion) that you are living on a secure estate because you trust your HOA or body corporate to make the best decisions. Often, leaving the decisions and budget to people who have no idea of security and don't understand that a camera is not a camera; nor do they understand what different cameras can or cannot do. (And that is just using surveillance as an example, the same example applies to every aspect of security, even manpower.)
As one of our estate managers intimated during the round table, one murder or rape on the estate and you can watch the value of your expensive investment decline in real-time. But that is only the financial implication. The human factor in terms of stress, fear, trauma and mistrust that results from something like this is not as easily dismissed – but that's why estates have HOA members to blame and HOA members have a security company to blame and security companies have guards to blame.
So, in the same manner we kick off the editorial in this issue, make sure your estate kicks off its security with a professional and independent risk assessment. Rob Anderson mentions this in his book 'Secure by Design', which is reviewed here http://www.securitysa.com/15819r and we have two copies of the book to give away (http://www.securitysa.com/15819r).
I hope the handbook is a worthwhile read and as always, please send any comments, criticisms or ideas for future issues to [email protected].
Credit(s)
Further reading:
Paxton opens first experience centre in South Africa
Paxton News Access Control & Identity Management
The new Paxton Experience Centre in Johannesburg is now open and welcoming security installers and end users who want to see Paxton's products in action.
Read more...
---
Paratus signs re-seller agreement with Starlink for Africa
News IT infrastructure
Pan-African telco and network services provider Paratus Group announced it has entered an agreement as a distributor for Starlink's high-speed services across the African continent, available immediately in Mozambique, Kenya, Rwanda and Nigeria.
Read more...
---
4IR is opportunity
News
In South Africa, digitalisation remains 'at a nascent stage' which means significant work still has to be done when it comes to addressing skills development around 4IR in the country.
Read more...
---
Five ways to reduce your cyber insurance premiums
Security Services & Risk Management News
With the global costs of cybercrime expected to soar to $13 trillion within the next five years, cyber insurance is booming as organisations try to mitigate the risk of financial losses.
Read more...
---
What South Africans need to know about smart devices
Technews Publishing Editor's Choice
We live in a world surrounded by smart devices, from our pockets to our driveways and living rooms.
Read more...
---
Client satisfaction boosted by 85% at Thungela Mine
Thorburn Security Solutions News Security Services & Risk Management Mining (Industry)
Thorburn Security, a division of Tsebo Solutions Group, has announced its recent collaboration with Kwa-Zulu Natal security company, Ithuba Protection Services, as part of its Enterprise Supplier Development (ESD) initiatives across Africa.
Read more...
---
Fidelity SecureFire steps into critical fire response space
News Fire & Safety
With the majority of fire stations around the country being crippled by a lack of resources to offer effective responses, Fidelity Fire Solutions has launched its own 'first responder' model, Fidelity SecureFire.
Read more...
---
The state of edge security report
News IT infrastructure
Edge computing has grown from being a niche use case in a handful of industries to offering a major opportunity for enterprises across industries to spread computing power around the world.
Read more...
---
CHI selects NEC XON as trusted cybersecurity partner
News Cyber Security Industrial (Industry)
CHI Limited, Nigeria's leading market player in fruit juices and dairy products, has engaged in a strategic cybersecurity partnership with NEC XON, a pan-African ICT systems integrator.
Read more...
---
Collaboration delivers integrated and holistic security
Guardian Eye CCTV, Surveillance & Remote Monitoring News Integrated Solutions
Guardian Eye and Lytehouse have partnered to integrate their speciality solutions and provide a holistic security offering that overcomes the fragmentation of security systems and services.
Read more...
---