printer friendly version
Radios: communications and more
Residential Security Handbook 2022: Smart Estate Living
Residential Estate (Industry)
While we are often focused on the latest technology and how it can improve and streamline security operations, the old-fashioned two-way radio is still the staple of security operations in estates and almost every other vertical market.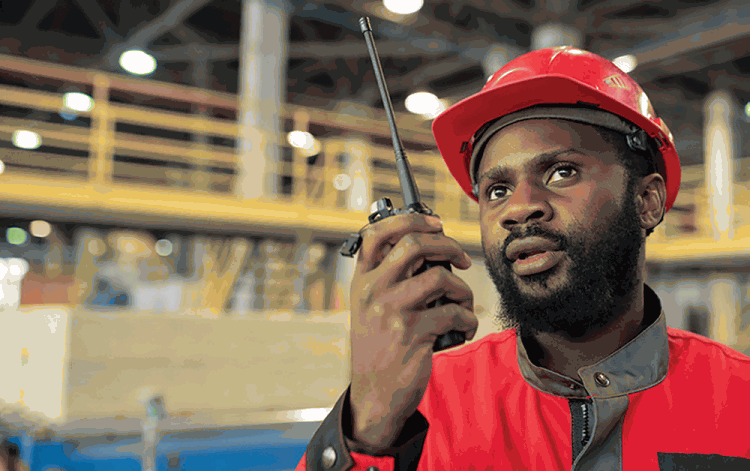 Of course, calling these radios 'old-fashioned' is incorrect as today's devices do far more than simply allow people to talk to each other. Le-Roy Geldenhuys, sales manager at Halo Technology, explains that while the company has a range of devices it sells, the focus of its sales operation is to sell solutions incorporating these additional functionalities.
Allowing people to talk to each other is one aspect of these solutions, but estates can make use of a variety of other features and functionality built into radio devices today that make them far more than walkie-talkies.
Speaking to Hi-Tech Security Solutions, Geldenhuys says there is a radio option for every need. Today's devices can include a display and even support video calls and instead of relying on analogue communications, GSM services can be used for voice, data and keeping track of security guards and ensuring their safety.
As noted, Geldenhuys highlights that Halo sells solutions. Many estates require radios designed to include clocking functionality. The company provides an estate with all the tags required and can even assist in placing them around the environment. One of the benefits Halo provides is that the radios and tags arrive on the estate pre-programmed and tested so that they can be deployed and used out of the box. These tags allow guards to use their radios to clock in at various locations to prove they have followed the estate's patrol protocols.
GPS is also provided on some devices, allowing the estate control centre to track where guards are at any time and provide a full report of every patrol. A geo-fencing feature will raise the alarm if a radio's GPS indicates it has moved out of a certain area.
The radios also permit one-on-one private calls to be made and groups can be set up to allow for broadcast messages. In addition, Push-to-Talk (PTT) functionality is popular in GSM devices. Halo works with Vodacom and MTN SIM cards and provides radios with dual-SIM capabilities that automatically use the strongest signal (or they can be manually set).
Naturally, radios can also be fitted with panic buttons, allowing guards to raise the alarm easily and using some of the above features, the control centre can see where they are and dispatch assistance.
In the control centre
Halo also provides software called Dispatcher, which provides centralised control either from a computer or laptop, or even on a cellphone. The operator can see where every radio is, whether it is on or off, as well as talk to staff through the application – either to a single person or to a group. The company provides training to allow efficient use of Dispatcher, either onsite or via video conferencing.
Estate managers benefit from the mobile app as they can log in and enjoy the same functionality as the desktop version from wherever they are, keeping tabs on any situation as it unfolds, or simply checking in at various times. Data is stored in the cloud and Halo has four servers in South Africa to ensure data is secure and available. Reports are also generated and sent to the relevant parties at regular intervals or can be requested in the event of an incident, putting all the relevant information in the estate managers' or security managers' hands.
At the same time, Halo also offers full technical support for its solutions, with Geldenhuys saying most problems can be resolved remotely, although technicians can naturally be sent to site if required.
A solution for all needs
When considering the radios available for estates, the Halo range extends from the SS30 which is a PTT radio available in VHF and UHF, as well as a choice of analogue or digital mode. Moving up the range will present estates with radios such as the SS96, offering GSM communication, GPS, NFC tagging, voice recording, a stun function (which deactivates a radio if it is stolen, for example, and the operator can reactivate it when recovered) and more. The T8D is a high-level radio offering the functionality mentioned above, plus more, including video chats and calls.
These are Halo brand devices; the company also provides radios and services for a range of well-known brands, from Kenwood to Hytera etc. Geldenhuys concludes by saying, "we don't sell radios, we sell solutions." He summarises some of the main points of the Halo offering as follows:
• Units with or without display available.
• Patrolling/clocking options available.
• Programming and setup done for free.
• Choice of SIM or frequency.
• WhatsApp group backup from sales manager and technical staff 24/7.
• Rental and purchase options.
• Repairs are done on site.
• Free training onsite or via zoom/teams.
• Dispatcher or monitoring software on PC or mobile.
Credit(s)
Further reading:
Off-grid power solution for residential estate
Editor's Choice Security Services & Risk Management Residential Estate (Industry) Products
Coral Beach Estate, an upmarket residential estate based in East London, has been struggling with load shedding and power outages due to South Africa's energy crisis, as well as the vandalism of its power infrastructure.
Read more...
---
Smart surveillance can make our homes safer
Axis Communications SA CCTV, Surveillance & Remote Monitoring Residential Estate (Industry)
Over the last decade, South Africa's private security industry has gradually been adopting more advanced security technologies to safeguard private properties and neighbourhoods, making it easier and more effective to detect and respond to threats.
Read more...
---
Fire-fighting force at Vergelegen
Editor's Choice Fire & Safety Residential Estate (Industry)
Vergelegen wine estate in Somerset West, and its neighbours, are set to enjoy greater peace of mind this summer, thanks to the delivery of a brand new fire truck .
Read more...
---
Residential Estate Security Conference 2022
Technews Publishing Residential Estate (Industry) Conferences & Events
The first Residential Estate Security Conference since March 2020 discussed the people, technology and processes involved in mitigating risks to deliver smart, secure living.
Read more...
---
Safety first, aesthetics a close second
Allbro Industries Residential Estate (Industry)
Residential estates are constantly upgrading as the needs of the estate outgrow the existing infrastructure.
Read more...
---
Provide a strong, integrated security solution
Arteco Global Residential Estate (Industry)
Through the Omnia VMS, Arteco offers a unique, intuitive and friendly interface that focuses on events to centralise all security alarms.
Read more...
---
Successful show for body-worn tech
Elvey Security Technologies Residential Estate (Industry)
Moving beyond products to full cybersecurity service for residential estates.
Read more...
---
The benefits of contactless biometrics
IDEMIA Residential Estate (Industry)
IDEMIA displayed its biometric fingerprint and facial readers, focusing on touchless technologies for estate security.
Read more...
---
Access Portal from Impro Technologies
Impro Technologies Residential Estate (Industry)
Impro Technologies offers the Access Portal suite, which provides powerful features wrapped in a simple and easy-to-use interface.
Read more...
---
MiRO provides end-to-end security solutions
MiRO Residential Estate (Industry)
Residential estate security solutions perfected for South African homes.
Read more...
---