printer friendly version
Dragonfruit AI launches Frontier
Issue 1 2022
Editor's Choice
Dragonfruit, developer of an advanced, cloud-based AI analytics platform, has announced Dragonfruit Frontier, a new Cloud VMS with AI analytics included. Frontier delivers a fully integrated experience, combining consumer-grade usability with enterprise-grade capability.
"Most traditional VMSs haven't kept pace with AI advances and only offer bolt-on solutions for video analytics," said Amit Kumar, Founder and CEO. "Dragonfruit is the first integrated solution for forward-looking multi-location enterprises, offering everything from video monitoring to advanced AI, all in one package. This means the industry can have 'Silicon Valley smarts' without the rip-and-replace demands."
Frontier is designed for multi-location enterprises that are not able to deploy expensive GPU hardware across all their sites (for on-premises AI) and do not have enough upload bandwidth for cloud-based AI. Dragonfruit's patented Split AI helps scale even advanced AI, like Liquid Spill Detection, to hundreds of locations while keeping bandwidth requirements low – even at 4G speeds. Pricing starts at about $1000 per location per year for 20 cameras, depending on the solution chosen.
Frontier works with existing camera infrastructures and provides monitoring, occupancy management and forensic investigations across all geographies from a single pane of glass. Camera partners include Hanwha, Axis and Bosch, with support also included for any ONVIF conformant camera, RTSP feed or analogue cameras (with encoders).
Simple onsite installation and configuration
Dragonfruit's installation experience has been designed for locations without IT or security experts. The base station, which is delivered to each location for free, is simply unboxed and connected to Ethernet and power. It is then configured remotely from a browser, which reduces installation time and cost for large-scale enterprises.
The base station is built on the Apple M1 platform, providing the most advanced OS and the most cost-effective GPU performance. The Frontier VMS in included along with advanced features like video walls, access control integration and true real-time alerts (reducing false alarms by 95%).
Integrated analytics such as the Investigations app provides video search, video summaries, redaction and LPR. The Occupancy app includes counting, heatmaps, occupancy and real-time dashboards. Advanced AI capabilities include Liquid Spill detection, Slip & Fall detection, OSHA compliance and Safety Equipment detection. The AI analytics are easily added to the client's service with a click from the browser-based VMS, with pricing depending on the number of cameras used.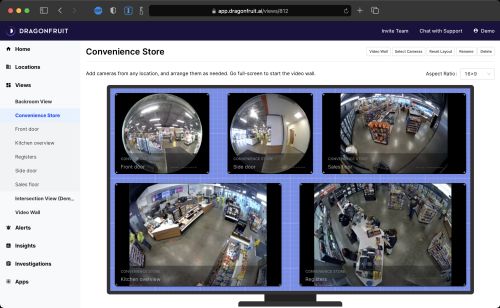 The base station hardware, licences for 20 cameras and storage (one day per camera) is included in the price. All additional analytics are available on-demand, so customers only pay for what they need, when they need it. In addition, each analytic can be moved from one camera to another with ease, without the need to contact Dragonfruit.
For companies with multiple locations, the base station is a neat and functional way to manage cameras (up to 20 for each bas station) and AI with ease. The system can automatically recognise listed cameras (such as some from Axis or Hanwha etc.). Cameras not on the list can be detected if they are ONVIF conformant for easy setup and usage.
For older or other cameras, users can enter the RTSP (Real Time Streaming Protocol) URL and the camera will be usable just as the others.
Split AI for lower bandwidth demands
While video storage of one day per camera is provided with the base station, users can purchase more cloud storage from Dragonfruit, or they can make use of the USB port on the base station to store video locally.
When it comes to making use of the AI analytics, the base station is the first port of call as it is based onsite and won't require any bandwidth usage. When the analytics on the base station detects a possible 'event', it sends the appropriate images to the cloud server where the full AI analytics are run and a result returned, either a yes or a no depending on whether the AI confirms an event. This ensures that only potential events are sent to the cloud, saving bandwidth.
The VMS allows the customer to set variety of options pertaining to what should be done when an event is confirmed, from a pop-up on the screen to an email to appropriate people etc.
"We're excited to partner with Dragonfruit," said Eric Yunag, VP Technology at Convergint Technologies, one of Dragonfruit's key integrator partners. "With Frontier, customers benefit from the streamlined integration of a cloud VMS with AI analytics. Integrating flexible computer vision capabilities like slip/fall detection and safety compliance with a video management system fulfils our customers' need to deploy effective new technology that is easy to use."
Ron Cluff, a multi-franchise owner at The Joint Chiropractic and a Frontier user notes: "As a franchise owner with multiple locations, being able to centrally manage the video across all my stores from my phone is critical. Dragonfruit provides me that global visibility, without the expensive price tag."
Dragonfruit AI has offices in US, South Africa and India and has raised $10 million in venture funding from Foundation Capital and other investors.
Find out more at www.dragonfruit.ai
Further reading:
What South Africans need to know about smart devices
Technews Publishing Editor's Choice
We live in a world surrounded by smart devices, from our pockets to our driveways and living rooms.
Read more...
---
From overwhelm to oversight
Editor's Choice Cyber Security Products
Security automation is vital in today's world, and Microsoft Sentinel is a widely adopted, but complex answer. ContraForce is an easy-to-use add-on that automatically processes, verifies and warns of threats round-the-clock.
Read more...
---
SMART Surveillance Conference 2023
Technews Publishing Editor's Choice CCTV, Surveillance & Remote Monitoring Conferences & Events
Some people think the future is all about cloud technologies, but the SMART Surveillance conference demonstrated that AI is making edge surveillance much more attractive, over distributed sites, than ever before.
Read more...
---
Has your business planned for the worst?
Editor's Choice Cyber Security Security Services & Risk Management
Incident response is a specialised part of security, like a hospital's intensive care unit: IR kicks in when the organisation detects a breach of its systems to stop criminals from doing more damage.
Read more...
---
Making a difference with human intelligence gathering
Kleyn Change Management Editor's Choice
Eva Nolle believes that woman should stand their ground as they often bring an entirely different skill set to the table, which enhances the overall service delivered.
Read more...
---
Milestone celebrates women in security
Milestone Systems Technews Publishing Editor's Choice News Conferences & Events
The Milestone Systems' African team wanted to express their appreciation for the incredible contributions of the women in the security industry and held a breakfast in honour of the hard-working women in the industry on 8 August.
Read more...
---
Supporting CCTV intelligence with small and big data
Leaderware Editor's Choice CCTV, Surveillance & Remote Monitoring
The increasing development of AI and its role in enhancing investigation-led surveillance, and the increasing capacity of control rooms and local analysts to deliver data in return, can increase the synergy between intelligence and surveillance.
Read more...
---
Overcoming resistance to changing your current operating model
Editor's Choice Integrated Solutions
Business survival goes beyond cutting costs and driving efficiency, it's about using data and technology as strategic assets to develop speed, agility and resilience, keep up with customer demands, beat the competition and grow the business.
Read more...
---
The road to Zero Trust not necessarily paved with gold
Editor's Choice Access Control & Identity Management Cyber Security
Paul Meyer says that while Zero Trust must be the goal, there are a few potholes to navigate on the journey. Here he expands on these caveats, but also exposes the greatest ally of Zero Trust.
Read more...
---
More agile, flexible access management
ASSA ABLOY South Africa Editor's Choice Access Control & Identity Management
Tim Timmins from ASSA ABLOY Opening Solutions examines the growing shift towards cloud access management. How can organisations benefit, and what should they look for when choosing a cloud access control solution?
Read more...
---