printer friendly version
The services model adds value
Access & Identity Management Handbook 2022 Editor's Choice, Access Control & Identity Management, Integrated Solutions, IT infrastructure
Cloud computing in all its forms, along with the related services gets an enormous amount of attention today. The whole idea of cloud also causes some confusion among users. Some see cloud as simply an online mechanism to store data, but the reality is cloud today represents far more than a remote backup. The concept of services is key in this respect and we have many 'as-a-service' acronyms doing the rounds, from Software-as-a-Service (SaaS) to platforms (PaaS) and so on.
But what do companies mean when offering a cloud service? To understand the concept as well as the benefits of the cloud, Hi-Tech Security Solutions asked Gary Chalmers, CEO of iPulse, to tell us the story of how and why iPulse moved from a biometric hardware manufacturer to a cloud-based identity management company. We also asked Chalmers how iPulse benefited from this change, what challenges it faced, as well as about the benefits and additional value the new model offers the company's customers.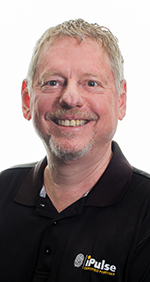 Gary Chalmers.
To be clear, iPulse still builds its own access control readers (focused on fingerprint biometrics, for now), but it has moved its business away from hardware sales to selling a service. As Chalmers explains, "As a hardware-only company based in South Africa, it became harder to compete against the cheaper products coming in from the Far East and the only competitive edge became margin-driven rather than quality- or performance-driven. We wrote our own software, but the burden of support for locally installed software made it a loss-leading business for us.
"By moving to cloud, we were able to reduce our on-site support by over 95% within the first six months and to offer significantly enhanced uptime and service to our clients. By incorporating our own hardware 'free' as part of the service or solution, we are further able to differentiate ourselves by guaranteeing the entire solution from end-to-end and backing our own quality when we offer 'lifetime' support on the hardware as part of the overall solution."
Readers can find out more about Chalmers' background and the current focus of iPulse at www.securitysa.com/11894r and www.securitysa.com/12236r.
So what is the business model?
Obviously, manufacturing biometric readers and continually developing and refining the software that runs them costs money, as does paying for cloud services and the staff required to support the company's customers. What then is the business model iPulse implements to pay for all this and hopefully make enough of a profit to grow the company?
Adding to his comments above, Chalmers states that iPulse now offers a complete solution 'as-a-service'. "This includes the installation, configuration, training, hardware, software, support, maintenance and hosting and is offered as a monthly service fee to clients. Clients are able to pay for these solutions as a pure operational expense (opex), which is interest free, or with an upfront capital expenditure (capex) payment for hardware and installation and then a lower monthly fee that covers everything else."
The model lends itself to flexibility. A customer can pay a monthly fee and own the hardware after a number of years or keep paying for the service and have its readers refreshed every few years. However, the idea of ownership of the devices is the wrong way to look at a service offering (from any company).
The traditional model (or dare we say 'old-fashioned' model) of business was that a customer would buy security equipment, whether from cash reserves or a loan of some sort and then pay for an SI to design and install the system. Maintenance contracts were another expense that some companies avoid, but they can assist in ensuring the installation works properly over the medium- to long-term.
The idea of a service is that you pay for the service. Whether it is Internet connectivity or security guards or access control, the customer makes use of the service and the supplier provides the service and everything incorporated into that service at a single cost. When the service does not work, it's the supplier's problem as the customer is not involved in hiring guards or technicians or even the brand of technology used. The service provider can use the cheapest technology on the market if it so chooses, but they are responsible for keeping it working, often with clawback agreements should the service fail for whatever reason.
A different client relationship
The client/supplier relationship therefore changes under the services model. Chalmers says the biggest value-add for having a cloud-based business rather than a hardware business is the nature of support with clients. "Hardware almost always requires on-site support and physical maintenance, whilst cloud is typically supported remotely and often automatically with AI-driven algorithms to monitor uptime and potential issues.
"To offer physical support, you need resources wherever your clients are situated geographically and the costs of sending someone out in a vehicle, with petrol, time, insurance and tools has escalated dramatically over the past decade. It is the savings on the cost of this support that drives the prices down, thereby giving customers exponential value in price and service."
iPulse has a monitoring centre where its staff monitors the 'health' of their devices wherever they are located over the Internet. Most traditional support calls can be solved remotely from the monitoring centre, often before the client realises there is a problem. In the few cases where the problem can't be solved remotely, iPulse simply sends a technician to replace the faulty reader and worries about repairing it later. This ensures little to no downtime for the client.
The client's only responsibility in this service is to ensure they have Internet connectivity. When the Internet is down or Eskom breaks the power supply, the readers will continue working (as each company's access data is synchronised to the reader). When connectivity is restored, the devices synchronise to the cloud and vice versa if there are updates for firmware etc.
"All of our devices are installed with power supplies that have battery backup and function perfectly in an offline mode," says Chalmers. "This allows the solution to continue operating when power is off, then when the power comes back on, the battery recharges and the data stored locally is batch uploaded to the cloud. The biggest issue lies in creating a regular maintenance schedule for the batteries in the devices and power supplies, as with all this load-shedding the life expectancy of these batteries reduces substantially faster than under normal operating conditions."
As good as it may sound, there are challenges involved in moving to a service model. Companies are used to the whole 'ownership thing' (which they can also have in iPulse's model). "Migrating was tough initially," adds Chalmers. "Trying to convince customers that cloud was safe for access control was an uphill battle at first, but this has changed radically over the past five years since our journey began and clients are now initiating this requirement, which is fantastic."
The PoPIA Act was another concern among customers as they are responsible for the information of staff and visitors accessing their premises. However, Chalmers notes, "these days, most companies are comfortable that online data storage is acceptable, provided it follows a few general rules, like being stored locally in the country where the data is generated. Since Microsoft Azure has two local data centres in South Africa, this is easily possible for our clients, with even their backup data being stored within the country's borders at the second failover site."
The value-added options of a service
As with many other services in various vertical markets, the Access Control-as-a-Service (ACaaS) model allows for more value to be extracted and analysed from what used to be boring 'in and out' data. A simple example, used in services and traditional business models, is time and attendance. In this case the data is stored remotely in the cloud and can automatically feed the client's payroll application, making use of biometrics to cut out buddy-clocking etc.
Even without the additional value mentioned, Chalmers states that the key value-add services "are typically based on significant uptime improvements, pre-emptive maintenance as our team is able to monitor the clients' sites and often notifies clients of issues before they are even aware of them, or even better, fixes them before the client even knows there is a problem. Remote support, training and troubleshooting offers huge value to the client over time, as the cost of call-outs and site visits which often used to drive the TCO (total cost of ownership) up substantially over the lifetime of the product) is now reduced, whilst the 'all-in' offering we now employ allows for free support and maintenance to be built into the controlled monthly fee."
Having proven the value of the service model and gaining clients in South Africa and abroad, Chalmers says iPulse's goal is to "drive expansion in the South African market, concentrating on expanding our market share in key verticals, whilst also partnering with large organisations both in South Africa, the USA and UK to drive expansion into other markets – both geographic and segment-wise."
Credit(s)
Further reading:
Paxton opens first experience centre in South Africa
Paxton News Access Control & Identity Management
The new Paxton Experience Centre in Johannesburg is now open and welcoming security installers and end users who want to see Paxton's products in action.
Read more...
---
Paratus signs re-seller agreement with Starlink for Africa
News IT infrastructure
Pan-African telco and network services provider Paratus Group announced it has entered an agreement as a distributor for Starlink's high-speed services across the African continent, available immediately in Mozambique, Kenya, Rwanda and Nigeria.
Read more...
---
Smart water management
Axis Communications SA CCTV, Surveillance & Remote Monitoring Integrated Solutions
South Africa is currently facing a water crisis, with scarcity and inefficient water management posing significant challenges to sustainable, consistent access to water. Smart technology and powerful partnerships may offer a proactive solution to SA's water crisis.
Read more...
---
What South Africans need to know about smart devices
Technews Publishing Editor's Choice
We live in a world surrounded by smart devices, from our pockets to our driveways and living rooms.
Read more...
---
Empowering Istanbul's public transportation
Dahua Technology South Africa CCTV, Surveillance & Remote Monitoring Integrated Solutions
Dahua's intelligent transportation solution, using technologies like DSM and AI-based passenger flow counting, has facilitated an intelligent system upgrade for nearly 6 400 minibuses and electric buses in Istanbul.
Read more...
---
Securing a luxurious residential estate
Turnstar Systems Residential Estate (Industry) Access Control & Identity Management
Turnstar Systems recently partnered with Balwin Munyaka Residential Estate to secure the entrance to its Crystal Lagoon, ensuring only authorised residents and guests can access the site.
Read more...
---
The state of edge security report
News IT infrastructure
Edge computing has grown from being a niche use case in a handful of industries to offering a major opportunity for enterprises across industries to spread computing power around the world.
Read more...
---
Collaboration delivers integrated and holistic security
Guardian Eye CCTV, Surveillance & Remote Monitoring News Integrated Solutions
Guardian Eye and Lytehouse have partnered to integrate their speciality solutions and provide a holistic security offering that overcomes the fragmentation of security systems and services.
Read more...
---
Manage security systems remotely
Hikvision South Africa CCTV, Surveillance & Remote Monitoring IT infrastructure Products
Hikvision launched a new generation of smart managed switches that, in conjunction with the Hik-Partner Pro mobile app, enable installers to remotely deploy and configure security systems with comprehensive operation and maintenance capabilities.
Read more...
---
From overwhelm to oversight
Editor's Choice Cyber Security Products
Security automation is vital in today's world, and Microsoft Sentinel is a widely adopted, but complex answer. ContraForce is an easy-to-use add-on that automatically processes, verifies and warns of threats round-the-clock.
Read more...
---