printer friendly version
Security that matters most
Issue 7 2021 CCTV, Surveillance & Remote Monitoring, Products
Convergence is the ability to operate multiple systems from a single user interface without compromising functionality. When looking at electronic security in the past, multiple systems were deployed from different brands that needed integration. This ultimately had its challenges in terms of ownership and functionality. With Hikvision, this is a thing of the past as you now have convergence between CCTV, access control, video intercom and alarm systems.
AX Pro alarm
Protecting loved ones, property and belongings is among the top priorities for many households. The question you need to ask yourself is, "what are the risk factors involved and how will I mitigate those risks?" Once these have been identified, the next question is "which system do I look at implementing?"
Installing a conventional alarm system might provide you with a sense of security and safety, but how safe is it? Choosing the right system is crucial. Not only from a price perspective but also from a functionality point of view. Does the system offer add-on features should you wish to expand your electronic security?
The AX Pro alarm system is easily deployable without the hassle of cable installations. Not only is this aesthetically pleasing, but it also reduces installation and maintenance costs. The system is user-friendly and provides excellent security coverage. The AX Pro system is scalable and can cater to any size of home installation. It also offers the user the option to visually verify when an alarm is triggered. This is done via the wireless PIR camera detector that sends real-time video clips to the user.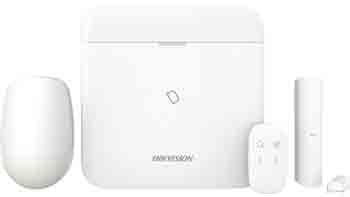 AX Pro also offers water leak and fire detection, for those unexpected disasters that can occur at any given time. The user also has the added benefit of controlling their Hikvision CCTV, alarm and intercom through a single interface.
Below are some of the features that AX Pro offers:
• Wireless alarm system.
• Video verification with PIR camera.
• Water leak detection.
• Fire detection.
• Temperature detection.
Facial recognition
With the ongoing pandemic and fight against Covid, Hikvision's facial recognition terminal is an option for deployment at any access-controlled entry and exit points in an office. Not only does the unit eliminate the need to interact with the device, but it also allows the user to be scanned for elevated temperatures upon entry into the building. If a higher-than-normal temperature is detected, the system can create an alarm to notify the employer of potential risk. This allows the employer to take quick action, ultimately reducing the risk to other staff members. This device can be used in a stand-alone setup or be connected as part of the access control system.
Below are some of the features sets included in this device:
• Forced mask-wearing alert: If the recognising face does not wear a mask, the device will prompt a voice reminder. At the same time, the authentication or attendance will fail.
• Two-way audio with client software, indoor station and main station.
• 7-inch LCD touch screen.
• 2-megapixel wide-angle lens.
• Built-in MiFare card reading module.
Solar solutions
In South Africa, we face many challenges and there are two that stand out. The first one is the constant power outages experienced and the second is the increase in crime. To be more specific, farm attacks. In many cases farmers rely on power sources to run their security systems. Without power, this can cause a major risk in terms of safety.
With Hikvision's new solar powered camera solution, you don't need to rely on an external power source. The solar solution is completely stand-alone and is designed to operate in harsh conditions. Even on rainy or cloudy days, the battery life provides power for up to five days. The camera also incorporates 4G wireless transmission, allowing your system to stay connected. It also supports built-in Micro SD card storage up to 256 GB, ensuring that you have a recording of events.
Features sets also include smart events, line crossing, region entrance and exit detection and scene change detection, thus eliminating the need for constant user interaction or setup. Once the user is notified of a possible breach, they can proactively respond to the threat. Deployment of the solar camera is also cost-effective as there is no requirement for cables. This is an all-in-one solution that caters to challenging conditions.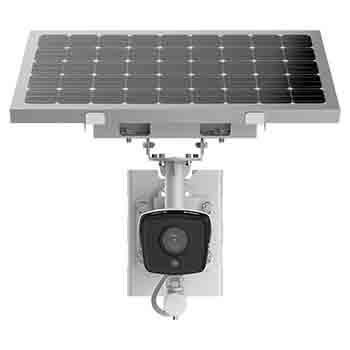 Credit(s)
Further reading:
Stop cheating with gaming analytics
Dallmeier Electronic Southern Africa CCTV, Surveillance & Remote Monitoring Entertainment and Hospitality (Industry)
The CAT gaming analysis solution from Dallmeier offers a range of analysis options with which casino operators can increase the 'game pace', combat fraud and gain valuable insights into the gaming action through real time data collection.
Read more...
---
Rack-mounted, three-phase online UPS
Security Services & Risk Management IT infrastructure Products
The new Eaton 93PX 15-20 kVA UPS combines high efficiency with a compact footprint, lower TCO, and improved cybersecurity to provide stable power for critical IT, industrial, manufacturing, and medical applications.
Read more...
---
Automated, real-time traffic analysis and ML-based mitigation
IT infrastructure Products
NetScout Systems has launched Adaptive DDoS Protection for its Arbor Threat Mitigation System (TMS) to dramatically improve the detection of distributed attacks that dynamically change vectors and target numerous destination IP addresses at once.
Read more...
---
Stadium security with Panomera
Editor's Choice CCTV, Surveillance & Remote Monitoring Integrated Solutions Entertainment and Hospitality (Industry)
To be able to better identify and track perpetrators and thus reduce financial and non-material damage in a soccer stadium, the operator opted for a video security solution from Dallmeier.
Read more...
---
Turkish university installs IDIS surveillance
CCTV, Surveillance & Remote Monitoring Products
IDIS video streamlines complex surveillance systems for learning institution, upgrading a 350-camera system with 24/7 control room monitoring to transform security for Social Sciences University of Ankara (ASBU).
Read more...
---
Brighter, greener, and smarter
Dahua Technology South Africa Products CCTV, Surveillance & Remote Monitoring
Dahua Technology released its new Dahua CH II Series Indoor Fine Pixel Pitch LED display, providing visual clarity and promoting energy efficiency and sustainability.
Read more...
---
Smart water management
Axis Communications SA CCTV, Surveillance & Remote Monitoring Integrated Solutions
South Africa is currently facing a water crisis, with scarcity and inefficient water management posing significant challenges to sustainable, consistent access to water. Smart technology and powerful partnerships may offer a proactive solution to SA's water crisis.
Read more...
---
Helping retailers optimise monitoring and security
Guardian Eye Retail (Industry) CCTV, Surveillance & Remote Monitoring
From a smart retail perspective, it is crucial to understand that monitoring stock and other assets through camera surveillance and a variety of Internet of Things (IoT) sensors stretches further than the stores themselves.
Read more...
---
Empowering Istanbul's public transportation
Dahua Technology South Africa CCTV, Surveillance & Remote Monitoring Integrated Solutions
Dahua's intelligent transportation solution, using technologies like DSM and AI-based passenger flow counting, has facilitated an intelligent system upgrade for nearly 6 400 minibuses and electric buses in Istanbul.
Read more...
---
Smart manufacturing redefined
Hikvision South Africa CCTV, Surveillance & Remote Monitoring Industrial (Industry)
AI and intuitive visualisation technology allows managers to monitor manufacturing sites, production, and operational processes, and to respond in real time in the event of an issue – helping to drive efficiency and productivity.
Read more...
---